Phillies Nola draws a wide range of opinions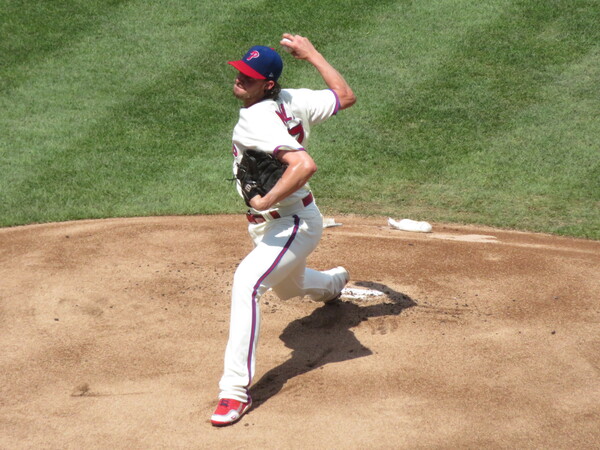 It was amazing after one bad opening day start, hearing many of the Phillies fans bailing on Aaron Nola. There is no doubt he has had a baffling, yet very successful career.
Nola will be a free agent after this season, completing a five-year, $56 million contract, which for his production, is considered a bargain for the Phillies.
There continues to be the debate as to whether he is a No. 1 starter. Most fans don't feel that way, but the opinions of MLB executives are the ones that count the most. His next contract will determine whether teams think he is a No. 1 starter or at least should be paid like one.
The Phillies and Nola couldn't come to terms on a contract extension by the end of spring training so now they will presumably wait until the end of the season to continue negotiations.
The problem with evaluating Nola is that there is so much good, centered on other times that are not so good.
First, let's get to the good.
Last year he finished 11-13 with a 3.25 ERA. Forget the won-loss record, that was an excellent season and he finished fourth in the Cy Young Award voting. It was the second time finishing in the top five of the Cy Young Award voting. In his lone All-Star season of 2018, Nola went 17-6 with a 2.37 ERA and finished third in the voting. (He also finished seventh in the Cy Young Award voting during the abbreviated 2020 season).
Last season, Nola made 32 starts and pitched 205 innings, along with five more starts and 25 2/3 innings in the postseason.
He has started at least 32 games in each of the last four full regular seasons. His 6.3 WAR last season according to Fangraphs, led all MLB pitchers. Since 2018 Nola's 871 2/3 innings entering the season, were the most in MLB.
One of the knocks against him is that he has worn down at the end of the season.
The stats bear this out. His career regular season stats in September/October according to
baseball-reference.com
are 11-17 with a 4.26 ERA. He has allowed his most home runs then, 34 in 39 games. Compare that to August, where he has allowed 19 home runs in 38 starts.
Last season, however, he had some great late-season moments.
When the Phillies clinched a playoff berth in the 160th game of the season during a 3-0 win over the eventual World Series champion Houston Astros, Nola pitched 6 2/3 innings allowing just two hits, while striking out nine and walking two.
He then continued pitching well at the beginning of the postseason. He pitched 6 2/3 shutout innings in a clinching 2-0 wildcard win over the St. Louis Cardinals. Then Nola allowed one unearned run in six innings of a 9-1 win over Atlanta in Game 3 of the National League Division Series.
After that, he seemed to wear down. Nola allowed six earned runs in 4 2/3 innings of an 8-5 loss to San Diego in Game 3 of the National League Championship Series.
In Game 1 of the World Series, he allowed five earned runs in 4 1/3 innings in the Phillies 6-5 win over the Astros in 10 innings. During Game 4, he allowed three earned runs in four innings of a 5-0 loss.
And then on opening day, after pitching three hitless innings, Nola allowed five earned runs and left the fourth inning with two outs. The Phillies had quickly squandered a 5-0 lead against Jacob deGrom and eventually lost 11-7 to the Texas Rangers.
So, we have seen the warts of Nola, but the key question is who will the Phillies replace him with if he departs as a free agent? The Phillies have young pitching coming up, but their top prospect Andrew Painter missed nearly all of the spring training with a sprained UCL.
The Phillies feel that Painter, who turns 20 on April 10, will be able to help them this year, but nobody knows for sure his immediate future, especially while dealing with the injury.
The Phillies have other solid pitching prospects led by righthander Mick Abel, but again, right now it is all about projection with young pitchers.
The Phillies know what they have in Nola and if he walks as a free agent, he will be difficult to replace.
Article continues below
---
advertisement


---
Author:
Marc Narducci
Archives
---
Who's Who in Health Care
Former Shawnee star Doolittle Calls It A Career
Camden County College welcomes Baseball Hall of Fame
South Jersey Football Games of the Week
Out & About
QB Ronnie Borden is Back in the Game
Should fans be worried for the Phillies bullpen?
South Jersey Football Games of the Week
A look at South Jersey's Top H.S. Girls' Soccer Teams
Out & About
Eagles will be fine after close call in opener
High School Football Games of the Week
Is it Super Bowl or bust for the Eagles?
What's New in South Jersey?
From New Jersey to Nashville
More...