Finer Fairways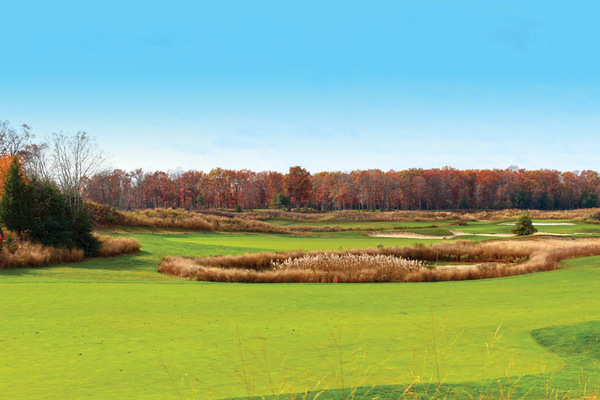 A round of golf can be both exhilarating and frustrating at the same time. And that's the beauty of this game that you'll never quite master, but spend countless days on the course trying to exactly just that. With golf season in full swing, we decided to take our annual trip around South Jersey to see what noteworthy changes have taken place since last year. From major renovations to new hires and new events, there's no shortage of things to get golfers excited the next time they tee off at their favorite spot.
PRIVATE
Laurel Creek Country Club
Laurel Creek has a new short game practice facility which includes two bunkers and two greens, which complements its 270-yard driving range. When the pool opens Memorial Day weekend, members will be able to enjoy Oasis, an open-concept kitchen with a wrap-around bar and pizza oven. Also, debuting in May will be Blu, a new upscale dining room that will feature a farm-to-table menu that will change weekly. The restaurant boasts a chef's table located directly in the kitchen that will allow diners to get a front row seat of the culinary team in action.
Medford Lakes Country Club
Kyle Quagliero has been named head golf pro while Chris Hutchinson has been named director of instruction at Medford Lakes. Recent improvements include the renovation of the driving range and putting green, and new bunkers have been added to the course, while the club has also flipped its nines. Furthermore, the pro shop has been updated with new flooring, fixtures and the addition of new lines of apparel and merchandise.
Medford Village Country Club
The club has announced Christian Simms as its new head golf professional and welcomed back Adrienne Hogan as its teaching professional. On the course, tee boxes on holes 1, 8 and 11 were rebuilt during the offseason. What's more, a new teaching and fitting facility that utilizes TrackMan technology has been added to enhance member experience. And 72 Yamaha golf carts were recently delivered complete with USB connections.
Merchantville Country Club
Doug Davis, golf course superintendent, and his staff have the course in optimal shape while overseeing a new irrigation system project that is underway. The club will host several member events this year, and in addition to golf, members are able to take part in other activities such as bocce ball and corn hole leagues. On the social side of things, the club has several events planned for the upcoming year and has live music scheduled for every month.
Riverton Country Club
Riverton Country Club has promoted Hannah Librizzi to the position of general manager, after previously serving as clubhouse manager. Librizzi began her stint with the club in 2019 when she joined as its food and beverage director.
Moorestown Field Club
Pickleball players will enjoy the three new courts that have been installed here. And just in time for the spring league, the bocce ball courts have been upgraded. The club is now offering social memberships that offer dining and several activities such as the aforementioned bocce or trivia night.
The Legacy Club at Woodcrest
Phase one of construction at The Legacy Club is wrapping up. Golfers can experience redesigned holes 6, 10, and 14 which feature new bunkers, widened fairways and new tee boxes. Set to open this summer, Randall's Restaurant and Bar will feature a fresh menu concept and golf course views from the wrap-around deck for members and the public to enjoy. Also, the event spaces are being upgraded to include a newly finished ballroom, atrium structure and garden.
PUBLIC
Deerwood Country Club
Deerwood is rebuilding its irrigation system this year and it will include two new pump stations, 550 heads, pipe and wire. Also bunker drainage and new sand was undertaken this winter, according to head pro Greg Farrow.
Pitman Golf Course
After spending more than 20 years as assistant superintendent, Rick Benfield will now serve as the head golf course superintendent. Pitman also has a new fleet of Yamaha golf carts with GPS systems that include hole flyovers, real-time yardages and tips on how to play the hole. The course saw routine maintenance during the offseason and on hole 8 an underground drainage system was added. At the clubhouse, a new deck with awning allows golfers and guests to enjoy drinks and food after their round.
Ramblewood Country Club
Ramblewood recently completed a forward tee project in which five new tee boxes were built while six other existing tee boxes were enlarged and re-leveled. Elsewhere, the grand ballroom was renovated with new flooring and updated bridal and groom suites. The Lion's Den now features a Trackman golf simulator for rent with a private bar and other amenities. Meanwhile, the tavern has introduced a new menu and the summer concert series will return to entertain guests.
Rancocas Golf Club
In addition to a new fleet of golf carts, Rancocas is in the process of building a new halfway house over by the 10th tee box. And two par-3 holes, Nos. 2 and 8, have been full re-sodded and the bunkers have been removed and rebuilt.
RiverWinds Golf & Tennis Club
In addition to preparing to host the Ron Jaworski Celebrity Golf Outing on June 23, the club has welcomed some new faces. Andrew Derbyshire, formerly or Rancocas Golf Club, is the new general manager, while Vince Campagna now serves as director of golf and Joe Norton has been promoted within to become the new assistant director of golf.
Scotland Run Golf Club
New this year is the addition of a social membership which allows its members discounts on every meal and every drink upon each visit to the club. A $2 million irrigation renovation was completed over the winter as well as repaved cart paths around the course.
Town & Country Golf Links
The much awaited redesign of holes 10, 11 and 12 are complete and golfers are enjoying the additional distance and challenging shot making opportunities they demand. Continuing to top the list of amenities, the driving range powered by Toptracer provides a technology-driven experience in 10 of the 20 covered range stalls. The Creekside Inn restaurant continues to be a favorite gathering place among golfer and locals with homemade lunch and dinner entrées, weekend entertainment and a new modern look in the dining room and Bull on the 19th bar.
Valleybrook installed new hole signage and ball washers for all 18 holes during the offseason and underwent a major irrigation upgrade to better course conditions. There is a newly revamped Riley's Pub menu created by Chef Ray Martorano, and Tommy Concannon has been promoted from assistant general manager to become the new general manager of the club.
THE SHORE
Atlantic City Country Club
Full golf memberships remain on a waitlist, but the club is rolling out a brand new social membership which gets you discounts at the Taproom Bar & Grille along with invites to all social events. Over the last year, the club has added a new ladies locker room, repaved concrete cart paths around the course and built a new short range. The Taproom Bar & Grille has also added a new outdoor patio for an enhanced dining experience.
Avalon Golf Club
The club is offering a Nine and Dine option every weekend starting Memorial Day Weekend and the package includes golf for $35 and $10 off food. Also arriving on the holiday weekend, the Deck at the Links Restaurant will be open seven days a week until 9 p.m. There will be a new drink menu and happy hour specials on Friday and Saturday from 4 to 6 p.m. that include $4 drafts, $5 house wines and seltzers and $6 select cocktails. For young golfers, the club will be hosting a junior clinic every Thursday from 5 to 6 p.m. beginning July 13.
Ballamor Golf Club
Ballamor and its sister club, Scotland Run Golf Club, have paired together to offer combined golf memberships in South Jersey near the city and at the Shore. The club renovated its bunkers last summer with zoysia grass which gives it that offseason pop of color. Golfers will also enjoy brand new GPS golf carts during their next round at the Club.
Blue Heron Pines Golf Club
More recent hires at Blue Heron Pines include Wally Tittelmayer as PGA director of golf as well as tournament director Madison Ferrante and golf shop manager Karley Murphy. On the course, new sand was added to all the bunkers, some of which also saw renovations, while an ongoing tree removal program is designed to improve playing conditions.
Harbor Pines Golf Club
Harbor Pines has unveiled a new pro shop that is now open seven days a week. On the social side of things, the club is wrapping up construction on its new bar and grill, The Roost. There's also lots of live entertainment planned such as comedy shows with a dinner buffet and a new Tribute Show Series, that will feature dedicated musical tributes to the likes of Barry Manilow and Frank Sinatra.
Hidden Creek Golf Club
Hidden Creek has a slew of new hires and promotions, including Mirza Neimarlija (general manager); Ryan Moore (director of agronomy); Ed McAviney (food and beverage manager); and Sasha Lovermi (merchandise manager). The driving range renovation project will be completed this summer and three new mansion-style houses that can each accommodate up to 16 people will open this spring.
LBI National Golf Club
This club, formerly Sea Oaks, has been rebranded and reimagined under the ownership of Vivamee Properties, which also oversees Vineyeard National at Renault Winery. The club's restaurant, The Wickie Room, is set to open by Memorial Day Weekend and The Inn at LBI National will be open for guests in June.
Shore Gate Golf Club
Recent course renovations have been taking place on some of the bunkers, as well as repairing on course drainage, clearing some trees for air circulation and light, and we re-seeding the rough. The entire practice area was also recently re-seeded.
Vineyard National at Renault
Vineyard National has a lot of events planned for this upcoming season and will introduce two new summer leagues that will take place during the week. And every Friday and Saturday evening, members and guests can enjoy live music; and soon "Country Music Sundays" will be introduced. A new hotel offer includes a one-night stay, food and beverage credit and a round of golf for two at both Vineyard National and sister course LBI National.
Click here
to subscribe to the free digital editions of South Jersey Magazine
To read the digital edition of South Jersey Magazine,
click here.
Article continues below
---
advertisement


---
Published and copyrighted in South Jersey Magazine, Volume 20, Issue 1 (April 2023)
Author:
Peter Proko
Archives
---
Who's Who in Health Care
Former Shawnee star Doolittle Calls It A Career
Camden County College welcomes Baseball Hall of Fame
South Jersey Football Games of the Week
Out & About
QB Ronnie Borden is Back in the Game
Should fans be worried for the Phillies bullpen?
South Jersey Football Games of the Week
A look at South Jersey's Top H.S. Girls' Soccer Teams
Out & About
Eagles will be fine after close call in opener
High School Football Games of the Week
Is it Super Bowl or bust for the Eagles?
What's New in South Jersey?
From New Jersey to Nashville
More...