Sixers Daryl Morey must make a big pivot this offseason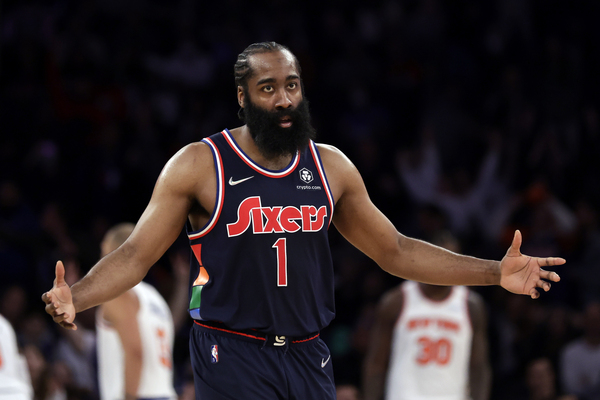 What a mess the 76ers find themselves in with James Harden, even though opting into his $35.6 million contract is the best scenario for the team.
Now they can trade him and get some value.
That being said, it would be a surprise if Sixers president of basketball operations Daryl Morey rushes into anything. Remember, he waited until the February trade deadline to deal Ben Simmons, who said he wouldn't play for the team.
Of course, Harden is the player who came back in the trade. Harden has not endeared himself to the Sixers fans, even though he has played well – at least in the regular seasons.
It's the playoffs where Harden has fallen short, which has been a script for most of his career.
There is no doubt if Harden was offered a $200 million contract for four years, that he would be a Sixer now. And it's also true that the Sixers would have been crazy to give him such an offer. Harden will be 34 in August and will be an old 34. He has slowed down noticeably.
Article continues below
---
advertisement


---
That said, he was a near borderline all-star this past regular season when he led the NBA in assists (10.7 per game). And in two of the playoff games against Boston, he scored 45 points (without an injured Joel Embiid) and 42 points.
The problem is that in the other five playoff games, he shot 5-for-26 from three-point range. He is not worth mortgaging the future salary cap for a player whose best days are behind him.
Technically, Morey could not trade Harden and force him to play out his contract. Yet, that didn't work in his previous two stops when he forced himself out of Houston and Brooklyn due to his indifference. So now what will the Sixers do?
There are rumors that they will try to acquire a player like Chicago's Zach Lavine. Yet Lavine, who is a great scorer, has had knee problems in the past and is owed more than $178 million over the next four years.
The Sixers could even get in the Damian Lillard sweepstakes, although it's still believed that he will end up in his preferred destination of Miami.
The problem with the Sixers is that with Joel Embiid, coming off an MVP season, they are built to win now. They don't want to waste his prime years. He will turn 30 in March and with his past injury history, one wonders how many more dominant seasons he has left.

Over the weekend Patrick Beverly said he had signed with the Sixers. Beverley is a person who will bring some needed toughness, but he isn't a needle mover.
The Sixers will have to not only replace Harden but also bring in some scoring depth. Maybe Morey can find some bargains, but it's still believed that he has a big deal in him to make.
Morey understands the Sixers have to field a team capable of challenging in the Eastern Conference. Boston has seemingly improved; Milwaukee has re-signed all its key members and if Lillard ends in Miami, the Heat, who were the surprise Eastern Conference champion, will be major contenders.
So all eyes will be on Harden and Morey and how this ends up will determine whether the Sixers remain contenders, or take a major step back.
Photo courtesy: Philadelphia 76ers
Author:
Marc Narducci
Archives
---
Former Shawnee star Doolittle Calls It A Career
Camden County College welcomes Baseball Hall of Fame
South Jersey Football Games of the Week
Out & About
QB Ronnie Borden is Back in the Game
Should fans be worried for the Phillies bullpen?
South Jersey Football Games of the Week
A look at South Jersey's Top H.S. Girls' Soccer Teams
Eagles will be fine after close call in opener
High School Football Games of the Week
Is it Super Bowl or bust for the Eagles?
Frustrating times for Millville's Mike Trout
High School Football Games of the Week
Hammonton's Kenny Smith off to a quick start
A Look at Bryce Harper's Return to the Field
More Articles