Questions facing the Eagles entering training camp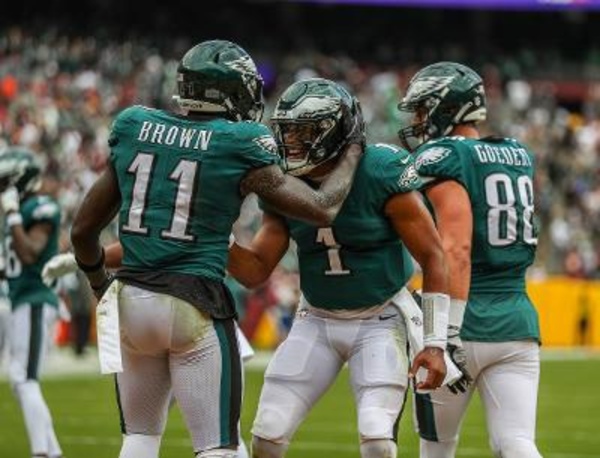 The defending NFC champion Eagles report to training camp on July 25, and they are a team favored to return to the Super Bowl. Armed with another talented team, here are some questions as the Eagles face training camp.
1. Can the Eagles break the recent NFC East jinx?
The Eagles were the 2022 NFC East champions. It's a division that hasn't been very kind to defending champions. Nobody has won consecutive NFC East championships since the Eagles won four in a row from 2001-2004. That's nearly two decades of balanced play in the East, which should be among the top in the NFL. Despite the recent history, if the Eagles stay healthy, they may actually break this recent trend of one and done NFC East champs. It's also important not only to win the division, but they'll need to have the best record to earn the coveted first round playoff bye.
2. Can Jalen Hurts keep ascending?
What Hurts accomplished last season took the football world somewhat by surprise. He finished second in the AP MVP voting. In 15 regular season games that he started, the Eagles were 14-1. They were 0-2 during the two he missed with a shoulder injury. Hurts completed 66.5% of his passes for 3,701 yards, 22 touchdowns and six interceptions. He rushed for 760 yards (4.6 avg.) and 13 TDs. In the offseason, he signed a five-year, $255 million extension. With Hurts' work ethic, the only thing that would derail his rise would be injury. He is known as one of the hardest workers in the NFL and is an acknowledged leader of this offense. Hurts, who turns 25 on Aug. 7, still could see his better days in the future, especially after making such a quantum leap since his first year as a full-time starter.
3. What about the Eagles running game?
The Eagles lost RB Miles Sanders, who signed with Charlotte as a free agent after rushing for 1,269 yards (4.9 avg.) and 11 touchdowns. He didn't contribute as much in the playoffs, rushing for just 148 yards (4.2 avg.) and two touchdowns in three playoff games. The Eagles have traded for D'Andre Swift from Detroit and signed Rashaad Penny as a free agent. Both are talented backs and Swift especially should help bolster the passing game. Penny has some durability issues, having competed in just 18 games over the last three seasons, including five last year with the Seattle Seahawks. Yet when healthy, he has been highly effective, with a career 5.7 yards per carry.
Swift has proven to be more durable, but has missed three games in each of his first three seasons with the Lions. Last year he rushed for 542 yards (5.5 avg.) and five touchdowns. Where he will really help is in the passing game. Last year Swift caught 48 passes for 389 yards (8.1 avg.) and three touchdowns. Instead of Hurts running as much as he did last year, he can now look to dump the ball off to Swift, a local product who starred at Philadelphia's St. Joseph Prep before heading to the University of Georgia.
If Swift and Penny stay healthy, they should make a solid 1-2 combo, with Kenny Gainwell and Boston Scott adding solid depth.
4. What part of the defense is the biggest question mark?
That would be linebacker and safety. The Eagles don't place a lot of emphasis on the LB position, but their two linebackers from last season, T.J. Edwards and Kyzir White, who were also their two leading tacklers, left in free agency. Nakobe Dean (5-11, 231) who is considered slightly undersized, but has great speed, will man one of the LB positions. Nicholas Morrow and Christian Elliss appear ready to battle for the other spot. Haasan Reddick is listed as a slot linebacker but he often acts as a rush end.
Second-year man Reed Blankinship appears to be the starter at free safety, but don't count out rookie Sydney Brown from Illinois, who may not be the Day One starter, but could see a lot of time. Terrell Edmonds, who comes from Pittsburgh with a reputation for being much better against the run than the pass, should be the strong safety starter, although K'Von Wallace could battle him for the spot.
5. How difficult will it be for coach Nick Sirianni to break in two new coordinators?
New offensive coordinator Brian Johnson was the QB coach and has a great relationship with Hurts. He was viewed as a rising star in the coaching ranks and now the key will be how he will be as a play caller.
New defensive coordinator, Sean Desai, should be an improvement over Jonathan Gannon, now the head coach at Arizona. The defense produced well under Gannon, but struggled against elite quarterbacks, as evidenced in last year's 38-35 Super Bowl loss to Kansas City.
6. Can the Eagles return to the Super Bowl?
Absolutely. The NFC still isn't overly strong. The key, as it always is in the NFL, is whether the Eagles can avoid injuries. They were relatively healthy for most of last year and if that continues, there is no reason they can't return to the Super Bowl.
Photo courtesy of the Philadelphia Eagles
Article continues below
---
advertisement


---
Author:
Marc Narducc
Archives
---
Who's Who in Health Care
Former Shawnee star Doolittle Calls It A Career
Camden County College welcomes Baseball Hall of Fame
South Jersey Football Games of the Week
Out & About
QB Ronnie Borden is Back in the Game
Should fans be worried for the Phillies bullpen?
South Jersey Football Games of the Week
A look at South Jersey's Top H.S. Girls' Soccer Teams
Out & About
Eagles will be fine after close call in opener
High School Football Games of the Week
Is it Super Bowl or bust for the Eagles?
What's New in South Jersey?
From New Jersey to Nashville
More...