Eagles will be fine after close call in opener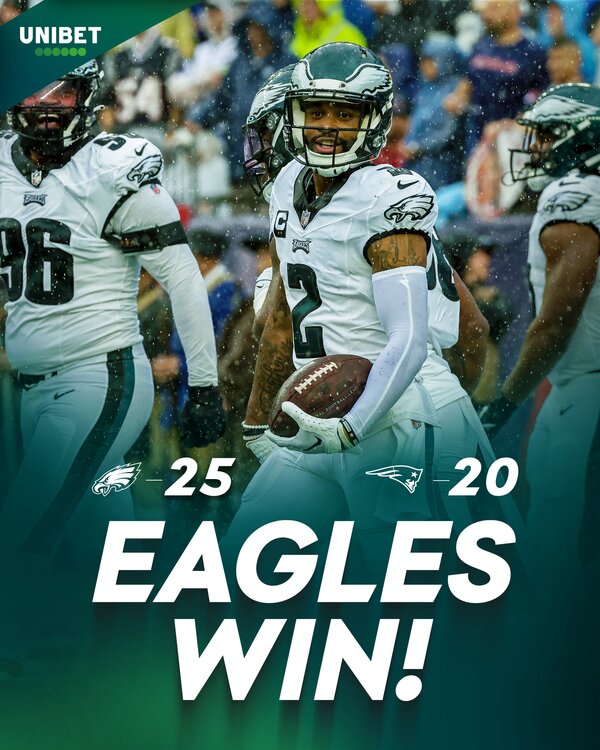 There is nothing like overreaction Monday after the first week of games in the NFL. The Eagles opened with a 25-20 win over the New England Patriots in a game they almost squandered.
Yes, we know the Patriots are no longer a great team or even a good one—a far cry from the six-time Super Bowl champions during the Tom Brady era.
Their quarterback Mac Jones isn't among the top 15 NFL quarterbacks, but he played well against the Eagles, completing 35 of 54 for 316 yards, three touchdowns and one interception that Darius Slay returned for a touchdown.
Yet any time a team has to throw 54 times, it means they are usually in trouble.
So the Eagles, who led 16-0 and appeared as if they would have a cakewalk for an opener, saw the game go down to the end until New England barely missed completing a pass on fourth down that would have kept its upset hopes very much alive.
Sure, there will be conversations on how the Eagles squandered a lead, how they struggled against a less than quality team, how they were only able to get two sacks.
All that is true, but it is not a reason to panic.
Let's take you all the way back to last year when the Eagles won their opener 38-35 on the road against what was considered a less than stellar team, the Detroit Lions.
The Eagles faced a less than elite—although better than Jones—quarterback in Jared Goff. Goff completed 21 of 37 for 215 yards, two touchdowns and one interception, which was returned for a touchdown by James Bradberry.
The Eagles only recorded one sack.
The talk after that game was how the Eagles were lit up by a less than imposing team and that their pass rush was almost non-existent.
That was a pass rush that ended the season with 70 sacks.
So nobody should put too much stock in Game 1, especially with the Eagles who don't play most of their regulars at all in the preseason.
The idea isn't to look the best among NFL teams opening week—it's to win the game.
This is Nick Sirianni's third season as Eagles head coach and they have won their opening game all three years with all three being on the road. His first game as an Eagles coach was a 32-6 rout of the Falcons in Atlanta.
So the history in Sirianni's brief time is that his team continues to improve as the season goes on.
The Eagles are considered the favorites to return to the Super Bowl in an NFC that doesn't have a lot of world-beaters.
This is a long season and the good teams show improvement each week.
The Eagles are a veteran team that should progressively get better.
What is most important is that they won while playing far from their best game.
Yes, the Eagles will be playing against much better teams and much more impressive quarterbacks. Yet, they should also be a better team as the weeks go by.
That is what happened last year and with many of the key players back, there is no reason why it shouldn't occur again.
*Photo via Eagles Twitter
Article continues below
---
advertisement


---
Author:
Marc Narducci
Archives
---
Who's Who in Health Care
Former Shawnee star Doolittle Calls It A Career
Camden County College welcomes Baseball Hall of Fame
South Jersey Football Games of the Week
Out & About
QB Ronnie Borden is Back in the Game
Should fans be worried for the Phillies bullpen?
South Jersey Football Games of the Week
A look at South Jersey's Top H.S. Girls' Soccer Teams
Out & About
High School Football Games of the Week
Is it Super Bowl or bust for the Eagles?
What's New in South Jersey?
From New Jersey to Nashville
Frustrating times for Millville's Mike Trout
More...