South Jersey Football Games of the Week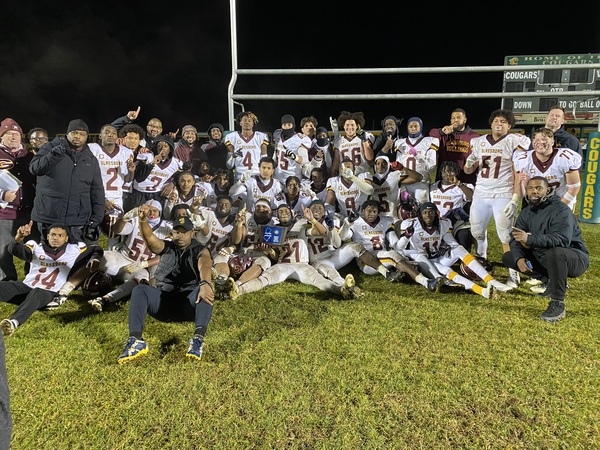 This is the second year of the NJSIAA conducting a state football tournament for public schools and the teams are one win away from competing in a state championship game.
This weekend's state semifinals have several huge matchups. Here are some of the best.
State Group 4 semifinal
Friday, 6 p.m. - Mainland (12-0) at Winslow Township (10-2).
Mainland had a convincing 35-13 win over defending state Group 4 champion Millville in last week's South Jersey Group 4 championship. Last year Millville knocked Mainland out of the tournament with an 18-14 state semifinal win. Mainland relies heavily on the ground game and the catalyst is senior Stephen Ordille. Against Millville, he rushed for 244 yards and four touchdowns on 33 carries. He has rushed for 1,471 yards (8.5 avg.) and 25 touchdowns*. Winslow Township is coming off a 41-7 win over Long Branch in the Central Jersey Group 4 championship. QB Deante Ruffin completed 14 of 20 passes for 257 yards and four TDs. He also had a rushing TD. Junior Cam Miller is a big-play performer with 57 receptions for 1,334 yards and 15 touchdowns.
State Group 5 semifinal
Friday, 6 p.m. - Toms River North (10-2) at Cherokee (9-2).
Cherokee beat Marlboro, 19-13 in double overtime to win the South Jersey Group 5 title. Junior Murad Campfield's 5-yard run in the second OT was the game-winner. Campfield has been the key to Cherokee's attack all season. He has rushed for 1,250 yards (6.0 avg.) and 15 touchdowns. Cherokee is a team that relies on the run. QB Ryan Bender has rushed for 720 yards (6.4 avg.) and 12 TDs. He has thrown for 643 yards and seven scores. The key for Cherokee to be competitive is to contain Toms River North senior Micah Ford, who is one of the top dual-threat QBs in the state. Ford is a Stanford commit, where he was recruited to play RB, but he has been a difference maker at QB for the Mariners. In the 49-14 Central Jersey Group 4 championship win over Washington Township, Ford rushed for 250 yards on 24 carries, completed 3 of 6 passes for 58 yards and two scores and scored on a 40-yard interception return. Even though he missed time this year due to injury, Ford has thrown for 693 yards and 13 TDs (with only two interceptions) and run for 1,229 yards (9.4 avg.) and 12 TDs. On defense, he has two interceptions, both which he returned for TDs. TR North has plenty of other talent, but Ford is the catalyst.
State Group 1 semifinal
Friday, 7 p.m. - Glassboro (8-3) at Woodstown (9-2).
First-year coach Tim Breaker, a former standout at Glassboro, has done a nice job bringing along one of the youngest teams in South Jersey. These two teams met on Sept. 22, with Glassboro earning a 13-7 win. Glassboro has not allowed a point in its three playoff games, winning by a 68-0 margin after last week's 20-0 victory at top seeded Schalick in the Central Jersey Group 1 championship. Freshman Xavier Sabb had seven receptions for 100 yards and one TD and added a 24-yard rushing touchdown as well. He is one of the top young players in South Jersey. Coach John Adams' Woodstown team defeated defending state Group 1 champion Woodbury, 21-14 last week to win the SJ Group 1 championship. Junior Bryce Belinfanti has paced the running game for Woodstown. Belinfanti has rushed for 1,621 yards (8.1 avg.) and 21 touchdowns. In the championship win over Woodbury, he rushed for 182 yards and a TD on 26 carries. During the earlier loss to Glassboro, he was held to 85 yards on 18 carries. He is one of the true keys in this game.
State Group 3 semifinal
Friday, 7 p.m. - Camden (10-1) at Delsea (10-1)
Under second-year coach Rob Hinson, Camden has become among the best teams in South Jersey. In both seasons, the Panthers have won sectional titles. Last year Camden lost to Delsea, 20-14 in the state Group 3 semifinals. This year Camden scored a convincing 47-14 win over Cedar Creek in the Central Jersey Group 3 championship. Camden forced six turnovers. QB Mahki Brunson threw for 263 yards, four touchdowns and no interceptions. Delsea has won nine in a row since a 28-13 loss to Group 4 state semifinalist Winslow Township. The Crusaders are among the top rushing teams in the state. They have outscored their three playoff foes 130-20. Wayne Adair rushed for 143 yards and a score and caught a 9-yard TD reception in Delsea's 43-7 South Jersey Group 3 championship win over Seneca. Junior RB Dan Russo leads the potent Delsea rushing attack. He has rushed for 1,394 yards (7.4 avg.) and 22 touchdowns.
Article continues below
---
advertisement


---
*Stats courtesy NJ.com
Photo: Glassboro Bulldogs
Author:
Marc Narducci
Archives
---
Who's Who in Health Care
Crowd Pleaser
A Bight Future Ahead for Glassboro Football
The Big Impact of Small Businesses
Eagles Need to Reset
Feeling Festive
Another dominating season for Delsea football
Mainland's Historic Football Season
A Rooting Interest
Eagles Continue to Fly High
Raising the Bar
Thanksgiving Football Continues
Hotstovers to honor All-SJ Baseball and new HOF inductees
South Jersey Football Games of the Week
The Phillies make the right move with Aaron Nola
More...