SJ Attractions: USS New Jersey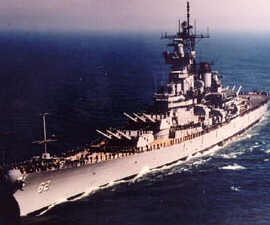 Among the most notable battleships in the Navy's history is the USS New Jersey.
USS New Jersey History
Her keel was laid at the Philadelphia Navy Yard in 1940, and the hull was launched on December 7, 1942. The ship's sponsor was Mrs. Charles Edison, wife of the Governor of New Jersey and daughter-in-law of the famous inventor Thomas Edison.
After commissioning on May 23, 1943, the ship went through shakedown training and then proceeded to the Pacific, where she was involved in a long list of operations throughout the remainder of World War II, including the Marshalls, Marianas, Carolines, Philippines, Iwo Jima, and Okinawa. A particular highlight was service as flagship for Commander Third Fleet, Admiral William "Bull" Halsey, during the Battle of Leyte Gulf in October 1944.
Once the Japanese surrendered in 1945, the New Jersey settled into a peacetime routine before being decommissioned in June 1948. Her rest in mothballs was short-lived; she was reactivated in November 1950 to provide gunfire support during the Korean War. She reached the war zone in the spring of 1951 and had two tours there, interrupted by a midshipman training cruise to Europe in the summer of 1952. While in the Western Pacific, she served as flagship for Commander Seventh Fleet. Once the war was over, she again returned to her role of midshipman training before being mothballed again in 1957.
The New Jersey was recommissioned in the spring of 1968 and was the only battleship then on active duty in any Navy. She had a successful Vietnam combat tour from September 1968 to March 1969, firing her main battery at hard targets ashore and providing major-caliber gunfire support for friendly troops ashore. She was scheduled for a second Vietnam tour but instead was decommissioned in December 1969 because of budget cuts.
As the world heated up again in the late 1970's, the country sought to beef up its naval might once again and returned the New Jersey to the active fleet in December 1982. Her shakedown training cruise was cut short by the need to mount a show of strength off troubled El Salvador in Central America, and then she was rushed to the Mediterranean in the fall of 1983 to provide fire support to Marines in embattled Beirut, Lebanon.
Throughout the remainder of the decade, she served in a variety of roles, including regular deployments to the Western Pacific. In February 1991, she was decommissioned for the fourth time in Bremerton, Washington.
The USS New Jersey completed her Final Voyage home from Bremerton, Washington to the former Philadelphia Naval Ship Yard, arriving there appropriately enough, on Veteran's Day 1999. The Navy's decision to permanently berth the Battleship in Camden was announced on January 20, 2000.
The Battleship New Jersey, our Nation's most decorated battleship, is now a floating museum on the Delaware River, along the Camden Waterfront across from Center City Philadelphia.
History comes to life as you experience a two-hour guided tour through the Iowa-class ship, one of the largest battleships ever built.
Hours of Operation
The Battleship New Jersey Memorial and Museum is open daily,
April 1-September 30: 9am-5pm; and
October 1-March 31: 9am-3pm
Admission Prices
Adults: $12.50
Children under 12: $8
Senior Citizens and Veterans with valid ID-$8
Active members of the military in uniform are admitted free of charge.
The costs for overnight group encampments is $45 per person. Group encampments onboard must be scheduled in advance. For more information on scheduling group encampments or other educational programs onboard call (866) 877-6262, extension 203.
For some individuals, it may be difficult to climb safely between upper and lower decks using the ship's original ladders. A climate-controlled indoor viewing area with the complete tour presented on video is available.
If you're planning to visit the USS New Jersey you won't want to miss the other two Naval Warship Museums located directly across the river from the Battleship at Penn's Landing. Anchored there are USS Olympia (C-6, a Cruiser which served as Commodore George Dewey's flagship during the Battle of Manila Bay on May 1, 1898) and USS Becuna (SS-319, a Balao Class Submarine, veteran of five wartime patrols while serving with the U.S. Seventh Fleet in the Pacific during World War II). Both ships are open to the public for tours. For more information on visiting these ships while you're in the area call the Independence Seaport Museum at (215) 925-5439.
The Battleship New Jersey needs volunteer docents to guide tours of the ship.
Candidates need no military experience. Training programs are taught by professionally trained tour guides and volunteers study the ship's history and specifications from the official "Battleship New Jersey Docent Manual." If you're interested in US history and looking for a volunteer project, please consider joining the corps of knowledgeable and spirited volunteers. For more information, call 856-966-1652, extension 201.
For more information about the Battleship New Jersey, visit the ship's official website at www.battleshipnewjersey.org/index.cfm.
For an extensive list of South Jersey Attractions, with links to websites and other information, check out our Attractions page.
Article continues below
---
advertisement


---
Author:
R. Cohen
Archives
---
A TALE OF THREE WEDDINGS
Timber Creek's Leary heads to Illinois
One of Us
Truer Words Have Been Spoken
A Thriving County
Executive Q&A
A Man of Many Faces
Super Women
Vocal Leader
Seeking Acceptance
The Business of Health Care
Mommy's Gone Viral
Singles: December 13
2017 Men of the Year
The Weekender
More...