The future of the musical relies on new bright lights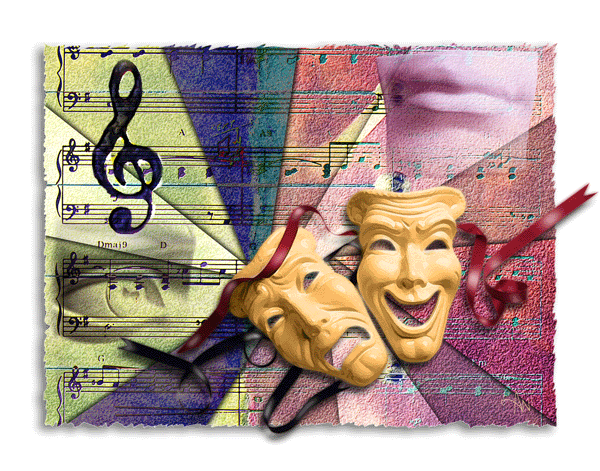 In booming postwar America, anyone interested in the state of the musical could stand in the middle of the Great White Way and look this way and that: The marquees told the story of a thriving, indigenous art form.
In the spring of 1946, a curious visitor to Broadway might have seen billboards extolling the charms of "Carousel," "St. Louis Woman," "Oklahoma!" and a revival of the 1927 classic "Showboat." Three years later, the signs advertised Rodgers and Hammerstein`s latest offering, "South Pacific," and Cole Porter`s dazzling new show, "Kiss Me, Kate."
Shows - even great shows - opened and closed within days (if they didn`t hit) or months (if they did); the five-year run of "Oklahoma!" rocked Broadway`s world. Such turnover made room for the next experiment that the craft`s practitioners dreamed up on the fly.
It`s called - with nostalgia, exasperation or derision, depending on your point of view - the Golden Age of the American musical. And like so many golden ages, it was swept away by a great cultural shift - the rock `n` roll revolution of the 1960s.
Now, two artistic generations later, Broadway is more of a museum, filled with relics from the recent and dim theatrical past. It`s an era in which a 20-year-old drama by Sam Shepard, "True West," essentially qualifies as a new play, according to the League of American Theaters and Producers, because it`s never been performed on Broadway.
"The Green Bird," seen at San Diego`s La Jolla Playhouse in 1996, is the "new play" by Julie Taymor; having earned the Broadway establishment`s respect with "The Lion King," she gets a chance to stage her early, more experimental work. All over the neighborhood, one hears the sound of little "Cats" feet.
Too often, new musicals - the kind that used to bring energy to New York`s theater district - get stuck in workshop hell. Sometimes, usually after three to five years in the making, they venture out for a run at a regional theater or a small downtown New York venue.
Occasionally, chancy new shows such as Michael John LaChiusa`s "The Wild Party," nominated for seven Tony nominations this season, slip through the gate, finding a place next to revivals, long runs and pre-approved spinoffs from the film and recording industries. But without the critics` blessed kiss, Disney-style marketing or a Tony nod, such ambitious work is often doomed to dim memory. Then it`s out with innovation, and in with "The Scarlet Pimpernel."
"I see Disney hiring famous people to write their musicals, and I think, `All right, that`s not the outlet for me,`" said Jeanine Tesori, an emerging composer who will be at the La Jolla Playhouse this fall for the premiere of "Thoroughly Modern Millie."
"`I have to create an outlet for myself.`"TALKING ABOUT A REVOLUTION
A few factors probably led to the decline of one of America`s few home-grown art forms. At the dawn of the rock `n` roll era, Broadway producers and theater owners, a conservative cadre of folks by and large, didn`t get the Beatles, and they didn`t want Bob Dylan`s revolutionary ideas on their stages. Young writers, armed with new ideas and an age-old desire to break from their parents, turned to sexier media.
Stephen Sondheim, who learned the trade at Oscar Hammerstein`s knee and went on to write his own acerbic, edgy brand of musical theater ("A Little Night Music," "Sweeney Todd," "Merrily We Roll Along"), proved the exception rather than the rule. He carried the torch for musical theater as art from the `60s through the `90s, but he didn`t find a popular audience, and as many observers have noted, one extravagantly talented man does not a generation make.
In any case, Broadway had a rich, recent history to draw on - why take chances on unproven artists when you have a time-tested musical in hand? The rare, original phenom "A Chorus Line," developed at the nonprofit Public Theater, did break through in 1975, attracting audiences for a record-breaking 6,137 performances before closing in 1990. More typical, though, has been the 1976-77 season, which featured revivals of "The King and I," "Fiddler on the Roof" and "Guys and Dolls."
That backward-gaze mindset set the stage for the British Invasion, Andrew Lloyd Webber-style. His bigger-is-better, blockbuster shows led to a momentous meeting in January 1980 between the English showman and producer Cameron Mackintosh - a partnership that dictated the direction of the Broadway biz for years to come: "The Phantom of the Opera," "Les Miserables."
Twenty years later, such conservatism is entrenched on Broadway, weighed down by wary, corporate-minded producers and timid, "Jurassic Park"-fed audiences. Not surprisingly, the same rearguard musical aesthetics are likewise ingrained.
Revivals such as the just-opened "Music Man" and "Kiss Me, Kate" are often the best of it, while Andrew Lloyd`s Bank continues to rake in the cash with the more-than-nine-lives "Cats" (it will finally close June 25), a new "Jesus Christ Superstar" and (surprisingly robust for a shade) "Phantom."
Let`s not forget, either, Lloyd Webber`s enthusiastic imitators, for better or worse: "Les Miz" (better), "Miss Saigon" (worse), and "Jekyll & Hyde" (infinitely worse). In 10 years, will chandeliers crash and helicopters land still on Broadway? It`s not an unreasonable proposition. Just when you think it can`t happen again, a show such as the Elton John/Tim Rice spectacle "Aida" comes along to prove it can.
Too often, too, cultural-past raiders produce musical revues - the dance anthology "Fosse" is the best current example of those nostalgic, no-story shows. Or they go in for recycled movies - "Footloose," "Saturday Night Fever," and now, at the Old Globe Theatre in San Diego, an offbeat art-house treasure, "The Full Monty," with a book by playwright Terrence McNally.
Such productions vary in quality, of course - one hopes that the talented McNally and his cohort Jack O`Brien can fashion a charming, moving musical tale from a charming, moving film. But quality, it must be said, is often entirely beside the point: Too many Broadway producers and theater owners relish the fact that their products (or properties, as they call them) are pre-tested, almost presold. They don`t give a toss if they`re any good.
At preview performances of the critically bashed "Aida," patrons were lined up to purchase their T-shirts, emblazoned with the Egyptian eye-shape logo that brands the whole show.
With corporate cleverness like that, so lullingly familiar to audiences schooled on big-budget movies, who needs the charm of an Oscar Hammerstein, the sophistication of a Cole Porter or the lacerating wit of a Stephen Sondheim?
And if a theater owner can run the same show at a bottom-line-swelling capacity for years at a time, what`s the motivation to seek out new talent, to nurture the growth of a new generation of artists who might have something to say on the musical stage?
Which begs a nagging question: If producers and patrons are happy as clams, what might bring artistic renewal to the American musical?`THERE`S YOUR FUTURE`
In "Musical Stages," Richard Rodgers` 1975 autobiography, the famous composer reported that he was often asked about the future of musical theater.
"One night a show opens, and suddenly there`s a whole new concept," he wrote. "But it isn`t the result of a trend; it`s because one, two, three or more people sat down and sweated over an idea that somehow clicked and broke loose. It can be about anything and take off in any direction, and when it works, there`s your present and your future."
Despite the corporate aura that surrounds so much of the American theater, Rodgers` premise still holds. At the center of the swirl of recalcitrant Broadway theater owners, risk-adverse producers and novelty-hungry but artistically conservative audiences, a handful of people still have to collaborate to come up with the creative goods - the songs, the lyrics, the musical book - around which to build the show.
Increasingly, the creatively ambitious are getting together off Broadway, and even out of New York, in regional theaters across the country. Tesori, one of a handful of composers who are causing a stir among musical-theater insiders, retreated to a lighthouse on the Canadian border to write her first musical, "Violet," about a disfigured woman in search of healing. After the show - with book and lyrics by Brian Crawley - found a nonprofit home at Playwrights Horizon, it won the 1997 New York Drama Critics Circle Award.
Adam Guettel`s "Floyd Collins" couldn`t find a home in Broadway theaters that once premiered musicals composed by Rodgers, his grandfather. But the Old Globe gave it a robust, critically acclaimed production last season, and it`s making the rounds on the regional-theater circuit.
Still, for many musical-theater artists, the lure of Broadway is strong. Tesori - whose "Violet" launched her into writing an acclaimed score for Nicholas Hytner`s production of "Twelfth Night" at Lincoln Center - compares the Broadway gambit to a Las Vegas-style high.
"It`s unbelievably exciting to make a show work. And every once in a while, everything lines up, bing, bing, bing, and you hit," Tesori said. "It`s not just the money, but the right ideas coming together at the right time, in the right year. It`s very enticing."
In fact, if there`s one thing the new generation of musical theater artists share, it`s a passion for the art form, at least in the abstract. Guettel, who claims his mother, composer Mary Rodgers ("Once Upon a Mattress"), as the major influence in his musical making, came to the form only after considering a career as a jazz bassist and composer of incidental music for theater.
"Halfway through `Floyd,` I realized that this was the hardest and most interesting thing I`d ever done," said Guettel, a former boy soprano who performed with the Metropolitan Opera. "I knew that I could never master it - even doing it well wasn`t something I could ever take for granted. And that seemed like a good way to stay alive."
As fellow composer Michael John LaChiusa wrote in The New York Times before his "Marie Christine" opened at Lincoln Center last December, "the pleasure of writing a theater song is so intense - it`s almost embarrassing to speak of."
In the so-called Golden Age, musical-theater writers fancied themselves as craftsmen (and they were almost all men); working on a tradition that arose out of vaudeville and lowly music halls, they would have balked at the label of artist. Moreover, they learned their craft in the theater, in a mentoring process that no longer exists.
If today`s budding musical-theater writers don`t get that apprenticeship, then they have instead claimed a sense of freedom when it comes to choosing subject matter and musical forms from which to shape a show. It also stands to reason that a longer gestation period - up to five years instead of a few weeks or months - will naturally give rise to a different kind of musical.
In a beauty-obsessed age, Tesori chose to explore a character with a disfigured face in a gospel-rich score. Guettel`s "Floyd," lush with country, folk and blues influences, is a poignant commentary on poverty and the dark side of the American dream; there`s no love affair, and it ends badly for Floyd.
"Hedwig and the Angry Inch," John Cameron Mitchell`s and Stephen Trask`s thrillingly in-your-face, gender-bending downtown show, tackles sexual identity and the vagaries of fame, while quoting thematically from Plato`s "Symposium."
And "James Joyce`s The Dead," arguably this Broadway season`s best new musical, confounds audiences by refusing to play to them; the many fine musical numbers are performed in profile or even with the performers` backs turned, as if they were singing and dancing only for each other.
Seen alongside offerings from other new-school musical-theater artists - Jason Robert Brown`s Tony-winning score for "Parade," Diedre Murray`s knockout jazz/opera fusion "Running Man," Ricky Ian Gordon`s off-Broadway "Dream True" and Kirsten Childs` new "The Bubbly Black Girl Sheds Her Chameleon Skin" - these works seem to suggest that the future of musical theater, at least in the near term, lies in the hands of post-Sondheim artistic pluralists.
Their stories and sensibilities are eclectic - following an accepted formula is not their idea of making a musical - and their tastes tend toward the experimental.
That doesn`t mean they don`t want their work to find a mainstream audience. Guettel says he`d like nothing better than to write a brittle comedy or a sweeping quest story such as "The Magic Flute," Mozart`s proto-musical comedy.
And Tesori, for her part, signed on to the commercial "Thoroughly Modern Millie" (Whoopi Goldberg and Fox Theatricals are producers) because she thinks it will hit, and she needs that financial stability: She has a family to feed. But more important than the musical`s moneymaking potential, says Tesori, is the opportunity to work with great colleagues on a story that touches her heart.
Although these artists reject the Golden Age formula in their own writing, they also have embraced traditional notions of plot and story.
"How do you get your characters up the tree, and how do you throw stones at them to get them down?" Tesori said. "You`ve got to base your story on this incredible narrative, and that`s the rule I think you have to follow. I`ve never seen it work when that rule wasn`t followed."
Guettel, who is now at work on a lushly romantic musical based on Elizabeth Spencer`s short story "The Light in the Piazza," considers himself a traditionalist, at least in terms of his musical instincts. He rejects the notion that he and his cohorts don`t write what old-time musical-theater lovers call hummable songs ("Hummable is often a function of how often it`s repeated," he says), and he sees his work, in musical terms, as an exploration of harmony, which provides the emotional vocabulary for a piece, and melody, which leads the listener on a journey through that emotional realm.
"I feel that melody is the most important thing to me - that and giving people something to carry with them," Guettel said. "Early on, my mother offered me direct and unvarnished criticism that instilled (those) principles. She used to say, `You call that a melody?` And I still think about that: `Adam, that`s not a melody. Do it again.`"AUDIENCE BUILDING
A question preys on the minds of many proponents of the new musical theater: If they build it, will the audience come? Are audiences ready to clear their minds of Golden Age nostalgia and "Miss Saigon" theatrics to make room for a new musical-theater aesthetic?
Jason Robert Brown, whose "Parade" was criticized by some as overly dark and ponderous, is hopeful that it can be done. As he told an American Theatre reporter, "You can wean people away from the `Guys and Dolls` image, but it has to be done carefully and respectfully."
One way producers are doing that is by steering clear of new music. Susan Stroman and John Weidman`s "Contact," a surprise hit in New York this season, is full of inventive movement, but its delicious score is a collection of found tunes from the last few hundred years.
The spate of rock musicals based on classic tunes - "Celebration of the Lizard" at San Diego Rep and "The Education of Randy Newman" at the South Coast Rep in Costa Mesa, Calif., are two examples - is testament to the perception that artistic experimentation isn`t so risky if the music is a known (and beloved) quantity. (In some sense, "Lizard," a post-Apocalyptic story strung together by the songs and poetry of Jim Morrison, is the kind of musical that Broadway producers should have embraced, but didn`t at the dawn of the rock `n` roll revolution.)
These shows` producers no doubt hope that their shows will inherit audiences bred on the rock operas of Sir Andrew, typified by "Joseph and the Amazing Technicolor Dreamcoat" and "Superstar," which started out as a single hit song.
The new composers, though, must set a different course. Some are looking outside the theater to the world of opera, where experimental work has often found an audience. Guettel originally struck a deal with the Lyric Opera of Chicago to mount a production of "Piazza," but has since found a commercial producer, Scott Rudin, who wants to make a run at Broadway.
"I`ve scored `Piazza` two different ways, for piano trio and full Broadway pit," he said, "so that if I`m lucky enough to see it produced on a broad scale, great, but if it finds its way onto the regional circuit, then it can be done quite cheaply."
Diedre Murray, a cellist and jazz-opera composer, found a home for her "Running Man" at Here in New York, the quirky downtown performance venue, where a pair of New York Times critics saw it. That ultimately led to the Drama Critics Circle prize and the Pulitzer Prize finalists` list, with nary a Broadway production in sight. In other words, the new musical may not have a home on Broadway - not yet, anyway.
And that, in turn, accentuates the role of regional theaters in producing new musicals. Places such as the Old Globe, which last season gambled with "Floyd Collins," and the Playhouse, which produced "Jane Eyre" (in a sense, the quintessential hybrid between "Les Miserables" and "Violet," though it has yet to find a home on Broadway), are increasingly taking up the slack.
The hope is that with commercial backers and/or the promise of a hit, these works can be allowed to develop through exposure to the more audacious audiences of serious theater than the show-me tourist crowd that now patronizes Broadway.
Perhaps, too, these new practitioners of one of America`s most beloved cultural creations will need to seek audiences overseas before getting a foothold in their native soil. Guettel, who recently saw a production of "Floyd Collins" in London, is typical in his yearning for an audience that isn`t content with passive entertainment. And he`s happy to find it wherever he can.
"Maybe I`m idealizing it, but it seems as though audiences in England are still interested in going for the cultural dialogue," he said. "They want to hear what this particular artist has to say.
"I`ve also noticed a hope-giving, grassroots response (here) to me, to Michael John (LaChiusa), to Jeanine (Tesori), to Ricky (Gordon) and to Jason Robert Brown - a genuine, personal response to the work we`re trying to do. And that gives me hope that I`m not just a barnacle on the big pleasure cruiser that is Disney on Broadway."
(c) Visit Copley News Service
Article continues below
---
advertisement


---
Author:
Jennifer de Poyen
Archives
---
Van Gogh and Gauguin together again
Harry`s Here
Memoir recalls courtship in Dachau
Mr. Smith goes to Hollywood
Moises Kaufman
And now ... the rest of the story
Finally, a time for Grandma
Homing in on Homer`s distinctly American flair
Gidget is back, and she`s original
Ego tours: rock and roles
Springtime for Brooks
The cradle does rock
Behind their music
Fluid approach to architecture is hallmark of modernist
New American plays mirror transitional theme
More Articles