Michael DeLorenzo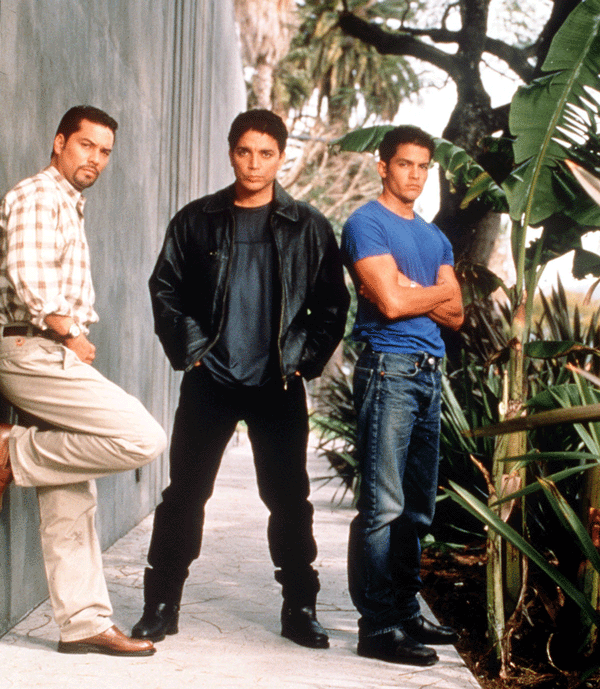 When hot-headed Detective Eddie Torres (Michael DeLorenzo) was blown sky-high by a bomb one season before the cop series "New York Undercover" (1994-98) went off the air, it was widely believed that the show`s executive producer, Dick Wolf, had planted the lethal charge in retaliation for a 1996 salary dispute. DeLorenzo and co-star Malik Yoba (Detective James "J.C." Williams) had brought the production to a halt, reportedly refusing to go back to work until each received a $50,000-per-episode pay raise, a functional gym, larger trailers, better food and more creative input - including the chance to direct certain episodes.
At the time, the cast of "Friends" was trying a similar tactic, though the cast asked for a mere $100,000 per episode - a $60,000 salary increase per week, a bargain by today`s standards. Wolf brought the work stoppage to a grinding halt three days later, pointing out to his unhappy stars that "New York Undercover" was no "Friends" (a fact borne out by the sitcom still going strong and paying each featured actor $750,000 per episode next season) and that Yoba and DeLorenzo could be replaced by two warm bodies from the Screen Actors Guild`s directory.
"Well, it didn`t work out the way `Friends` worked out," says DeLorenzo, laughing. "But I had to do what I had to do, just as a human being. It was a matter of principle ... an actor under contract doesn`t mean losing your rights as a citizen or to protest an injustice. Looking back, I don`t really know if (the dispute) helped me or hurt me. The dispute was blown way out of proportion, but it was a big three days in my life, trust me."
Regrouping after the killer blast, he headed back to Los Angeles for feature and television film roles in "The Couch Trip," "Satisfaction," "Best Seller" and "Fast Forward." The dark, handsome and compact actor - the product of a Puerto Rican mother and an Italian father - also turned down three TV series before accepting "Resurrection Blvd." (which premieres Monday, June 26, at 10 p.m. and will show regularly on Mondays from 10-11 p.m. on Showtime), the first American prime-time drama series featuring an all-Latino cast. The show chronicles the life and times of the Santiagos, a proud family of professional boxers under one roof slugging it out in the East Los Angeles barrio.
DeLorenzo plays Carlos Santiago, a hot-headed top middleweight contender. Roberto (Tony Plana) is the widowed patriarch who once shed blood in the ring to feed his wife and children and is now training Carlos for the big time while working in an auto repair shop with his eldest son,
Miguel (Mauricio Mendoza), also a fighter until beset with injuries. His youngest son, Alex (Nicholas Gonzalez), temporarily drops out of medical school and dons gloves to help out financially. Ruben (Daniel Zacapa), Roberto`s older brother, suffers irreversible brain damage as a result of his own ring wars. Bibi (Elizabeth Pena) is Roberto`s live-in, no-nonsense sister-in-law, who glues the Santiagos together, including her daughters, Yolanda (Ruth Livier), a law clerk in Beverly Hills, and rebellious teen-ager Victoria (Marisol Nichols), who usually hangs out with the wrong crowd in high school.
Taking his new job very seriously, 36-year-old, chocaholic DeLorenzo cut out all sweets and went into heavy training one month before the show went into production. Still pumping iron, running and stretching at least three days a week, he has shed 15 pounds and rearranged the remaining 155 pounds in the form of muscles in all the right places. He also works regularly with local prize fighters, many of whom wind up as extras or in bit parts on "Resurrection Blvd."
There have been no major mishaps in the ring so far as the boxers` moves are carefully choreographed, but DeLorenzo has had a few close calls.
"I trained with Pete `Sugarfoot` Cunningham, a world-champion kickboxer and amateur boxer," he says. "While sparring, a couple of his fists whizzed by my nose a little too close for comfort, but I still managed to accidentally tap him on the chin with a left hook. I froze, knowing he could kill me with one punch, and apologized profusely. He was very gracious and hasn`t smashed me once as a payback."
In the best shape of his life, DeLorenzo sometimes gets carried away when his adrenaline starts pumping.
"I`ve learned the fundamentals the hard way, know I`m getting good and there are times when I look in the mirror and think I can take on anybody in the ring. Then I wake up, realizing that some guys out there could knock me out in seconds. But with good writers, I could kick anybody`s ass on television."
Growing up fairly poor on the west side of the Bronx, the second of four siblings born to a schoolteacher and a clerk was dragged to Flamenco dancing classes at the age of 7 by a concerned mother determined to keep all her children away from drugs, alcohol and street gangs. A year later, he was in tights and slippers studying classical ballet with a whole lot of really cute little girls in tutus.
"Somehow my mother got the entire family involved with dance - brothers, sisters, cousins, second cousins - but it never occurred to me to ask her why," laughs DeLorenzo.
He remained involved with ballet for a few teen-age years though he broke an ankle twice and mangled ligaments, cartilage and muscle in one knee at the age of 14. A year later, he dropped out of New York`s famed High School for the Performing Arts to spend the last 18 months of his dance career on the road with a tiny ballet company called U.S. Terpsichore. At 16, he became an obscure background dancer in the movie version of "Fame" (1980), did a small part in the 1981 Broadway revival of "West Side Story" and finally joined the TV series version of "Fame" as Michael, the Latin dancer, in Los Angeles from 1982 to 1984.
He stayed on for the last three years of the sitcom, "Head of the Class" (1986-91), as Alex Torres, then moved into motion pictures, including "My Familia," "Diggstown," "A Few Good Men" and "Alive!" Now ensconced in the San Fernando Valley, the seemingly confirmed bachelor shares spacious digs with his musician brother, Arthur, and up to eight cats.
"I already had three cats when a stray came to the door, and we started feeding her," says DeLorenzo. "I didn`t know she was the neighborhood slut until she delivered five kittens. By the time I managed to give them away, including two to my brother, she had eight more beautiful babies. Do you want a kitten?"
(c) Copley News Service
Article continues below
---
advertisement


---
Author:
Eirik Knutzen
Archives
---
Elisa Donovan
Heather Paige Kent
Greg Kinnear
Julian McMahon
Emily Procter
Robert Guillaume
Steve Irwin
Jerry Stiller
Chazz Palminteri
Richard Belzer
Alexondra Lee
Dan Futterman
Serena Scott Thomas
Dean Haglund
Camryn Manheim
More Articles