Best Physicians 2012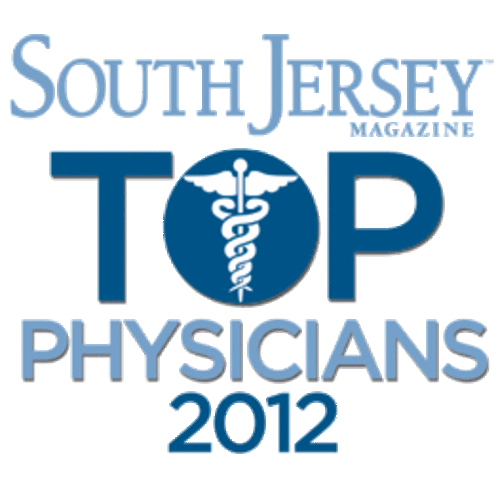 …From the pages of South Jersey Magazine…
It's one thing to be a great doctor; it's another to be a Top Physician. Here, we talk with 30 leaders in medicine to get their input on the industry. We also unveil this year's list compiled by the independent organization Avvo, as well as many more readers' choices.
What's one idea you have that you think could change the future of medicine in a positive way?
Dr. Gary B. Buck
Anesthesiology
To regulate prescription medicine predictability to keep medicine affordable, as well as legal fees and penalties.
Dr. Matthew Ramsey
Orthopedic Surgery
Working toward following the clinical outcomes for all of the patients treated in our practice. This will ultimately be public information that patients can use to compare one physician to another.
Dr. David G. Nazarian
Orthopedic Surgery
I would privatize Medicare. If this was subjected to competitive market forces, I believe that the skyrocketing costs of health care would be stymied.
Article continues below
---
advertisement


---
Dr. Evan O'Brien
Orthopedic Surgery
I honestly believe that the United States—without increasing our national health care expenditures—could provide a universal single-payer health system that would be the best in the world.

Dr. Nicholas DePace
Cardiology
The one thing that will change medicine most is pharmacogenomics. Treatment of diseases will be tailored to an individual's genetic makeup.

Dr. Alexis Harvey
Radiation Oncology
I feel it is imperative that physicians of all specialties work together when treating the patient. There needs to be more focus on treating "the whole patient" rather than just the individualized area a physician may specialize in. When there is a conscious effort to engage in an inter-disciplinary approach ... it leads to far greater outcomes and a much happier patient.

Dr. Stephen Goldfine
Hospice & Palliative Care
Developing a medical system that allows doctors and patients the time to collaborate on reasonable goals of care. Recent studies have shown that when doctors have the time to talk with patients, the time to listen to what's truly important to patients, then outcomes, patient satisfaction and quality of life improve.

Dr. Peter Van Deerlin
Reproductive Endocrinology
Convince America that in this modern world, appropriate health care is a human right. … This is the intent of a few little known parts of the Affordable Care Act (Obamacare) such as the "accountable care organizations" and the Patient-Centered Outcomes Research Institute.

Dr. Erol Veznedaroglu
Neurosurgery
To collaborate and develop regional centers of excellence as opposed to competing for doctors, resources, and patients. Do one thing and do it exceptionally well.

Dr. Robert Debbs
Maternal and Fetal Medicine
Communication is the key to the future of medicine. All of the ills of our system of medicine have to do with how we communicate with each other, with our patients and with other disciplines. The better a job we do in this area, the better our system of medicine will be.

What is the most rewarding part of the profession for you personally?

Dr. Steven M. Bromley
Neurology
Seeing people get better. My days shine when patients come back and say that they are now "doing great." I treat patients with difficult neurological and neuropsychiatric conditions—many without a cure. I want all my days to shine.

Dr. Robert Greenleaf
Orthopedic Surgery
Educating Patients. I know that I cannot fix every patient's problem, but my goal is that every patient leaves my office with a better understanding of their diagnosis and treatment options.

Dr. Catherine W. Piccoli
Radiology
The knowledge that, for many women, I have found a bad disease that, if otherwise left unidentified and unchecked, could cut life short.

Dr. Gary A. Tuma
Cosmetic & Plastic Surgery
Whether it is cosmetic or reconstructive in nature, there is something very satisfying about restoring someone's confidence in themselves.

Dr. Fabio Orozco
Orthopedic Surgery
I am privileged to help our patients get their life back. I treat each patient as if they are my family. The changes we can make in a patient's lifestyle after joint replacement affects not only that patient but their spouse, parent, son, daughter or friend.

Dr. Young Lee
Pain Management
Taking medical mission trips is the most rewarding part of my profession. I travel to different countries where people can't afford or don't have access to medical treatments. Seeing the joyful tears in the faces of so many deprived people brings me the utmost satisfaction.

Dr. Joseph Lombardi
Vascular Surgery
My greatest reward is the smile on a patient who visits me in the office after having been through a life-threatening condition requiring emergency surgery. It is a reminder of who I am; what I do and the impact we have on patient's lives as physicians. The will to survive is a key ingredient for some patients that can't be measured or predicted, just observed and admired.

Dr. Scott Greenberg
Preoperative Services
First and foremost, I love having a close relationship with my patients. I feel that they are an extension of my family and I treat them as such. Secondly, I am honored to have patients travel from around the country and around the world for my care, often because no one else has been able to help them and I can.

Dr. Richard DiVerniero
Orthopedic Surgery
My job is to get people back on their feet after accidents or injuries. Nothing is more satisfying than being able to restore a patient's quality of life after these events. At the end of the day, you need to have done your job and know that you have done it well.

Dr. Thomas Cavalieri
Geriatrics
Throughout my career as a geriatrician, I have been rewarded by the privilege of caring for my elderly patients, improving the quality of their lives. Now as a dean (at UMDNJ), I receive great satisfaction from my role in preparing the next generation of skillful and compassionate physicians at a time when they are greatly needed.

What do you know now that you wished you had learned in medical school?

Dr. Lawrence Barr
Orthopedic Surgery
Although technology in medi-cine is ever-changing, I wish today's advances were available during my medical training. These advances greatly enhance the quality of care that providers can offer.

Dr. Vic Bahal
Cardiology
I wish that medical schools would make it mandatory to have speed reading classes, which allow you to read and assimilate medical journals more quickly. Being a doctor requires good leadership skills and thus leadership seminars should be an integral part of medical school.

Dr. Susan M. Hughes
Cosmetic & Plastic Surgery
Law, accounting, banking and business practices are sorely missing from medical school curriculums. We are ill-prepared in facing those real aspects of business management and it is an important piece in creating a harmonious atmosphere for our patients and our staff. That harmonious atmosphere contributes to the well-being of all.

Dr. Arthur T. Martella
Cardiothoracic Surgeon
Success in medicine is a journey and not a destination.

Dr. Anu Momi
Family Medicine
I wish there were more business classes in medical school that would have helped me learn how to "run" a practice, which is essentially a business. Unfortunately, it was all medicine and no business, so when you come out and start your practice, you have to learn all on your own.

Dr. Jesse Liebeman
Chiropractic Medicine
When I graduated Chiropractic school 20 years ago, I felt like I wanted to go out and heal the world. I opened my practice in 1992 in Marlton, and literally stared at empty walls. They never taught us how to get patients.

Dr. William Hozack
Orthopedic Surgery
That there is more to life than medicine.

Dr. Rajesh K. Jain
Orthopedic Surgery
Even if you're a surgeon with great skill, patients will still appreciate you being friendly and personable, sometimes as much as they appreciate your skill.

Dr. Gregory H. Scimeca
Ophthalmology
Medical school represents the beginning of a lifetime of learning the latest techniques and procedures we have to offer.

Dr. Scott M. Dorfner
Family Medicine
Many patients come to doctors for many things other than what we were taught in medical school with regard to diagnosis and treatment of diseases.

Top Physicians 2012
This year, we turned to Avvo, a Seattle-based company that rates and profiles legal and medical professionals. Avvo's proprietary algorithm rates all doctors on a 10-point scale, factoring in peer endorsements as well as experience, education, training, research, publishing and awards. These dynamic ratings are regularly refreshed based on new information gleaned from doctors as well as from certifying, licensing and disciplinary boards. [As of press time, all the practitioners on our list were certified to practice in their fields by their respective medical licensing board.]

While the list in the pages that follow is wide-ranging and carefully researched, many good doctors don't appear on the list. This reference is best used as just one step in the careful journey toward finding the doctor who is right for you.

ALLERGY AND IMMUNOLOGY

Dr. Donald Dvorin
Mount Laurel
(856) 235-8282
Woodbury
(856) 251-9951

Dr. Eugene Gatti
Marlton
(856) 988-0570

Dr. Michael Gentlesk
Voorhees
(856) 651-9393

Dr. Eric Glasofer
Voorhees
(856) 772-1200

Dr. Marc Goldstein
Mount Laurel
(856) 235-8282
Woodbury
(856) 251-9951

Dr. Stuart Kravitz
Mount Laurel
(856) 778-4222
Marlton
(856) 596-5585

ANESTHESIOLOGY

Dr. John Safaryn
Camden
(856) 342-2425

CARDIOLOGY

Dr. M. Scott Dawson
Woodbury (856) 845-6807

Dr. David Fischman
Voorhees
(215) 955-5050

Dr. Kartik Giri
Haddon Heights
(856) 546-3003
Sewell
(856) 582-2000
Cherry Hill
(856) 795-2227

Dr. Jeffrey Kramer
Haddon Heights
(856) 546-3003
Sewell
(856) 582-2000
Cherry Hill
(856) 795-2227

Dr. Peter Kurnik
Marlton
(856) 396-0950

Dr. Steven A. Levi
Haddon Heights
(856) 546-3003
Cherry Hill
(856) 795-2227
Sewell
(856) 546-2000

Dr. Donald Orth
Voorhees
(856) 424-3600

Dr. Michael Reichman
Cherry Hill
(856) 428-4100
Woodbury
(856) 251-2340

Dr. David Schlessel
Voorhees
(856) 424-3600
Medford
(856) 985-4590

Dr. Steven Silver
Cherry Hill
(856) 795-2227
Haddon Heights
(856) 547-0539
Sewell
(856) 582-2000
Sicklerville
(856) 237-8183

Dr. Harvey Snyder
Haddon Heights
(856) 546-3003
Sewell
(856) 582-2000

Dr. Christina Wjasow
Marlton
(856) 396-0950

CARDIOLOGY (INTERVENTIONAL)

Dr. Sanford Gips
Haddon Heights
(856) 546-3003
Sewell
(856) 582-2000
Cherry Hill
(856) 795-2227

CARDIOTHORACIC SURGERY

Dr. Frank Bowen III
Voorhees
(856) 342-2141
Camden
(856) 342-3113

Dr. Arthur Ng
Browns Mills
(609) 893-6611

Dr. Michael Rosenbloom
Voorhees
(856) 342-2141
Camden
(856) 342-3113

CLINICAL GENETICS

Dr. Rhonda Schnur
Camden, Voorhees
(856) 968-7255

COLON AND RECTAL SURGERY

Dr. Robert Gardine
Voorhees
(856) 429-8030
Turnersville
(856) 262-7340

CRITICAL CARE MEDICINE

Dr. Joseph Parrillo
Voorhees
(888) 342-2034

DERMATOLOGY

Dr. Booth H. Durham
Turnersville
(856) 227-7488

Dr. Analisa Halpern
Marlton
(856) 596-0111
Camden
(856) 342-2439

Dr. Warren Heymann
Marlton
(856) 596-0111
Camden
(856) 342-2439

Dr. Kehua Li
Sewell
(856) 256-0500

Dr. Christine Papa
Voorhees
(856) 627-1900

DIAGNOSTIC RADIOLOGY

Dr. Jerry Apple
Marlton
(856) 983-1818
Turnersville
(856) 227-6600
Haddonfield
(856) 616-1130
Cherry Hill
(856) 428-4344
Voorhees
(856) 751-0123
Sickerville
(856) 237-8090
Pennsauken
(856) 665-3330

Dr. Steven Gilbert
West Deptford
(856) 848-4998

Dr. Gregory Goodworth
Voorhees
(856) 751-0123

Dr. Sherrill Little
Woodbury
(856) 848-4998

Dr. Lewis Marchant
Woodbury
(856) 848-4998

Dr. Scott Mattox
Woodbury
(856) 848-4998

Dr. Sloan Rosten
Woodbury
(856) 848-4998

Dr. Samir Tilak
Woodbury
(856) 848-4998

Dr. Ross Titton
Woodbury
(856) 848-4998

Dr. Andrew Zeiberg
Mount Laurel
(609) 261-4500

EMERGENCY MEDICINE

Dr. Brigitte Baumann
Camden
(856) 342-2627

ENDOCRINOLOGY, DIABETES AND METABOLISM

Dr. Allison Herbst
Moorestown
(856) 727-0900

Dr. Anthony Jennings
Cherry Hill
(856) 428-6768

Dr. Steven T. Kaufman
Cherry Hill, Sewell
(856) 795-3597

Dr. Marc Laufgraben
Camden, Cherry Hill
(856) 795-3597

FAMILY MEDICINE

Dr. Timothy Chen
Bordentown
(609) 298-4340

Dr. Myung Chung
Moorestown
(856) 222-4766

Dr. Carman Ciervo
Marlton
(856) 596-0558

Dr. Neil Levin
Sewell
(856) 589-2929

Dr. Marie Louis
Moorestown
(856) 608-8840

Dr. Jennifer Naticchia
Woodbury
(856) 853-2055

Dr. Kenneth Panitch
Haddonfield
(856) 354-2211

Dr. Sanjiv Patel
Moorestown
(856) 234-2500

Dr. Beverly Toporowski
Lumberton
(609) 261-7035

FEMALE PELVIC MEDICINE AND SURGERY

Dr. Karolynn Echols
Voorhees
(856) 325-6622

GASTROENTEROLOGY

Dr. David Kastenberg
Voorhees
(215) 955-8900

Dr. Howard Kroop
Woodbury
(856) 848-4464

Dr. Hugh Lasch
Lumberton
(609) 265-1700

GYNECOLOGY

Dr. Phillip Hayes
Cherry Hill
(856) 795-0587

GYNECOLOGIC ONCOLOGY

Dr. Meredith Crisp
Voorhees
(856) 325-6644

Dr. Randolph Deger
Voorhees
(856) 325-4310

Dr. Thomas Rocereto
Voorhees
(856) 325-6644

Dr. David Warshal
Voorhees
(856) 325-6644

HAND SURGERY

Dr. David A. Fuller
Voorhees,?Camden
(856) 342-3162

Dr. Bruce A. Monaghan
Mullica Hill
(856) 343-0055
Woodbury
(856) 848-3880

Dr. Mark Rekant
Cherry Hill, Sewell
(856) 489-5630

Dr. John Taras
Cherry Hill
(856) 489-5630

INFECTIOUS DISEASE

Dr. Pola De La Torre
Camden
(856) 963-3715

Dr. Rose Kim
Camden
(856) 963-3715

Dr. Daniel Meyer
Camden
(856) 963-3715

INTERNAL MEDICINE

Dr. Rudolph Depersia
Woodbury
(856) 845-0664

Dr. Anna Headly
Camden
(856) 342-2439

Dr. Rosemarie Leuzzi
Voorhees
(856) 325-6770

Dr. David Schreiner
Camden
(856) 342-2439

Dr. Timothy Shack
Cherry Hill
(856) 429-2224

Dr. Edward Viner
Camden
(856) 342-2439

MATERNAL AND FETAL MEDICINE

Dr. Elyce Cardonick
Burlington
(609) 835-0896
Camden
(856) 342-2491

Dr. Richard Fischer
Burlington, Camden
(609) 835-0896

Dr. Alisa Modena
Mount Holly
(609) 265-7914

MEDICAL ONCOLOGY

Dr. Priya Gor
Cherry Hill
(856) 424-3311

Dr. Generosa Grana
Voorhees
(856) 673-4575

Dr. Richard Greenberg
Cherry Hill
(856) 424-3311

NEONATAL AND PERINATAL MEDICINE

Dr. Judy Saslow
Camden
(856) 342-2265

Dr. Gary Stahl
Camden
(856) 342-2265

NEPHROLOGY

Dr. Savita Butani
Cherry Hill
(856) 428-8992

Dr. Dorothy Min
Mount Laurel
(856) 222-1975

NEUROLOGY

Dr. Liya Beyderman
Gibbsboro
(856) 346-0005

Dr. Steven Bromley
Audubon
(856) 546-2300

Dr. Melissa Carran
Cherry Hill, Camden
(856) 342-2445

NEUROSURGERY

Dr. Jeffrey Campbell
Voorhees
(856) 309-8508

Dr. William Mitchell
Mount Laurel
(856) 222-4444
Sewell
(856) 740-5360

OBSTETRICS AND GYNECOLOGY

Dr. Isadore Ances
Cherry Hill
(856) 321-1800
Voorhees
(856) 325-6600
Sewell
(856) 270-4020
Camden
(856) 342-2186

Dr. Ryan Colella
Voorhees
(856) 424-3323

Dr. Natali Franzblau
Cherry Hill
(856) 321-1800
Voorhees
(856) 325-6600

Dr. Eric Grossman
Voorhees
(856) 772-2300

Dr. Samuel Jacobs
Marlton
(856) 751-5575

Dr. Suzanne Mackey
Voorhees
(856) 424-3323

Dr. Saifuddin Mama
Marlton
(856) 983-5691
Camden
(856) 342-2186

Dr. Wanda Ronner
Haddonfield
(856) 429-0400

Dr. Michael Snyder
Willingboro
(609) 871-2060
Mount Laurel
(856) 778-2060
Delran
(856) 764-0002
Columbus
(609) 324-7424

Dr. Kathleen Steighner
Voorhees
(856) 424-3323

Dr. Shlomo Stemmer
Haddonfield
(856) 428-6355

OPHTHALMIC PLASTIC AND RECONSTRUCTIVE SURGERY

Dr. Marc Cohen
Voorhees
(856) 772-2552

OPHTHALMOLOGY

Dr. Mary J. Cox
Voorhees
(856) 784-3366

Dr. Carolyn Cutney
Cherry Hill
(856) 795-8787

Dr. Neil Dorfman
Berlin
(856) 753-9090

Dr. John D. Dugan Jr.
Voorhees
(856) 784-3366

Dr. Janice Gault
Voorhees
(856) 784-3366

Dr. Graham Quinn
Voorhees
(856) 435-1300

Dr. Carl Regillo
Cherry Hill
(856) 667-2246

Dr. Stephen Soll
Camden
(856) 342-7200

Dr. Amy Wexler
Moorestown
(856) 234-0222
Medford
(609) 714-8761
Columbus
(609) 298-0888

ORTHOPEDIC SURGERY

Dr. Matthew Austin
Sewell
(800) 321-9999

Dr. Richard Balderston
Cherry Hill
(888) 678-4632

Dr. Arthur Bartolozzi
Cherry Hill
(888) 678-4632

Dr. Peter DeLuca
Marlton, Sewell
(800) 321-9999

Dr. Theodore Ganley
Voorhees
(215) 590-1527

Dr. Alan Hilibrand
Marlton
(800) 321-9999

Dr. William J. Hozack
Marlton
(800) 321-9999

Dr. Mark D. Lazarus
Marlton
(800) 321-9999

Dr. Jess H. Lonner
Sewell
(800) 321-9999

Dr. James J. Purtill
Marlton
(800) 321-9999

Dr. Steven M. Raikin
Marlton
(800) 321-9999

Dr. Matthew L. Ramsey
Marlton
(800) 321-9999

Dr. John Salvo
Marlton, Sewell (800) 321-9999

Dr. Alexander Vaccaro
Sewell
(856) 589-0650

OTOLARYNGOLOGY

Dr. Daniel Becker
Sewell
(856) 589-6673

Dr. Robert Belafsky
Cherry Hill, Willingboro
(856) 602-4000

Dr. Dean Drezner
Voorhees
(856) 325-6516
Sewell
(856) 270-4150

Dr. David Evans
Sicklerville
(856) 262-8100

Dr. Philip Rowan
Cherry Hill, Medford, Woodbury
(856) 602-4000

PAIN MEDICINE

Dr. Kavita Gupta
Voorhees
(856) 751-7799

Dr. Michael Sabia
Voorhees, Camden
(856) 963-6770

PEDIATRIC CARDIOLOGY

Dr. Aaron Dorfman
Voorhees
(856) 783-0287

Dr. Samuel Gidding
Camden
(856) 342-2001

Dr. Guillermo Sanchez
Voorhees
(856) 783-0287

Dr. Paul Stephens
Voorhees
(856) 783-0287

Dr. Paul M. Weinberg
Voorhees
(856) 783-0287

PEDIATRIC EMERGENCY MEDICINE

Dr. Robert Belfer
Mount Holly
(609) 914-7051
Voorhees
(856) 247-3563

Dr. Patty Vitale
Camden
(856) 968-7337

PEDIATRIC GASTRO­ENTEROLOGY

Dr. Andrew Grossman
Voorhees
(856) 435-1300

Dr. Maria Mascarenhas
Voorhees
(856) 435-0086

PEDIATRIC INFECTIOUS DISEASE

Dr. Debrah Meislich
Camden
(856) 342-2617

PEDIATRIC NEUROLOGY

Dr. Mark Mintz
Gibbsboro
(856) 346-0005

PEDIATRIC OTOLARYNGOLOGY

Dr. Ian Jacobs
Voorhees
(856) 435-1300

Dr. Ken Kazahaya
Voorhees
(856) 435-1300

PEDIATRIC PULMONOLOGY

Dr. Lee Brooks
Voorhees
(856) 435-1300

PEDIATRIC SURGERY

Dr. Dennis Hoelzer
Camden
(856) 342-3250

Dr. Michael Marchildon
Voorhees
(856) 751-9339
Sewell
(856) 342-3250

PEDIATRICS

Dr. Pascale Bastien
Delran
(856) 824-0099

Dr. Elizabeth Cook
Pemberton
(609) 894-1100
Burlington
(609) 386-0775

Dr. Gerald Fendrick
Pennsauken
(856) 330-6300

Dr. Richard King
Mount Laurel
(856) 234-3797
Lumberton
(609) 261-4058

Dr. Steven Levy
Burlington
(609) 877-1500

Dr. Paul Matz
Haddon Heights
(856) 547-7300
Mullica Hill
(856) 294-5600

Dr. Anthony Mishik
West Deptford
(856) 879-2887
Swedesboro
(856) 467-6660

Dr. Nicole Nemeth
Mount Laurel
(856) 234-3797
Lumberton
(609) 261-4058

Dr. Stephanie Rickey
Marlton
(856) 988-9101

Dr. Florence Rosen
Cherry Hill
(856) 428-5020

Dr. Edward Rosof
Marlton
(856) 596-3434
Sewell
(856) 227-5437
Hammonton
(609) 704-8848

Dr. James Weidner
Haddonfield
(856) 428-3746

PHYSICAL MEDICINE AND REHABILITATION

Dr. Theodore R. Conliffe
Marlton
(800) 321-9999

Dr. Madhuri Dholakia
Sewell
(800) 321-9999

PLASTIC SURGERY

Dr. Ann Fahey
Camden
(856) 342-3113

Dr. Frederick Lavan
Sewell
(856) 256-7705

Dr. Yuan Liu
Voorhees, Sewell, Camden
(856) 342-3113

Dr. Martha Matthews
Moorestown, Voorhees
(856) 342-3113

Dr. Evan Sorokin
Cherry Hill
(856) 797-0202

PSYCHIATRY

Dr. Lawrence Blum
Cherry Hill
(856) 779-7911

Dr. Peter J. Brancato Jr.
Marlton
(856) 983-3900

Dr. John Case
Marlton
(856) 983-3900

Dr. Linda Piotrowski
Moorestown
(856) 439-9300

Dr. Allen Rubin
Marlton
(856) 985-9851

Dr. Lynne Stein
Cherry Hill
(856) 482-9000

PULMONARY MEDICINE

Dr. Thomas Morley
Sewell
(856) 218-0300
Stratford
(856) 566-6859

RADIATION ONCOLOGY

Dr. John J. Wilson
Voorhees
(856) 247-7330

REPRODUCTIVE ENDOCRINOLOGY

Dr. Stephen Sawin
Marlton
(856) 596-2233
Sewell
(856) 218-8863

Dr. Peter Van Deerlin
Marlton
(856) 496-2233
Sewell
(856) 218-8863

RHEUMATOLOGY

Dr. Leonard Grossman
Mount Holly
(609) 261-4925
Moorestown
(856) 235-4840
Columbus
(609) 291-5600

Dr. Sharon Kolasinski
Cherry Hill, Camden
(856) 325-6770

Dr. Carolyn O'Connor
Marlton
(856) 396-0950

Dr. Michael Schuster
Voorhees, Sewell
(856) 424-5005
Mount Laurel
(856) 235-0001

SPORTS MEDICINE

Dr. Arlene Goodman
Voorhees
(856) 435-1300

Dr. Catharine C. Mayer
Cherry Hill
(856) 857-2561

Dr. Peter C. Vitanzo
Marlton
(800) 321-9999

SURGICAL ONCOLOGY

Dr. Umur Atabek
Mount Laurel, Voorhees, Camden
(56) 342-3113

Dr. Kristin Brill
Voorhees, Camden
(856) 342-3113

Dr. Ari Brooks
Vineland
(856) 641-8635

Dr. Anne Rosenberg
Cherry Hill
(856) 488-4224

Dr. Francis Spitz
Mount Laurel, Voorhees, Camden
(856) 342-3113

TRANSPLANT SURGERY

Dr. Stephen Guy
Camden
(856) 968-6598

TRAUMA SURGERY

Dr. Mark Seamon
Camden
(856) 342-3014

UROLOGY

Dr. Michael Bernstein
Voorhees
(856) 673-1600
Woodbury
(856) 853-0955

Dr. Robert Biester
Cherry Hill
(856) 427-9004
Woodbury
(856) 853-0955
Voorhees
(856) 673-1600

Dr. Jay Bloch
Voorhees
(856) 651-0500

Dr. Derrick Burno
Mount Laurel, Medford
(856) 252-1000

Dr. Nabet Kasabian
Marlton
Sewell (856) 342-3113

Dr. Louis Keeler III
Cherry Hill
(856) 427-9004

Dr. Allen Seftel
Marlton, Voorhees
(856) 342-3113

VASCULAR/ INTERVENTIONAL RADIOLOGY

Dr. Michael Farner
Voorhees
(856) 751-0123

Dr. Robert Harvey
Mount Laurel
(609) 261-4500

VASCULAR SURGERY

Dr. James Alexander
Voorhees, Camden
(856) 342-2151

Dr. Jeffrey Carpenter
Voorhees, Camden
(856) 342-2151

Dr. Joseph Lombardi
Camden, Voorhees, Sewell
(856) 342-2151

READERS' CHOICE

ALLERGY AND IMMUNOLOGY

Dr. Stephen J. McGeady
Egg Harbor Township
(609) 641-3700

Dr. Nicholas A. Romanoff
Cherry Hill
(856) 429-4922
Northfield
(609) 641-4970

Dr. Gregory R. Toci
Marlton
(856) 988-0570

Dr. Richard A. Wachs
Marlton
(856) 753-8989

ALTERNATIVE MEDICINE

Dr. Sajid Surve
Stratford
(856) 566-7010

ANESTHESIOLOGY

Dr. Gary B. Buck
Mount Laurel
(856) 255-5479

Dr. Konstantin Dateshidzes
Browns Mills
(609) 893-6611

Dr. Heng Jiang
Voorhees
(856) 988-6250

Dr. Muhammad Muntazar
Camden
(856) 968-7334

BARIATRIC SURGERY

Dr. Louis Balsama
Sewell
(856) 589-0600

Dr. Harish Kakkilaya
Woodstown
(856) 624-4319

Dr. Marc Neff
Cherry Hill
(856) 665-2017
Sewell
(856) 256-7777
Stratford
(856) 346-8757

Dr. Rohit A. Patel
Voorhees, Camden
(856) 342-2384

CARDIOLOGY

Dr. Surendra K. Bagaria
Berlin
(856) 768-6600

Dr. Vic Bahal
Mullica Hill
(856) 241-3838

Dr. Stephen J. Daly
Voorhees
(856) 435-8842

Dr. Nicholas L. DePace
Cherry Hill
(856) 751-0058
Sewell
(856) 589-6034

Dr. Willis E. Godin
Cherry Hill
(856) 482-8900
Hainesport
(609) 261-3917

Dr. John Hamaty
Cherry Hill
(856) 755-1173

Dr. Kurt W. Kaulback
Woodbury
(856) 845-6807

Dr. Alan D. Kramer
Voorhees
(856) 424-3600

Dr. Arthur T. Martella
Haddon Heights
(856) 547-0389

Dr. Daniel J. Tarditi
Haddon Heights
(856) 632-1091

CARDIOTHORACIC SURGERY

Dr. Dioscoro Villanueva
Cherry Hill
(856) 428-7700

CARDIOVASCULAR DISEASE

Dr. Mahendra P. Dadhania
Marlton
(856) 342-2034

CHIROPRACTIC

Dr. Charles Annunziata
Cinnaminson
(856) 829-8100

Dr. Jesse Liebman
Marlton
(856) 596-3000

Dr. John E. Sandoz
Mount Laurel
(856) 206-9560

COSMETIC AND PLASTIC SURGERY

Dr. Lyle Back
Cherry Hill
(800) 625-3683

Dr. Sean Bidic
Vineland
(856) 362-8898

Dr. Gary M. Brownstein
Cherry Hill
(856) 795-7000

Dr. Anthony Corrado
Cherry Hill
(877) 481-3223

Dr. Steven Davis
Cherry Hill
(856) 424-1700

Dr. Jose Diaz-Jimenez
Collingswood, Marlton, Sewell
(856) 589-1151

Dr. Brett Garber
Voorhees
(856) 616-9200

Dr. Susan M. Hughes
Cherry Hill
(856) 751-4554

Dr. Gary A. Tuma
Pennington
(609) 537-7000

Dr. Bhupesh Vasisht
Voorhees
(856) 784-2639

DERMATOLOGICAL SURGERY

Dr. Robert B. Sollitto
Voorhees
(856) 770-0800

DERMATOLOGY

Dr. Coyle S. Connolly
Cape May Court House
(609) 463-9933
Cinnaminson
(856) 772-1333
Linwood
(609) 926-8899

Dr. Magaly P. Del Monaco
Moorestown
(856) 642-6450

Dr. Sandra Elder
Marlton
(856) 872-2470

Dr. Justin J. Green
Marlton
(856) 596-0111

Dr. Karen S. Harkaway
Delran
(856) 461-1400

Dr. Robin M. Levin
Marlton
(856) 810-9888

Dr. Pooja Malik
Mullica Hill
(856) 478-2111

Dr. Birgit Toome
Egg Harbor Township
(609) 484-8700
Marlton
(856) 751-9560
Vineland
(856) 691-3442

EAR, NOSE, THROAT/ OTOLARYNGOLOGY

Dr. Saba Aftab
Gibbsboro
(856) 435-9100

Dr. Tasos Aslanidis
Marlton
(856) 797-9961
Turnersville
(856) 875-0111

Dr. Scott L. Busch
Cherry Hill
(856) 424-0414

Dr. Ashmit Gupta
Haddonfield, Mount Laurel, Voorhees
(856) 602-4000

Dr. Patrick J. Hall
Cherry Hill, Sewell, Woodbury
(856) 602-4000

Dr. John W. McGrath
Marlton
(856) 797-9961
Turnersville
(856) 875-0111

Dr. Scott R. Schaffer
Gibbsboro
(856) 435-9100

Dr. Edward D. Scheiner
Cherry Hill
(856) 424-9200

Dr. Samir V. Shah
Voorhees
(856) 602-4000

Dr. Gabriel H. Wong
Gibbsboro
(856) 435-9100

EMERGENCY MEDICINE

Dr. Avian Tisdale
Turnersville
(856) 686-4306

ENDOCRINOLOGY

Dr. Louis C. Haenel IV
Stratford, Washington, Cherry Hill
(856) 783-2244

FAMILY MEDICINE

Dr. Joseph P. Badolato
Sewell
(856) 256-0600

Dr. John Bertagnolli
Hammonton
(609) 704-0185

Dr. Benjamin I. Blank
Glendora
(856) 939-2828

Dr. Danielle Brenza
Sewell
(856) 218-4848

Dr. Joseph Cavallaro III
Voorhees
(856) 344-7916

Dr. Joshua S. Coren
Hainesport
(609) 702-7500

Dr. James E. Crudele
Moorestown
(856) 235-6116

Dr. Michael DiMarcangelo Jr.
Maple Shade
(856) 779-7386

Dr. Scott M. Dorfner
Burlington
(609) 387-2142
Delran
(856) 764-2500
Medford
(609) 654-7556
Willingboro
(609) 877-0644

Dr. Heidi L. Handler
Cherry Hill
(856) 321-0303

Dr. Philip Hollander
Medford
(609) 953-7105

Dr. Robert Hudrick
Cherry Hill
(856) 667-9051

Dr. Stephen E. Kabel
Delran
(856) 461-6200

Dr. Marie Z. Kairys
Haddon Heights
(856) 546-7990

Dr. Steven Lowry
Williamstown
(856) 629-7436

Dr. Helen Manalis
Haddonfield
(856) 854-6600

Dr. Anu Momi
Voorhees
(856) 809-0909

Dr. Danielle S. Nordone
Sewell
(856) 232-6471

Dr. Aubrey M. Olson
Stratford
(856) 566-7021

Dr. Ambarish A. Patel
Voorhees
(856) 258-4966

Dr. Matthew G. Pinto
Bellmawr
(856) 931-6950

Dr. Angelo Sparagna
Somers Point
(609) 927-1163

Dr. Donna G. Wilcox
Voorhees
(856) 783-0695

GASTRO­ENTEROLOGY

Dr. Anil Balani
Cherry Hill
(856) 429-4433
Turnersville
(856) 875-8040

Dr. Jason N. Rogart
Pennington
(609) 537-5000

Dr. Kenneth Schwab
Somers Point
(609) 926-3330
Egg Harbor Township
(609) 645-1880
Cape May Courthouse
(609) 465-0060

Dr. Ahmed Shehata
Cherry Hill
(856) 429-4433
Turnersville
(856) 875-8040

Dr. Brenda R. Velasco
Haddon Heights
(856) 547-1212
Voorhees
(856) 751-2300

Dr. Warren Werbitt
Cherry Hill
(856) 429-4433
Turnersville
(856) 875-8040

GENERAL SURGERY

Dr. Matthew Finnegan
Haddon Heights
(856) 546-3900

Dr. Christopher J. Gannon
Pennington
(609) 537-6000

Dr. Nauveed Iqbal
Bridgeton
(856) 455-2399

Dr. Francis E. Rosato Jr.
Pennington
(609) 537-6000

GERIATRICS

Dr. Paul N. Bryman
Stratford
(856) 566-6843

Dr. Thomas A. Cavalieri
Stratford
(856) 566-6995

Dr. Terrie B. Ginsberg
Stratford
(856) 566-6843

Dr. Elisabeth A. Siegert
Moorestown
(856) 439-2000

HEADACHE AND PAIN MANAGEMENT

Dr. Youssef Josephson
Stratford
(856) 566-7010

Dr. Loretta Mueller
Stratford
(856) 566-7010

HEMATOLOGY/ ONCOLOGY

Dr. Eduardo E. Fernandez
Westampton
(609) 702-7550

Dr. Noah Lindenberg
Voorhees
(856) 435-1777

Dr. Carlos S. Madamba
Cherry Hill
(856) 424-3311

Dr. Trina A. Poretta
Voorhees
(856) 435-1777

Dr. David H. Ross
Voorhees
(856) 435-1777

HOSPICE AND PALLIATIVE CARE

Dr. Stephen Goldfine
Marlton
(800) 229-8183

Dr. Ira Smith
Marlton
(800) 229-8183

INFECTIOUS DISEASE

Dr. John D. Baxter
Camden
(856) 963-3715

Dr. David V. Condoluci
Voorhees
(856) 566-3190

Dr. Henry S. Fraimow
Camden
(856) 963-3715

Dr. Todd Levin
Voorhees
(856) 566-3190

Dr. Judith A. Lightfoot
Voorhees
(856) 566-3190

INFERTILITY/REPRODUCTIVE MEDICINE

Dr. Jerome Check
Marlton
(856) 751-5575

Dr. David R. Corley
Marlton
(856) 334-8030
Lakewood
(732) 363-4777

Dr. Akas Jain
Marlton, Vineland, Lawrenceville
(856) 988-0072

Dr. Louis R. Manara
Voorhees
(856) 767-0009

Dr. Allen Morgan
Marlton
(856) 334-8030
Lakewood
(732) 363-4777

Dr. Gary Packin
Marlton
(856) 596-2233
Sewell
(856) 218-8863

Dr. Robert Skaf
Marlton
(856) 596-2233
Sewell
(856) 218-8863

Dr. George S. Taliadouros
Marlton, Vineland, Lawrenceville
(856) 988-0072

INTERNAL MEDICINE

Dr. Nancy H. Beggs
Voorhees
(856) 325-6770

Dr. Joseph P. Curreri
Merchantville
(856) 663-1121

Dr. Peter A. Curreri
Merchantville
(856) 663-1121

Dr. James C. D'Amico
Turnersville
(856) 401-9300

Dr. H. Timothy Dombrowski
Stratford
(856) 566-6845

Dr. Joseph G. Gambale
Berlin
(856) 768-0178
Stratford
(856) 566-6845
(866)?891-2002

Dr. Daniel J. Hyman
Gloucester City
(856) 456-0518

Dr. Joanne Kaiser-Smith
Stratford
(856) 566-6845

Dr. S. Michael Mirmanesh
Marlton
(856) 985-0203

Dr. William Morowitz
Voorhees
(856) 751-8778

Dr. Satyajeet Roy
Cherry Hill
(856) 321-1919

Dr. Richard G. Santamaria
Marlton
(856) 596-7768

Dr. Anthony Sherman
Cherry Hill
(856) 321-1919

Dr. Anthony Wehbe
Cherry Hill
(856) 229-7248
Washington Township
(856) 589-4268
(866)?891-2002

INTERVENTIONAL RADIOLOGY

Dr. David W. Goldstein
Cherry Hill
(856) 488-6844

Dr. Jay B. Patel
Stratford, Washington Township, Woodbury
(856) 848-4998

Dr. Randall Snyder
Voorhees
(856) 751-0123
Marlton
(856) 983-1818
Haddonfield
(856) 616-1130

MATERNAL AND FETAL MEDICINE

Dr. Robert Debbs
Somers Point
(609) 653-3636

NEPHROLOGY

Dr. Anthony Brown
Voorhees
(856) 566-5478

Dr. Christopher B. McFadden
Cherry Hill
(856) 757-7844

Dr. Beckie Michael
Voorhees
(856) 988-8800

NEUROLOGY

Dr. Donald A. Barone
Stratford
(856) 566-6406

Dr. Joseph V. Campellone
Cherry Hill, Camden
(856) 342-2445

Dr. Sean T. Hubbard
Camden
(856) 833-1164

Dr. Larry S. Janoff
Cherry Hill
(856) 795-2000

NEUROSURGERY

Dr. Ethan A. Benardete
Sewell
(856) 256-7591

Dr. Mandy J. Binning
Pennington
(609) 537-7300

Dr. Jonathan D. Bussey
Camden
(856) 968-7965

Dr. Kenneth M. Liebman
Pennington
(609) 537-7300

Dr. Mark Testaiuti
Mount Laurel
(856) 222-4444
Sewell
(856) 740-5360

Dr. Alan R. Turtz
Camden, Turnersville
(856) 968-7965

Dr. Erol Veznedaroglu
Pennington
(609) 537-7300

Dr. Sarah Woodrow
Camden
(856) 968-7965

Dr. Steven S. Yocom
Camden, Turnersville
(856) 968-7965

OBSTETRICS & GYNECOLOGY

Dr. Jewel Naakarley Amui-Bellon
Marlton
(856) 267-5019

Dr. Warren I. Brandwine
Mount Laurel
(856) 778-4700
Hammonton
(609) 561-6660

Dr. Kimberly Bridges-White
Voorhees
(856) 424-3323

Dr. Donna L. D'Elia
Voorhees
(856) 770-9300

Dr. Benjamin DiJoseph
West Deptford
(856) 845-4061

Dr. Roberta Felsenstein
Turnersville, Voorhees
(856) 772-2300

Dr. Lennard R. Gildiner
Lindenwold
(856) 435-7007

Dr. Marie Henselder-Kimmel
Lindenwold
(856) 435-7007

Dr. Michelle A. Iavicoli
Cherry Hill
(856) 321-1800

Dr. Stacy McCrosson
Mount Laurel
(856) 778-4700
Hammonton
(609) 561-6660

Dr. Kristen McCullen
Mount Laurel
(856) 778-4700
Hammonton
(609) 561-6660

Dr. Michael Minoff
Willingboro
(609) 877-3777
Moorestown
(856) 642-6580

Dr. Elias Nemeh
Turnersville
(856) 875-0505

Dr. Jane S. Noah
Mount Laurel
(856) 778-4700
Hammonton
(609) 561-6660

Dr. Steven L. Richman
Mount Laurel
(856) 778-4700
Hammonton
(609) 561-6660

Dr. Sarah Rosen
Voorhees
(856) 424-3323

Dr. Michele Tartaglia
Sewell
(856) 589-1414

OPHTHALMOLOGY

Dr. Gregg A. Bannett
Woodbury
(856) 853-5554

Dr. Karen F. Dante
Medford
(609) 654-6140

Dr. Raymond M. Girgis
Sewell
(856) 290-4548

Dr. Ravi D. Goel
Cherry Hill, Hammonton
(856) 795-8787
Haddon Heights
(856) 547-0200

Dr. Harry D. Grossman
Marlton
(856) 983-1400

Dr. Gregory H. Scimeca
Moorestown
(856) 235-2448
Willingboro
(609) 877-2800

Dr. Floyd F. Spechler
Cherry Hill
(856) 354-1717

OPTOMETRY

Dr. Gary S. Edelstein
Maple Shade
(856) 779-7595

ORTHOPEDIC SURGERY

Dr. Joseph A. Abboud
Marlton
(800) 321-9999

Dr. Orin K. Atlas
Hainesport
(609) 261-5800

Dr. Luke S. Austin
Egg Harbor Township, Sewell
(800) 321-9999

Dr. Lawrence Barr
Burlington, Cherry Hill, Turnersville
(856) 616-2999

Dr. Joseph N. Daniel
Egg Harbor Township, Sewell
(800) 321-9999

Dr. Jeffrey B. Daniels
Voorhees
(856) 424-8866
Turnersville
(856) 227-7566

Dr. Larry Deutsch
Mount Laurel
(856) 222-4444
Washington Township
(856) 740-5360

Dr. Richard C. DiVerniero
Mullica Hill
(856) 223-0007

Dr. Thomas A. Dwyer
Vineland, Elmer, Mullica Hill
(888) 622-6637

Dr. Joseph Farrell
Marlton, Mount Holly
(800) 896-7326

Dr. Rob Franks
Marlton, Sewell
(800) 321-9999

Dr. Robert Greenleaf
Marlton, Voorhees, Sewell
(800) 896-7326

Dr. Michael F. Harrer
Marlton, Sewell
(800) 321-9999

Dr. Rajesh Jain
Marlton, Mount Holly, Voorhees
(800) 896-7326

Dr. Steven B. Kirshner
Marlton
(856) 267-5629

Dr. Michael Levy
Cherry Hill
(856) 751-5100
Sewell
(856) 881-1555

Dr. Paul A. Marchetto
Marlton
(800) 321-9999

Dr. Jonas L. Matzon
Egg Harbor Township, Sewell
(800) 321-9999

Dr. Kam Momi
Mount Laurel
(856) 222-4444
Sewell
(856) 740-5360

Dr. David G. Nazarian
Cherry Hill
(888) 678-4632

Dr. Evan D. O'Brien
Woodbury
(856) 845-0707

Dr. Alvin Ong
Egg Harbor Township
(800) 321-9999

Dr. Fabio Orozco
Egg Harbor Township, Manahawkin
(800) 321-9999

Dr. Matthew Pepe
Marlton
(800) 321-9999

Dr. Ravi K. Ponnappan
Hammonton, Marlton
(609) 601-4920

Dr. Kris Radcliff
Egg Harbor Township, Manahawkin
(800) 321-9999

Dr. Laura Ross
Hainesport
(609) 267-2333
Berlin
(856) 768-7777

Dr. Richard Rothman
Egg Harbor Township
(800) 321-9999

Dr. James A. Sanfilippo Jr.
Marlton, Mount Holly
(800) 896-7326

Dr. Mark A. Sobel
Marlton
(856) 596-0555

Dr. Fotios P. Tjoumakaris
Egg Harbor Township
(800) 321-9999

Dr. Bradford S. Tucker
Egg Harbor Township
(800) 321-9999

Dr. Brian K. Zell
Marlton
(856) 596-0555

PATHOLOGY

Dr. Robert J. Biondi
Mount Laurel
(609) 922-0116

Dr. Tina B. Edmonston
Camden
(856) 963-0573

Dr. Janusz Godyn
Cherry Hill, Stratford
(856) 488-6560

PEDIATRIC CARDIOLOGY

Dr. Steven Ritz
Voorhees
(856) 342-2001

PEDIATRIC NEPHROLOGY

Dr. Bruce A. Kaiser
Voorhees
(856) 309-8508

PEDIATRIC NEUROLOGY

Dr. Charles B. Brill
Voorhees
(856) 309-8508

Dr. Avi Elizabeth Domnitz-Gebet
Voorhees
(856) 751-9339
Camden
(856) 342-2001
Moorestown
(856) 722-9001

Dr. Michael H. Goodman
Voorhees
(856) 751-9339
Camden
(856) 342-2001

PEDIATRIC ORTHOPEDIC SURGERY

Dr. Candice P. Holden
Voorhees
(856) 309-8508

PEDIATRICS

Dr. Christopher Amato
Gibbsboro
(856)-435-6000
Washington Township
(856) 740-4440

Dr. Carolyn E. Clear
West Deptford
(856) 879-2887

Dr. Jeffrey Flick
Cape May Courthouse
(609) 624-9003
Egg Harbor Township
(609) 677-1130

Dr. Daniel J. Foran
Medford
(609) 654-9112

Dr. Anne M. Gordon
Marlton
(856) 596-3434

Dr. William R. Graessle
Camden
(856) 342-2001

Dr. Jacqueline M. Kaari
Sewell
(856) 582-0033

Dr. Lee Lerch
Gibbsboro
(856) 435-6000
Washington Township
(856) 740-4440

Dr. Cyrus Mohazzebi
Cherry Hill
(856) 795-3320
Sicklerville
(856) 875-7444

Dr. John B. Tedeschi
Cherry Hill, Collingswood
(856) 424-6050
Hammonton
(609) 704-8848
Sewell
(856) 227-5437

Dr. John M. Tedeschi
Cherry Hill, Collingswood
(856) 424-6050

PHYSICAL MEDICINE AND REHABILITATION

Dr. Stephen J. Cohen Camden
(856) 414-6110


Dr. Natacha Falcon
Egg Harbor Township
(800) 321-9999

Dr. Michael Falcone
Egg Harbor Township
(800) 321-9999

Dr. Jerrold A. Friedman
Voorhees, Camden
(856) 414-6110

Dr. Richard T. Jermyn
Stratford
(856) 566-7010

Dr. Lisa A. Marino
Marlton
(800) 321-9999

Dr. Michael Mehnert
Egg Harbor Township
(800) 321-9999

Dr. Michael Paul
Mount Laurel
(856) 222-4444
Sewell
(856) 740-5360

Dr. Chander K. Sachdeva
Marlton, Pennsauken, Washington Township, Voorhees
(856) 488-1212

PHYSIOLOGY

Dr. Raffaele Corbisiero
Browns Mills
(609) 893-6611

PODIATRY

Dr. Albert M. D'Angelantonio
Cherry Hill, Turnersville
(856) 875-8855

Dr. Homyar Karanjia
Marlton, Sewell
(800) 321-9999

Dr. Lawrence A. Levine
Cherry Hill
(856) 795-1003
Haddon Heights
(856) 547-8826
Medford
(609) 654-1717
Camden
(856) 583-2456

Dr. David Mil­lili
Sewell
(856) 342-3113

Dr. Joseph Mirarchi
Cherry Hill, Pennsauken, Turnersville
(856) 875-8218

Dr. Elisa Robinson
Marlton, Mount Holly, Voorhees
(800) 896-7326

Dr. David Weiss
Hammonton
(609) 561-2488

PREOPERATIVE SERVICES/PAIN MANAGEMENT

Dr. Scott Greenberg
Cherry Hill
(856) 424-8222

Dr. Gabriella Gutman
Marlton, Mount Holly, Voorhees
(800) 896-7326

Dr. Young Lee
Mount Laurel
(888) 985-2727

Dr. Allan Magaziner
Cherry Hill
(856) 424-8222

Dr. John P. Nolan
Cherry Hill, Marlton, Sewell
(800) 896-7326

Dr. Anupam Sinha
Marlton
(800) 321-9999

PSYCHIATRY

Dr. Michael J. Friedman
Cherry Hill
(856) 482-9000

Dr. Douglas T. Leonard
Cherry Hill, Camden
(856) 482-9000

PULMONARY MEDICINE

Dr. James C. Giudice
Stratford
(856) 566-6859

Dr. Thomas Morley
Stratford
(856) 566-6859
Sewell
(856) 218-0300

Dr. Thomas R. Nugent
Cherry Hill
(856) 429-1800

Dr. Alan Pope
Cherry Hill
(856) 429-1800

RADIATION ONCOLOGY

Dr. Alexis Harvey
Hammonton
(609) 704-7280
Voorhees
(856) 424-0003
Willingboro
(609) 877-3064
Woodbury
(856) 848-7374

Dr. David Horvick
Willingboro
(609) 877-3064
Voorhees
(856) 424-0003
Woodbury
(856) 848-7374
Hammonton
(609) 704-7280

Dr. Michael D. Stambaugh
Willingboro
(609) 877-3064
Voorhees
(856) 424-0003
Woodbury
(856) 848-7374
Hammonton
(609) 704-7280

RADIOLOGY

Dr. Mark DiMarcangelo
Cherry Hill
(856) 661-5473
Stratford
(856) 346-7844
Washington Township
(856) 582-2844

Dr. James Elder
Voorhees
(856) 751-0123
Marlton
(856) 983-1818
Haddonfield
(856) 616-1130

Dr. William F. Muhr
Cherry Hill
(856) 428-4344
Haddonfield
(856) 616-1130
Sicklerville
(856) 237-8090
Marlton
(856) 983-1818
Pennsauken
(856) 665-3330
Turnersville
(856) 227-6600
Voorhees
(856) 751-0123
Washington Township
(856) 740-5241

Dr. David Olian
Stratford
(856) 566-2552
West Deptford
(856) 848-4998
Woodbury
(856) 686-7290

Dr. Catherine W. Piccoli
Voorhees
(856) 751-5522

Dr. David A. Roberts
Cherry Hill
(856) 428-4344
Haddonfield
(856) 616-1130
Sicklerville
(856) 237-8090
Marlton
(856) 983-1818
Pennsauken
(856) 665-3330
Turnersville
(856) 227-6600
Voorhees
(856) 751-0123
Washington Township
(856) 740-5241

SPORTS MEDICINE

Dr. Kathryn T. Gollotto
Marlton, Mount Holly
(800) 896-7326

Dr. John M. Gray
Marlton, Mount Holly
(800) 896-7326

Dr. Kathryn Lambert
Stratford
(856) 566-7020

Dr. Enrico A. Marcelli
Cherry Hill, Sewell
(800) 896-7326

Dr. Mitesh K. Patel
Marlton, Sewell
(800) 321-9999

THORACIC SURGERY

Dr. Morris Eisen
Voorhees
(856) 772-9600

Dr. Jay Steinberg
Cherry Hill
(856) 428-7700

UROLOGY

Dr. Gene J. Braga
Cape May Courthouse
(609) 465-4404
Somers Point
(609) 653-4343

Dr. Gordon Brown
Sewell
(856) 582-9645
Voorhees
(856) 673-1600
Cherry Hill
(856) 325-2500

Dr. Michael Cohen
Lawrenceville
(609) 895-1991

Dr. Evan Krisch
Voorhees
(856) 673-1600
Sewell
(856) 582-9645
Cherry Hill
(856) 325-2500

Dr. Thomas J. Mueller
Sewell
(856) 582-9645
Voorhees
(856) 673-1600

Dr. Marcella M. Nachmann
Sewell
(856) 582-9645
Voorhees
(856) 428-8005
Cherry Hill
(856) 325-2500

Dr. David Sussman
Sewell
(856) 582-9645
Voorhees
(856) 428-8005

VASCULAR SURGERY

Dr. Alfredo Abud
Pennington
(609) 537-7300

Dr. Charles L. Dietzek
Voorhees, Sewell, Swedesboro, Vineland
(856) 309-8346

Dr. Raymond S. Wojtalik
Voorhees, Sewell, Swedesboro, Vineland
(856) 309-8346

Published (and copyrighted) in South Jersey Magazine, Volume 9, Issue 5 (August, 2012).
For more info on South Jersey Magazine, click here.
To subscribe to South Jersey Magazine, click here.
To advertise in South Jersey Magazine, click here.


Author: Editorial Staff--South Jersey Magazine

Archives
---
Out from Under the Knife
A Healthy Smile
Caught in the Middle
Body Transformations
The Heart of the Matter
Holistic Health Methods
Autism Support is Never Too Far Away
2014 Top Children's Physicians
The Heart Truth
Boosting Brain Power
The ABC's of the ACA
Fitness Revolution
A Center of Innovation
Health Care Economics
A Big Transition
More Articles