---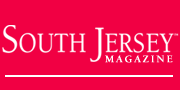 Business & Finance Feature
Business & Finance Feature - New Articles
• Office Space
Making it to the top of the business world can be a challenge. This month's books help demystify the process, guiding you to find ways to step out of your comfort zone and make a name for yourself, no matter what sector of business you're in.

• Corner Office: Maureen Tinen
Maureen Tinen has sat at the helm of UCEDC, a nonprofit economic development corporation, for the past 27 years. As president of the nonprofit, she has worked with thousands of business owners to help them build and grow their businesses.

• When Wives Make More
…From the pages of South Jersey Magazine…
What it's like to be the female breadwinner in the family – and what it's like to be married to her.
It took a little "rewiring" for Mike Bowman to come to terms with the fact that his wife earned a higher salary than he did. Bowman, a social worker for Volunteers of America Delaware Valley, works about 40 hours per week at a local halfway house, counseling addicted inmates before their reentrance into society.

• Close of Biz: Keeping it Cool
How local executives help their employees relax in and out of the workplace

• On The Move
Comings, goings, hirings, retirings and more in South Jersey.