Ray Jackson Dies Before Court Date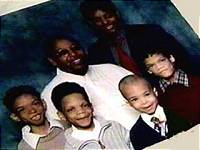 Raymond Jackson, the man accused last October of starving his four adopted sons in Camden County, died Tuesday morning at a Camden hospital.
Jackson had been hospitalized for two weeks, following a massive stroke. A secretary with the Come Alive New Testament Church in Medford, where he worshipped, confirmed his death. She declined to give her name.
The hospital, citing confidentiality rules, declined comment.
Jackson and his wife, Vanessa, faced a court date on Dec. 6 on charges of endangering the welfare of their four adopted sons.
Jackson along with his wife, Vanessa, were facing 28 counts of aggravated assault and child endangerment for allegedly starving their four adopted boys. The boys ranging in age from 19 to four years old weighed less than 45 pounds each when discovered last year.
The Jacksons had pleaded not guilty and were each free on $100,000 bail.
Prosecutors claimed they systematically starved their four adopted sons until the eldest was found rummaging through a neighbor's trash for food in October 2003.
The Jacksons claimed the children had eating disorders and they were the victims of lies by the eldest child, Bruce Jackson.
Sources tell NBC 10 that Jackson, 51, passed away at Cooper Hospital around 8:50 a.m. and he was surrounded by his family.
On Nov. 14, news reports surfaced that Jackson had a massive stroke.
According to the Web site SaveTheJacksons.org, Jackson had stayed home from church to care for one of his daughters that Sunday. When the rest of the family returned home, the he was unresponsive.
The Jacksons' case had received international attention last year and led to questions about the New Jersey child-welfare system.
Article continues below
---
advertisement


---
Author:
NBC10/AP
Archives
---
A TALE OF THREE WEDDINGS
Timber Creek's Leary heads to Illinois
One of Us
Truer Words Have Been Spoken
A Thriving County
Executive Q&A
A Man of Many Faces
Super Women
Vocal Leader
Seeking Acceptance
The Business of Health Care
Mommy's Gone Viral
Singles: December 13
2017 Men of the Year
The Weekender
More...