Samaritan Hospice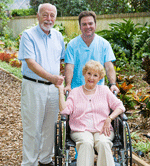 Life doesn't always go as planned. One's path can take them in any number of directions; these directions create lasting moments and memories. The beauty of life, then, is never knowing what will happen next. Times can be incredible, overwhelming, stressful or beautiful; however, one of the most uncomfortable parts of life is facing the end of it, either for oneself or for a loved one. While these times can prove to be some of the most difficult, comfort and support can often prove to be extremely helpful. Though most individuals can often garner this help from loved ones, sometimes the situation becomes overwhelming. In these cases, the Samaritan Hospice of Marlton can help.
The Samaritan Hospice offers a variety of services that serve to assist those in difficult times. They offer hospice care to those with terminal illness. Often times, this diagnosis is a result of failure to respond to treatment or refusal of the pursuit of treatment. Regardless of the decision made by an individual family during this time of high stress, the Samaritan Hospice is there to help. They create a comfortable environment for the patient; one of the most important components of this environment is pain management. Though the person with the advanced illness is at the forefront of this objective, family and friends of the patient also play a role. They, too, are affected by the loss and must also be counseled with regards to their anxieties and fears.
During the Hospice's time with the patient and his or her loved ones, the organization also offers the services of their Center for Grief. Samaritan Hospice understands that although grief is a universal emotion, it is a very personal experience for the individual. The surviving loved ones may have had any number of experiences with the lost family member that create truly individualized grief. Though the Center for Grief's doors are open to those who choose to use the organization's hospice care, its resources are also available for other members of the community. If life hands a person a loss that they are unable to cope with alongside their friends and family members, Samaritan Hospice can help, not only through the counseling services they offer, but also through crisis management for companies and schools, community and professional education, and free grief support for the community, among other things.
Samaritan Hospice was formed in 1980 in a grassroots movement led by Dr. Agnes Gowdy. The organization has since grown to become a tremendous coping resource in a number of families' lives, but has also remained true to its humble beginnings: the Samaritan Hospice remains an independent, non-profit agency "deeply committed to serving and giving back to the community." The organization has any number of milestones: from its being the first agency to offer hospice services in a nursing home in South Jersey, to its groundbreaking volunteer support program, Transitions. The Samaritan Hospice has undergone many changes in its almost 30 year history, but its mission remains the same: to "[contribute] to the health and well-being of [the] community." Community building is especially important to the hospice's everyday activities and functions.
Volunteering at Samaritan Hospice can be a very rewarding experience. In fact, volunteering has proven to increase one's odds of a living a healthy life. Volunteers flock to the Hospice from a wide variety of backgrounds but with a single goal--to help others. The organization provides critical training for individuals interested in volunteering, so there is no experience necessary. The best Samaritan Hospice volunteers, however, are flexible and reliable, and have good communication skills. Training begins with a one-hour orientation to the Hospice as an organization. Upon the completion of this workshop, the prospective volunteer can go on to attend other training sessions that qualify him or her to work in any number of areas within the Hospice.
One of the most popular ways of volunteering with the Hospice is to be involved with patient care. In order to be qualified for this position, the volunteer must not only go through the initial organizational training, but also a nine-hour program that highlights the benefits and challenges of in-home care volunteering. These meetings serve to not only instruct volunteers, but also listen to them. The training, which is done over three days, also discusses personal attitudes toward death and dying so that volunteers are better equipped to handle not only potential situations, but also the potential emotions that may arise within themselves as a result.
Volunteers may also get involved with the bereavement, ambassador, Eucharistic minister, or educational training programs. Each training requires its own separate skill sets and sessions, but each has tremendous benefits. For more information regarding volunteering or to sign up to attend a session, contact volunteer coordinator Sally Cezo at 856-552-3235 or go to samaritanhospice.org.
For more information about the services provided by Samaritan Hospice, please call 800-229-8183, 856-596-1600, 609-394-1116, or go to their website, samaritanhospice.org.
8/10/15
© SouthJersey.com 2014. All rights reserved. This article or parts thereof may not be reprinted or reproduced by any other party without the express written consent of SouthJersey.com. For more information, please call 856-797-9910.
For more on local Organizations, visit our South Jersey Organizations page.
Article continues below
---
advertisement


---
Author:
Meredith Bajgier
Archives
---
Family Fun
Live from the White House
Collingswood
Stepping Up to the Plate
Local Story
Lingering Questions
Still Fresh
Under the South Jersey Sun
Riverside Retreat
Against All Odds
Like a Girl
Going Her Own Way
Fall In
Aiming to Please
Walk of Fame: Natalie Hope Sommermann
More...