Alicia Coppola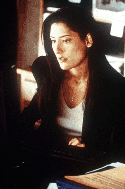 Majoring in philosophy and political anthropology at New York University, Alicia Coppola had every intention of going to law school and eventually enter the family`s successful welding and medical supply businesses. Everything was running smoothly until she went apartment hunting during her sophomore year. The landlord for her expensive, but tiny, new studio apartment happened to be a model for the prestigious Elite modeling agency and happened to notice that her new tenant was tall, dark and beautiful. Would Coppola be interested in a modeling career?
Correctly assuming that modeling is not an overly strenuous profession, and having no immediate financial needs, Coppola kept the agency appointment set up by her apartment owner as a lark.
"Well, Elite took me on immediately with enough work to pay for my books and rent - it was great," she laughs.
Then she signed on with the agency`s commercial division and soon got an MTV game show called "Remote Control" (1987-90), working with Denis Leary, Adam Sandler and Colin Quinn. Coppola`s acting career kicked into high gear one day when her cousin (no, not the unrelated Francis Ford) Denise Di Novi dropped in on the quiz show set and saw something she liked in the family likeness. Di Novi - who produced such fare as "Heathers," "Batman," "Little Women," "Message In A Bottle and "Practical Magic" - immediately introduced her young cousin to her high-powered agent at William Morris. By the time Coppola graduated with a bachelor`s degree from NYU in 1990, she was in the position to exercise several options. She eventually chose a three-year (1991-94) gig on the daytime soap "Another World" as the much-troubled rape victim Lorna Devon (later portrayed by Robin Christopher).
The sudser turned out to be an extremely wise choice, according to Coppola.
"I personally believe that every young actor should be forced to do a soap early on in their careers. It`s an incredible place to learn the craft from people who have been around the business longer than you have been alive. I will always be on time and never give you attitude. I know my lighting. I know my blocking. And I know how to memorize a fifty-page script in half-an-hour."
Having paid her dues, with plenty of change coming back, Coppola gave Los Angeles a shot in 1994. She was welcomed relatively warmly with a guest shot on "NYPD Blue" and the pilot for "Star Trek: Voyager" (1995).
"Lieutenant Stadi was a great part - I killed everybody, then died," says the 32-year-old actress. "I adapted to the work easily, but had a hard time with the Southern California climate. Being from the East Coast, the idea of no seasons was weird to me."
She recovered from Los Angeles` brutally beautiful weather in time to guest star in dozens of episodics and a handful of TV movies, including "The Perfect Getaway" and "For the Children: The Irvine Fertility Scandal." Coppola also became a regular on two mercifully short-lived series, the drama "Trinity" (1998) and the sitcom "Cold Feet" (1999) before her current assignment in the first 13 episodes of the new cable series "Bull."
Revolving around killer young professionals on Wall Street, "Bull" follows the machinations of renegade stockbroker Robert "Ditto" Roberts III (George Newbern) as he breaks away from his autocratic grandfather`s (Donald Moffat) firm with a half-dozen financially hyperextended renegade market traders. Stanley Tucci plays Hunter Lasky, the hardball negotiator capable of keeping the new firm float. Coppola portrays ace broker Marissa Rufo, a working-class girl who clawed her way out of Queens to climb the corporate ladder in leaps and bounds.
"The cool thing about `Bull` is that the six principals only know each other at work and nothing about each other`s private lives," she explains. "Marissa`s peers do not know that her mother suffers from Alzheimer`s or that her father is going through a miserable life. She is a single, incredibly hopeful girl who has taken total responsibility for her parents."
From a financially secure family in tony Huntington, Long Island, Coppola learned the art of commerce from her mother, and craft of acting from her father as she was growing up. Her grandfather founded a series of companies in New York, then turned several over to his children and their spouses. When one medical service and supply firm was sold to a British company, her mother simply created another without skipping a beat.
As a little girl, she loved tagging along with her (late) father, Matthew Coppola, when he took on local acting gigs and modeling stints.
"He had a great love for the performing arts, but it was tough to balance it out with his family and welding business responsibilities," she says. "Education was very important to both of my parents, which is why I promised that I would get my (college) degree, but I was free to choose whatever I wanted to do."
She grew up with her stepbrother, Benjamin, and younger brother Matthew, now a screenwriter-director, who recently completed his first independent film, "Fresh Cut Grass." Strangely enough, it stars his sister - the cheapest female talent he could find.
"I`m really proud of my brother, who borrowed, stole and cried to get it made," she says. "The story in some ways is quite autobiographical, describing how we came to terms with our father`s disease and, ultimately, his death."
Now a permanent resident of West Hollywood, Coppola has been married for one full year to fellow actor Anthony Michael Jones. His last film, "Print Shop," was shot, cut and dried in Las Vegas after he created a flower and vegetable garden for her birthday.
"We love hanging out in the garden, where we`re growing tomatoes, squash, strawberries, oranges and all sorts of good things," she says. "Weekends, we rent movies, lie in bed and just vegetate."
Another unusual feature of their California lifestyle is that their house is within walking distance to anywhere they want to go and anything they want to do.
"L.A. generally means you get in your car, find a freeway and drive a few miles to the grocery store," laughs Coppola. "Living just off Sunset Boulevard, we have eliminated that, plus we can walk to dozens of bars and sushi bars. I know this great hole in the wall. ... "
(c) Copley News service
Article continues below
---
advertisement


---
Author:
Eirik Knutzen
Archives
---
Elisa Donovan
Heather Paige Kent
Greg Kinnear
Julian McMahon
Emily Procter
Robert Guillaume
Steve Irwin
Jerry Stiller
Chazz Palminteri
Richard Belzer
Alexondra Lee
Dan Futterman
Serena Scott Thomas
Dean Haglund
Camryn Manheim
More Articles