With a Splash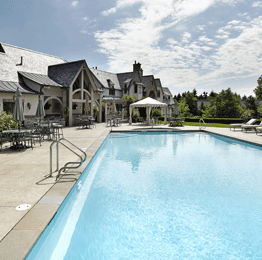 …From the pages of House & Home…
Experts sound off on how to get your pool ready for the summer season.
For many homeowners, the summer season officially kicks off with the opening of their backyard pool. But this seasonal milestone doesn't come without its fair share of work. Opening the pool for the season involves much more than just taking off the cover and adding some chlorine.
House & Home magazine sat down with some seasoned pool professionals to get their take on steps to get your pool up and running efficiently throughout the season, what issues homeowners may come across and how they address them—and how it's just as important to check your pool in the off-season, as well.
Experts say homeowners should take a walk around the pool, looking at the equipment and cover for anything that may have been damaged over the winter. Communicating this information to a professional company handling the opening will help them arrive prepared for the work that needs to be done. When a professional arrives, they will inspect things more carefully, looking for cracks in plumbing, damage to a liner or any staining on the finish of the pool.
Eric Johnson of Swim-Mor Pools advocates making two trips to a home when it comes to opening a backyard pool.
"The best way to open a pool is to break the process into two separate trips. On the first trip we remove, clean and fold the cover, remove all winterizing plugs and gizmos, reinstall pump baskets and plugs, prime the pump, add chlorine and clarifier to the pool, chlorine wash the coping and tile and brush the pool. The system is then left running 24 hours a day for the next couple days," he explains. "We return for a second trip once the pool has filtered. At that time we set the homeowners' time clocks or computer system, inspect the filter, pump, and heater for proper operation, leaf skim and vacuum the pool and deliver a chemical package."
As much as proper maintenance of a pool is important during the summer months, don't forget about your pool once it's closed for the winter, experts say. Many common issues that occur when opening a pool in the spring can be a result of homeowners not doing proper maintenance in the fall.
"We advise to check the water level periodically over the winter months. It is important to ensure that the water stays below the tile line to prevent damage. It is also recommended to add stain and scale chemicals during the winter to prevent issues caused by imbalanced water," Johnson says. "We have seen issues with pools that are first opened for the summer when the water wasn't balanced prior to closing. High pH can cause calcium scale to adhere to the surface of the pool. It is extremely important to monitor the chemical levels of a pool at all times. We have also seen pools turn green when they were closed too early or opened too late." To correct these problems, Johnson advises lowering the pH, adding de-scaling chemicals and brushing the surface; for a green pool, adding shock and phosphate remover.
"We do advise that the homeowners inspect the pool periodically to make sure that the water level remains below the tile line to prevent damages to them as water levels have a tendency to rise with snow and rainfall over the months," says Jeff Tierno, principal of Pools by Design. "We do not advise them to walk on the cover unless it is a secure safety cover. The reason is to keep from high levels of snow that can wear down on the cover."
Common issues in pools that have just been opened are debris, incorrect cover application and cloudy water, he notes. "The way to resolve this is to add the proper chemicals, let the system run continuously for 48 to 72 hours, then we would return to inspect, and vacuum and add more chemicals if needed," he says.
And when opening your pool, it's always best to consult a professional.
RESOURCES
Aqua Bello Designs
Plumsteadville, Pa.
(215) 353-0657
AquaBelloDesigns.com
Carlton Pools
Warminster, Pa.
(215) 674-8185
CarltonPools.com
Country Club Pools Inc.
Warminster, Pa.
(215) 675-7550
CountryClubPools.com
DS Pool Service Inc.
Royersford, Pa.
(610) 948-2000
DSPoolService.com
Pools by Design
Totowa, N.J.
(973) 942-1211
PoolsByDesignNJ.com
Swim-Mor Pools
Mount Ephraim, N.J.
(856) 456-3332
SwimMor.com
Published (and copyrighted) in House & Home, Volume 15, Issue 10 (April, 2015).
For more info on House & Home magazine, click here.
To subscribe to House & Home magazine, click here.
To advertise in House & Home magazine, call 610-272-3120.
Article continues below
---
advertisement


---
Author:
Rachel Morgan
Archives
---
A TALE OF THREE WEDDINGS
Timber Creek's Leary heads to Illinois
One of Us
The Weekender
Hometown Flavor
Hoop Dreams
Symon Says
Food & Drink: Raise a Glass
Off the Ice
Rewarding Work
Dig This
The Berlin Cemetery
A Southern Mansion
Fire on the Morro Castle
Pine Barrens Fire of 1936
More...