Camden Showing Expected Dominance this Basketball Season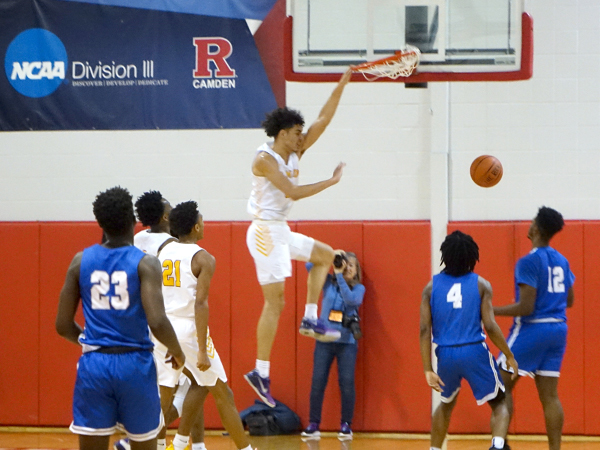 Through the first month of the high school boys' basketball season, Camden is meeting the lofty expectations the program generated.

Of course, so much is expected of the Panthers each season. It is one of the storied programs in the state, not just South Jersey, but the Panthers have not won a state title since 2000 when then-junior Dajuan Wagner led the Panthers to the state Group 3 crown and also captured the Tournament of Champions that season.
Camden has won 11 state titles, tied for fourth in the state with Abraham Clark
Yet in recent years the Panthers have suffered through some close losses in their effort to win either a South Jersey or state title.
Last year the Panthers led Haddonfield by 12 points with under two minutes left in regulation but ended up losing in overtime in the South Jersey Group 2 final.
So the approach this year, despite being a young team is to take care of business each game.
"It is just one game at a time," said 6-9 senior Lance Ware, the leader of the team and a University of Kentucky commit.
Former NBA player Rick Brunson is the new Camden coach and he has them playing well. The Panthers have had to rely on Ware for guidance because the team is so young.
The Panthers are coming off their most impressive win of the season on Saturday when they beat Rancho Christian of California, 61-59 in the Hoophall Classic at Springfield Massachusetts. Rancho Christian was nationally ranked and contained a player that many feel is the best senior in the country, 7-foot Evan Mobley. Camden held him to 14 points and six rebounds.
Meanwhile Ware scored a game-high 18 points, while 6-1 freshman D.J. Wagner added 17. Wagner is the son of Dajuan and the grandson of Milt Wagner, another Camden legend who won a national championship at Louisville and an NBA title with the Los Angeles Lakers.
D.J. Wagner began the week averaging 15 points per game. He is considered not only one of the better freshmen in the state, but also in the country.
Jerome Brewer is a 6-7 senior who is also a Division I talent and one of the more powerful inside players in South Jersey.
Ta'Quan Woodley is a junior and another inside force for the Panthers. Cian Medley is a freshman guard who does a lot of ballhandling.
"Sometimes we have three or four freshman on the court at one time and mistakes are going to be made and we have to play through them," Ware said. "Even though they are freshmen, they do stuff really well and are advanced for their age."
And that is why despite their relative youth, the Panthers have high expectations this season.

Article continues below

---
advertisement


---
© SouthJersey.com 2020. All rights reserved. This article or parts thereof may not be reprinted or reproduced by any other party without the express written consent of SouthJersey.com. For more information, please call 856-797-9910.


For more Local Sports features, visit our
South Jersey Sports
page.
Author:
Marc Narducci; Photo by Marc Narducci
Archives
---
Can't Hack It
Filling a Critical Void
Flyers reshape team
Power 50
A strong showing by South Jersey products in the MLB Draft
Cryptocurrency: Seeing Through the Hype
(Almost) Business as Usual
High school football teams keep a healthy balance during summer workouts
Putting the Success in Succession
Phillies' Realmuto is heating up
South Jersey pitcher is 37th pick in MLB draft
Mainland grad fully enjoys MLB draft
Millville's Kenndy moving up the minor league ladder
Phillies not in a bad position at the All-Star break
Memorable season for Bishop Eustace baseball
More...