South Jersey's Leading Men & Women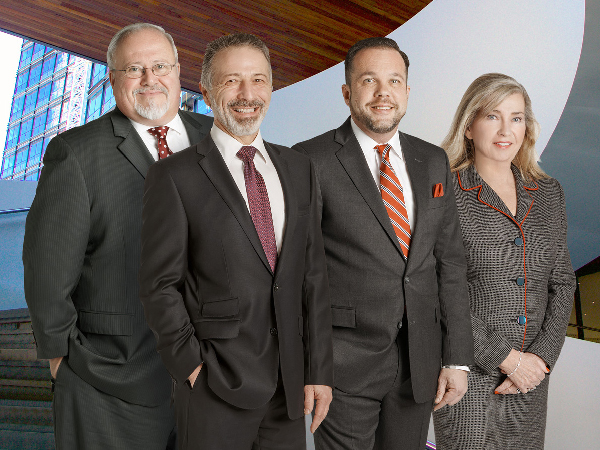 The driving force behind some of the area's top companies.

Today's business climate is anything but steady. CEOs/ CFOs have to make difficult decisions and take risks, while guiding their employees and businesses to success at the same time. The individuals who follow have done just that, thanks to their strong leadership skills and business acumen, and are a significant reason why their companies have experienced tremendous growth over recent years. We are proud to present you this year's Top CEOs/CFOs:
ROB ALMOND JR.,
CEO, NEST
Since taking over leadership of NEST in 2015, Almond has led the charge to bring industry-leading software solutions to both NEST clients and service providers. His direction and guidance in developing the integrated facilities management enterprise-wide solution has brought new offerings to clients, including best-in-class business and financial analytics that help drive true cost savings. His strong desire for a great workplace culture has allowed the organization to see double-digit percentage growth each year since he became CEO. Almond is an active member of several trade organizations including Connex, SPECS and ICSC, and is involved with several charities including the National MS Society, helping to raise over $150,000 for the organization since 2014.
THOMAS KEMLY
, President and CEO, Columbia Bank
Kemly was appointed president and CEO of Columbia Bank in 2012 and has since led the bank on a steady growth trajectory with assets totaling $8.1 billion. Kemly has implemented programs to expand employment opportunities at Columbia Bank, created "Team Columbia," where employees volunteer to participate in community/charitable endeavors and expanded the Columbia Bank Foundation—now one of the largest private giving foundations in New Jersey. Kemly began his 37-year Columbia Bank career in 1981 and has held a number of positions, including chief financial officer and chief operating officer, before becoming president.
Susan Hardwick
, Executive Vice President and Chief Financial Officer, American Water
In this role, Hardwick has responsibility for all aspects of financial management, including directing finance strategy, investor relations, treasury, financial planning, accounting, internal audit, risk management, supply chain and control functions. Most recently, Hardwick served as executive vice president and chief financial officer of Vectren Corporation, prior to the sale to CenterPoint Energy Company. In her CFO role at Vectren, Hardwick was a member of the executive leadership team responsible for development and execution of business and financial strategy for both the regulated utility businesses as well as the market-based subsidiaries. She was the recipient of the Sara B. Davies Leadership Award presented by Leadership Evansville and the Torchbearer Lifetime Achievement Award presented by the Indiana Commission on Women.
Joseph Chirichella
, President and CEO, Deborah Heart and Lung Center
Chirichella has been with Deborah Heart and Lung Center for over 35 years. Prior to assuming his current role in 2010, he held various positions at Deborah, including vice president of operations, assistant administrator, director of materials management and administrative resident. Additionally, he was interim chief operating officer of the Deborah Hospital Foundation for several years. Notable among his achievements is a pivotal role in developing affiliations and joint ventures with other South Jersey health care systems. Key relationships include the Capital Health Emergency Department at Deborah, as well as a partnership with Cooper Health System known as HeroCare Connect, which provides vital medical services to active duty military personnel and veterans.
Timothy H. Guim
, President and CEO, PCH Technologies
Right after graduating Drexel University in 1997, Guim started PCH Technologies in his parents' basement. Fast forward 23 years and PCH Technologies is now a nationally ranked cyber security firm, winning the Security 100 award from CRN Magazine—one of the top technology news publications. Guim is also highly involved in the community. He serves on several boards including treasurer for the Gloucester County Chamber of Commerce, vice president of fund development for the Garden State Council BSA and advancement chair for St. Mary's School. Guim is also past president of the Williamstown Rotary Sunrise Club and is an Eagle Scout.
Michele N. Siekerka, Esq.
, President and CEO, New Jersey Business & Industry Association (NJBIA)
Siekerka leads the nation's largest employers' association, advocating for pro-business policies on behalf of New Jersey's job creators. She is one of the state's preeminent voices on women's leadership, particularly in the business sector. Under Siekerka's leadership, NJBIA advocates for a reform agenda to combat the outmigration of wealth and talent from New Jersey as evidenced by NJBIA's award-winning research. As a workforce development advocate, she leads efforts to build more effective workforce development alliances in New Jersey between academia, business and government.
Barry Mertz
, CEO, NAI Mertz
Mertz is a driver in the commercial and industrial brokerage landscape of New Jersey and Pennsylvania and has concluded transactions in all 50 U.S. states and abroad. His vision and tenacity converted a dream into reality as he founded NAI Mertz 40 years ago. Mertz is well-known in the community and is regarded for his commitment to a high ethical benchmark. He has grown NAI Mertz from one person to a company with 45-plus professionals and four offices in Philadelphia, Southeastern/Northeastern Pennsylvania and headquarters in Mount Laurel.
Brian W. Jones
, President and CEO, The First National Bank of Elmer
As president and CEO of The First National Bank of Elmer, Jones directs all bank-wide initiatives that ensure the achievement of the bank's financial and strategic goals. He believes that service to others is one key tenet of a community bank mission and that fulfillment of this responsibility translates to success. Jones has received numerous civic recognitions, including the distinguished alumni award from Rowan College of South Jersey and Citizen of the Year by the Gloucester County Chamber. He serves on many boards, including the Community Depository Institutions Advisory Council of the Federal Reserve Bank of Philadelphia and the Executive Advisory Council of the Rohrer College of Business at Rowan University.
Kendria McWilliams
, CEO, Maryville Addiction Treatment Center
Since 2011, McWilliams has served as CEO of Maryville Addiction Treatment Center, a provider of treatment and education for those affected by substance use and co-occurring disorders. With an MBA from West Chester University and more than 30 years of health care and behavioral health experience, McWilliams serves as chair of the New Jersey Mental Health Institute and vice chair for the New Jersey Addiction and Mental Health Association Addictions Committee. Additionally, she is active on the New Jersey Independent Mental Health and Addiction Fee for Service Transition Oversight Board and the New Jersey Division of Mental Health and Addictions Services Professional Advisory Committee.
Ernie Huggard
, President and CEO, South Jersey Federal Credit Union
Huggard has over 40 years of experience in the financial industry and previously served as executive vice president and chief financial officer. Prior to joining South Jersey Federal Credit Union, he spent the past 30 years in senior leadership positions within the banking and credit union industries. Huggard is a retired Lieutenant Colonel, serving 28 years in the New Jersey Army National Guard. His community service extends to such organizations as Career Opportunity Development, Inc., he is the treasurer of the Holy Spirit Fathers Club and he is currently the assistant boys crew coach for Holy Spirit High School.
Bill Golderer
, President and CEO, United Way of Greater Philadelphia and Southern New Jersey (UWGPSNJ)
As president and CEO, Golderer guides the organization's work to meaningfully and measurably reduce poverty in this region. He also serves as senior pastor at Arch Street Presbyterian Church in Philadelphia. Prior, he founded Broad Street Ministry and co-founded Rooster Soup Company, the nation's first for-profit, crowd-funded social impact restaurant that creates jobs and returns revenue to Philadelphia's most impoverished citizens. Golderer has been a commentator for CNN, Huffington Post and The History Channel, and was a senior fellow at Fels School of Government at the University of Pennsylvania. He is a graduate of Southern Methodist University and Yale University Divinity School, and is an ordained minister in the Presbyterian Church.
Rusty McCarty
, Chief Experience Officer, CustomED
McCarty is a creative visionary who founded CustomED in 2011 to bring social impact efforts to life by designing strategies, projects and initiatives that provide extraordinary educational experiences that support making a difference. He is an expert in providing unique perspectives on the positive qualities of today's youth and showing how they can be empowered to be leaders who can change the world. McCarty is a recent recipient of the Drexel University EMBA Alumni Award for Entrepreneurship and serves on the executive board for the Collingswood Business Improvement District.
Janis Sweeney
, CEO and founder, NEMR Total HR
Sweeney began her human resources career in 1967 and devoted a majority of the subsequent 30 years to management positions within the two largest international staffing firms, while also developing an entrepreneurial venture. NEMR Total HR was founded in 1998 in response to the increasing need for small business-focused human resources support and continues to grow as a regionally respected firm providing PEO and ASO solutions. Sweeney plays an active part in the company's growth trajectory. She is active in the local business community and serves on one of the largest nonprofit councils in South Jersey.
Ken Stephon
, President and CEO, William Penn Bank
Stephon joined William Penn through its merger with Audubon Savings Bank, where he served as president and CEO from October 2013 until the merger with William Penn in July 2018. Prior to joining Audubon Savings, he was CEO of Liberty Savings Bank in Pottsville, Pa., and was previously CEO of Clover Bank in Pennsauken. Since becoming CEO of William Penn Bank, he has successfully negotiated merger agreements with Fidelity Savings and Loan Association of Bucks County and Washington Savings Bank in Philadelphia. Stephon serves on the board of directors of the Pennsylvania Association of Community Bankers and is director of the Insured Financial Institutions of the Delaware Valley.
David Sweeney
, CFO, Community Options, Inc.
Sweeney has over 25 years of comprehensive management experience in the health care sector, leading financial operations for both for-profit and nonprofit organizations. As chief financial officer, he utilized his strong leadership skills and business acumen to guide the organization's substantial growth from $81 million in 2012 to over $240 million in 2020. Sweeney graduated from Rutgers Business School with a bachelor's degree in accounting and earned an MBA from La Salle University. He also holds a CPA license in Pennsylvania.
Charles "Chuck" D. Grimley III
, President and CEO, Grimley Financial Corporation (GFC)
Grimley founded GFC 35 years ago to address the revenue cycle needs of Delaware Valley hospitals, businesses and schools, regarding all cash flow, credit and collection needs. Through Grimley's leadership, GFC constantly seeks better and enhanced ways to provide value to clients and a positive work environment for its employees. The company delivers respectful collection services with the utmost of professionalism, while maximizing unprecedented liquidity returns and customer goodwill. He has given back to the community in many ways, including serving as chairperson for Justice for All Catholic Charities, and as a previous board member of the American Heart Association.

Article continues below

---
advertisement


---
Related Articles
---
To read the digital edition of South Jersey Biz, click here.

Published (and copyrighted) in South Jersey Biz, Volume 10, Issue 1 (January 2020).

For more info on South Jersey Biz, click here.
To subscribe to South Jersey Biz, click here.
To advertise in South Jersey Biz, click here.
Author:
Julie Shannon
Archives
---
Who's Who in Health Care
Former Shawnee star Doolittle Calls It A Career
Camden County College welcomes Baseball Hall of Fame
South Jersey Football Games of the Week
Out & About
QB Ronnie Borden is Back in the Game
Should fans be worried for the Phillies bullpen?
South Jersey Football Games of the Week
A look at South Jersey's Top H.S. Girls' Soccer Teams
Out & About
Eagles will be fine after close call in opener
High School Football Games of the Week
Is it Super Bowl or bust for the Eagles?
What's New in South Jersey?
From New Jersey to Nashville
More...