Palate: Elevated Italian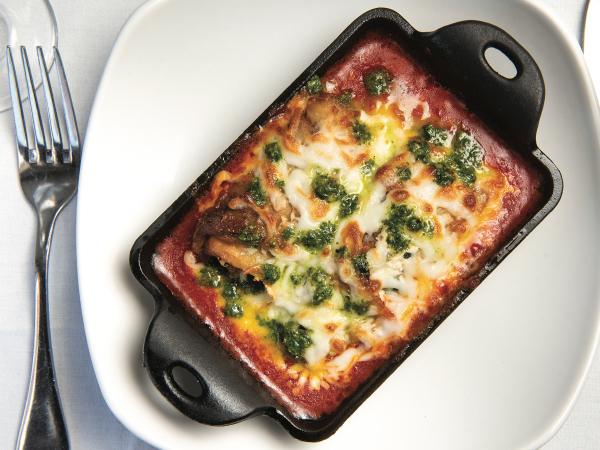 It's hard to imagine that just a few short weeks ago, I was sitting in the dining room of Mare Monte for the first time, thinking over each bite of food and each plate in front of me. It's difficult to comprehend that my biggest concern at the time was sparkling or still water, especially now, as I coordinate grocery shopping trips to see if I can get my family meat or fresh produce for our kitchen this week.
But just for this moment, it feels nice to reflect on that final meal before the world changed.
We grabbed a table at Mare Monte in the days just before restaurants and shops all over the area shuttered for weeks under mandatory COVID-19 shelter-in-place regulations. It's comforting to think about the diners scattered throughout the still-young Italian restaurant, a space that gained steam very quickly after opening in September 2019, thanks to its fresh pastas and seasonal specials.
Mare Monte set up shop in a former pizza place at the end of Kings Highway, revamping the space into a gorgeous new dining room that's clean and airy. There's also a private dining space tucked back into the restaurant; barely noticeable from the front to give guests in both spaces privacy and comfort.
I was pleasantly surprised by the vegetarian options offered across the entire menu, especially in the appetizers. The first dish to arrive was a plate of Eggplant Rollatini, featuring thin-sliced eggplant stuffed with rich ricotta cheese and finished with melted mozzarella and a house-made marinara. The eggplant was tender and melted away a bit into the cheeses, but nothing could hold a candle to the tomato sauce, some of the best I've had in a while. The flavor was deep and it burst with a bright red color, mixing with just a hint of sweetness that brought every bite to life.
Another veggie-friendly starter, the Grilled Polenta, was a rich and hearty plate that fit nicely into the winter-spring weather shift of this season. A crispy polenta cake had been mildly charred while maintaining its creamy center and served swimming in a sinfully satisfying mushroom cream sauce. The earthiness of the sauce soaked into the polenta wonderfully and the dish was so intoxicating, we scraped the plate clean with the help of the bowl of fresh bread on the table.
I was excited to try the pasta options, as each one is made from scratch. That includes the gnocchi, which pops up several times across the menu.
A bowl of Miniature Ricotta Gnocchi—much lighter and fluffier than the traditional potato gnocchi you've probably had before—was coated in the most decadent four cheese sauce, a creamy and indulgent twist on the mac and cheese of my childhood. It was finished with chopped and toasted walnuts, which added a bit of rich, nutty flavor and a nice balance of texture.
One dish that has stayed with me through the last month was the eatery's namesake dish, Pasta Mare Monte. Fettucine was tossed in a delicate white sauce alongside fresh crab meat, tender calamari and littleneck clams, as well as chopped asparagus, sliced mushrooms and burst cherry tomatoes. The homemade pasta was a tad gummy, subsequently sticking together a bit, but it worked wonderfully with the accompanying saffron white wine sauce. The combination of perfectly cooked seafood and the aromatic sauce was a fitting finale to a thoughtful and creative meal.
In these uncertain times, I dream of the days to come when streets like Kings Highway will sing again with the voices of hungry patrons and the smells of fresh-cooked feasts. And I especially look forward to the day when I can get back to Mare Monte to delve into another plate of handmade pasta and other Italian specialty dishes.
Because no matter what today looks like, those days are just around the corner. And when they come back, our favorite restaurants and the people who pour their hearts into those spaces will be ready. So make sure you've got your reservations lined up.
To read the digital edition of South Jersey Magazine,
click here.


Published and copyrighted in South Jersey Magazine, Volume 17, Issue 1 (April 2020).

For more info on South Jersey Magazine,
click here
.

To subscribe to South Jersey Magazine,
click here.

To advertise in South Jersey Magazine,
click here.
Author:
Erica Young; Photography by Jeff Anderson
Archives
---
Who's Who in Health Care
Crowd Pleaser
Can the Eagles Regain Their Winning Way?
A Bight Future Ahead for Glassboro Football
The Big Impact of Small Businesses
Eagles Need to Reset
Feeling Festive
Another dominating season for Delsea football
Mainland's Historic Football Season
A Rooting Interest
Eagles Continue to Fly High
Raising the Bar
Thanksgiving Football Continues
Hotstovers to honor All-SJ Baseball and new HOF inductees
South Jersey Football Games of the Week
More...