In Character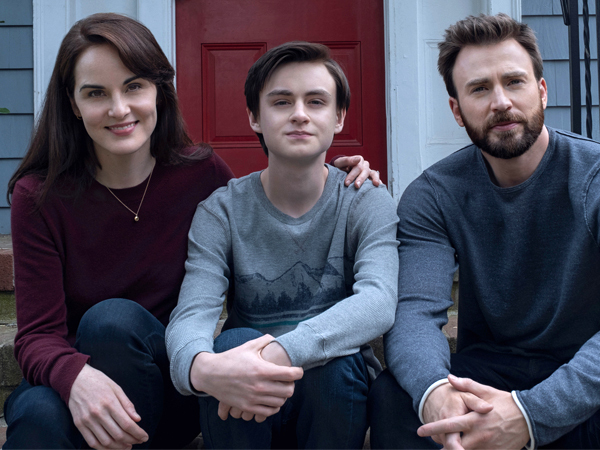 Jaeden Martell, the Philly-born star of It, Knives Out and the new crime drama Defending Jacob, credits his hometown for his resiliency, drive and love of his work.

When we see the face of Jaeden Martell, chances are that our first thoughts go to the precocious 10-year-old boy stealing scene after scene in St. Vincent, the poignant 2014 coming-of-age film about a young boy who softens the heart of his curmudgeonly neighbor, played by Bill Murray. Or maybe we think of a young Bill Denbrough, the stuttering leader of the Losers Club from It, the 2017 film and its 2019 sequel, both based on the bestselling Stephen King novel.
Now age 17, Martell, a high school junior, is starring in Defending Jacob, a streaming series about a family dealing with the accusation that their 14-year-old son Jacob (Martell) may have murdered a classmate. Chris Evans (Captain America) and Michelle Dockery (Downton Abbey) play his parents in the Apple TV+ crime drama. The series is based on the William Landay novel of the same name.
Originally from Philadelphia, Martell moved to Los Angeles at the age of 8. His
father, Wes, an executive chef, and his mom, Angela, have given him sage advice throughout his career. He began his performing career under the last name Lieberher, and in 2019 switched to his mother's maiden name.
Fulfilling every kid's dream, Martell's first acting role was in a Hot Wheels toy commercial, which was followed by many more commercials. After St. Vincent, he acted in Cameron Crowe's 2015 movie Aloha, followed by the 2017 film The Book of Henry, the It films and Rian Johnson's murder mystery Knives Out. Next up is the film Tunnels, co-starring Susan Sarandon, in the role of Grayson Mitchell, the younger sibling of a victim of gun violence; it's currently on hold due to the COVID-19 restrictions.
We recently spoke with Martell to talk about quarantining at home with his mom, working with the iconic Bill Murray and his dramatic role in Defending Jacob, plus his favorite movies, career goals and more.
You were so young when you made St. Vincent. Were you overwhelmed or afraid?
I was terrified. It was my first movie, and what a crazy movie to have it be my first. I got to live in New York for three months and I was working every single day with Bill Murray, Melissa McCarthy and Naomi Watts. So, it was a wild ride. That's where I found out that I really wanted to continue acting and discovered how much I loved it. I would say that first-time director Ted Melfi and I were both being guided by Bill Murray.
I think of him a lot right now because I feel like COVID-19 has a lot of his movie Groundhog Day in it.
I think that every day feels the same these days.
Did anybody give you advice that you really took to heart?
I've definitely learned from all of those people around me. My mom taught me how to work hard, and whatever I do, I have to do it 100 percent. Working on St. Vincent, Bill taught me how to enjoy myself and not be so hard on myself. And just be myself, relax and have fun with everything that I was doing.
What are you during quarantine?
I'm at home in LA I'm watching a lot of movies; I often watch four a day. I enjoy watching The Criterion Channel and the older artsy movies, like Chungking Express, Taipei Story and the Spike Jonze movie Adaptation. I just read Their Eyes Were Watching God. I've also been trying to go outside and go for drives and hikes, and
take a ride on my skateboard.
Do you find that you're cooking or eating more during your time at home?
Lots of eating. My mom is a great cook, so I'm always eating really good food, and I do the dishes. Earlier today I had some homemade pancakes. She also makes really good rosemary chicken.
How did your role in Defending Jacob come about?
I was shooting the movie It [Chapter] Two, I sent in a tape and I landed the role. Shortly after I met [director] Morten Tyldum, and [writer] Mark Bomback. I was super attracted to the story and the character, Jacob, just because there's so much mystery around him. I really wanted to get to know Jacob the best way that I could.
What was the burning question that you asked the director?
One of the first things I asked was whether or not Jacob did it, whether or not he killed [his classmate] Ben. And Morten told me that he doesn't know and he doesn't want to know, and that I should decide for myself. I was able to do a deep dive to come up with a personal story for Jacob, all of which was a major learning experience for me.
Do you feel that Michelle Dockery and Chris Evans, who played your parents on the show, come across as parental?
Yes, for sure. Both of them have been doing this for a long time and are super experienced. I think that really shows when they are on the set because they are both such great leaders. They were both extremely helpful on set when it came to figuring things out with me. They were always, "How could this help everyone else and make all of our jobs easier?" So I'd say they definitely have great parental attitudes.
Talk about making the well-regarded murder mystery Knives Out.
That was an incredible and informative experience because I was able to watch all of these legends in action, including Daniel Craig, Jamie Lee Curtis, Toni Collette and Christopher Plummer. Even though everyone was obviously super talented and
successful, there was no ego on the set; they were sweet, kind and they worked extremely hard. I think it shows that you need to have something more than just talent to be a successful actor; you also need to be a good person.
Do you think college is in your future?
I'm still thinking about it and deciding what I should do. I want to go to college just because I never had that high school experience because I did it online. So, I would want to be around people my own age and in a school environment. But then also I do want to keep working, so we'll see.
Do you have a specific career plan?
Hopefully, to continue acting. After that I want to write and direct because I like to tell stories, and I love movies. There is no strict career plan. All I can hope for is to continue doing what I love.
Why do you want us to watch Defending Jacob?
It goes beyond a crime drama or a courtroom drama. It's a really interesting story about family that a lot of families can relate to. It's about how far people would go for the people they love. It's a very human series. I think the purpose of all shows and movies is to make people think and reflect, so hopefully this show does that as well.
Do you often come back to Philadelphia?
I come back twice a year. My whole family's there, so I'll come back for Christmas time and stay with my aunt in the city. Then sometimes we'll go out to my grandma's house out in the suburbs. I love Philly. We go to the Mummers Parade on New Year's Day, and I enjoy spending time with friends and family. We go and get some Rita's Water Ice and great food. I left there when I was about 8 years old, but I still consider it home. I always stay with the Philly teams. I'm still a huge Eagles and Sixers fan, and I will always come back.
Is there a Philly part of you?
Yes, for sure. I think it always sticks with me just because the lifestyle in Philly versus LA is so different. It's definitely more laid-back here. Philly will always be a part of me. Yeah, it definitely shaped who I became.
Do you think this made you more resilient?
Yes, I think so. Philly people are just so hardworking and passionate, and I think that's where I get my intense love for what I do.

Article continues below

---
advertisement


---
Click here
to subscribe to the free digital editions of South Jersey Magazine.

To read the digital edition of South Jersey Magazine,
click here.

Published and copyrighted in South Jersey Magazine, Volume 17, Issue 6 (September 2020).

For more info on South Jersey Magazine,
click here
.


To subscribe to South Jersey Magazine,
click here.


To advertise in South Jersey Magazine,
click here.
Author:
Debra Wallace; Photographs courtesy of Apple TV+
Archives
---
Who's Who in Health Care
Tight Race in Boys Soccer Colonial-Liberty Division
Should Eagles fans worry over recent wins?
South Jersey Football Games of the Week
Former Shawnee star Doolittle Calls It A Career
Camden County College welcomes Baseball Hall of Fame
South Jersey Football Games of the Week
Out & About
QB Ronnie Borden is Back in the Game
Should fans be worried for the Phillies bullpen?
South Jersey Football Games of the Week
A look at South Jersey's Top H.S. Girls' Soccer Teams
Out & About
Eagles will be fine after close call in opener
High School Football Games of the Week
More...