Rising Star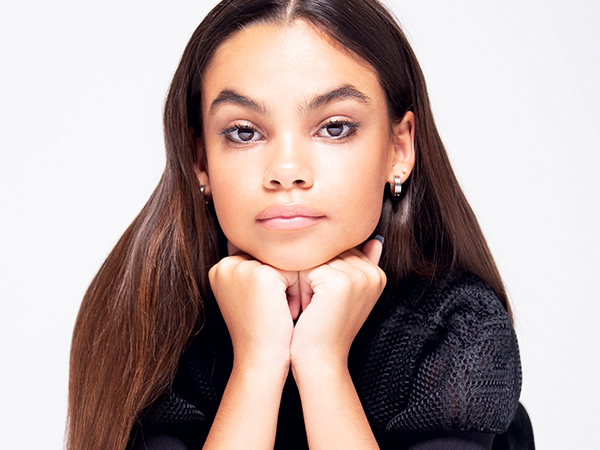 With several highly visible performances hitting the screen this year and next, 13-year-old Ariana Greenblatt is one of young Hollywood's most promising performers.
Whether she's on the silver screen performing next to bright-green CGI stand-ins or in the sound booth voicing an animated character, 13-year-old Ariana Greenblatt displays the exuberance of someone who's really happy to be where she is.
"Everything about acting—I'm so passionate about it," she says speaking to South Jersey Magazine in a recent phone interview.
In 2019, Ariana, who was born in New York but raised in Florida, was named by The Hollywood Reporter as one of Young Hollywood's upcoming talents and she's living up to that forecast with a slew of features debuting this year and next.
In August, she starred in The One and Only Ivan, a film adaptation of the beloved children's novel by K.A. Applegate. The movie was set for a worldwide theatrical release but, because of the coronavirus pandemic, it was instead distributed on the streaming service Disney+. The family-friendly feature tells the story of an artistic silverback gorilla named Ivan who begins to question his life in captivity. Ariana plays a live-action role alongside actors Bryan Cranston and Ramón Rodríguez. Heavyweights including Sam Rockwell, Angelina Jolie, Danny DeVito and Helen Mirren voice the movie's CGI animals.
Before The One and Only Ivan, audiences heard Ariana as the voice of young Velma in the animated film Scoob released this past May on video on demand platforms.
Looking ahead, her upcoming projects include the Netflix original sci-fi thriller Awakewhere she stars alongside Gina Rodriguez and Jennifer Jason Leigh and a small part in the film adaptation of Lin-Manuel Miranda's Broadway musical In the Heights. But this month you can catch her in the post-apocalyptic romantic comedy Love and Monsters. The movie, which has also foregone a theatrical release because of the pandemic, will be available on Oct. 16 on video on demand platforms.
With all that she has lined up, it's clear that this Ariana's star is on the rise. So, on the heels of The One and Only Ivan's debut, we spoke to her about working with CGI animals, visiting Australia to shoot her latest movie and the person she hopes to be when she grows up.

Article continues below

---
advertisement


---
Q&A
Tell me about your experience on The One and Only Ivan set? Did you have a lot of fun shooting the movie?
Yeah. I had such a great time on set. Fortunately, I got to film in London for like three months, which had been a dream of mine. I've always wanted to go to London, so that was amazing. … I got to work with Bryan Cranston, which was incredible. I learned so much from him. He is such an amazing person to work with. He's so funny. We had such a great time together, and overall, it was just incredible.
The One and Only Ivan
was a book before it was a movie. Did you read the book before you shot the movie?
So, fun story, when I was in about third grade, I actually read the book for my class before I even started acting. … When I read the book, it was incredible. I was so moved and inspired by it, and I just wanted to help all the animals around the world after I read it.
Tell me about your character in the movie.
My character, Julia, is Ivan's best friend and she's also like the voice for Ivan. She inspires him to get into art and to kind of paint his way out to the life that he deserves. And Julia is a caring, sweet, introverted girl. She's so smart and she's so nice and she loves art, just like me, so I thought that was pretty cool.
And we should say that Ivan is a gorilla and CGI was used to depict the character in the movie. Was it hard for you to act alongside a stand-in? I'm sure the gorilla wasn't really there, right?
Yes, you're right on the money. I didn't actually get to work with a gorilla or an elephant, but fortunately I had the experience of working with green screens and CGI while I was filming [Avengers:] Infinity War, so I had the experience doing that. So, it definitely helped with the filming of The One and Only Ivan.
Ben Bishop played Ivan, so he had a motion capture suit on and he would do all the movements and body language and little sounds like a gorilla would do, which I thought was so intriguing. And he also had these crutches that he would walk on to really mimic how gorillas walk. And regarding the elephants, there were two green-screen elephants. One as the baby size of Ruby, and then another huge one as Stella. So, it was super cool to just see bright-green elephants walking around, but you definitely have to use your imagination while working with things like that.
What do you like about acting?
There's so much that goes into acting that I love, but probably the story that I get to tell. I'm the voice for whatever character I'm playing. So, I find that really cool that I can just embody whoever I'm playing and I just completely transform into another person.
You have been shooting a lot of movies. Have there been any filming locations that you enjoyed visiting?
Yes, Australia. I got to film a movie in Australia for like a couple of weeks. That was amazing. Australia was one of the best places I've ever been. There were kangaroos everywhere; we stayed at this hotel where there were just kangaroos hopping around our front lawn, which was crazy. I just loved Australia so much. The people there were so cool, the environment, the animals, everything about it.
You have another movie coming up called Awake. Can you tell me a little bit about this movie and what your role in the movie was?
Yeah. So, I've done a Netflix original called Awake and that's with Gina Rodriguez, and it's like an emotional and action-packed storyline. It's a thriller. It's super cool. And there's sci-fi-esque [aspect] to it. I don't want to spoil too much, hopefully I can talk more about it soon.
My character is nothing you've seen me do before, so keep that in mind. And it was probably the most challenging thing I've done, but also one of the best things I've done. I got to meet incredible people, such as Gina, who's like family to me now.
Your movie Love and Monsters comes out on video on demand this month. Tell me a little bit about it.
That was actually the movie that I got to film in Australia. I got to work face-to-face with Dylan O'Brien and Michael Rooker. They're such fun people to work with. … And my character is like a super cool, warrior-esque type person. She's a survivor. And what happens in the movie obviously [I] can't say too much, of course, but … it's such a cool movie, and I can't wait for you guys to see it.
Earlier this year, you voiced young Velma in the Warner Bros. movie Scoob. Do you enjoy voice-over work?
It was definitely challenging in the very beginning. Because with normal acting, you have to use your eyes and body language, which is much different from voice-overs because you really have to over enunciate and over put the emotion in when you're just talking, so the viewers can feel the emotion just through your voice. … I just love being in the booth; it's so fun. And doing different things with my voice, I find it so cool. I can't wait to do more voice-over things soon.
Who are some actors you look up to?
There's so many. I'd really love to work with Jim Carrey and Leonardo DiCaprio; those [two] are definitely on my bucket list. Also, Natalie Portman, I love her so much. She's a role model to me in acting. And I would love to work with Gina Rodriguez again, because she was just a great energy to be around and I learned a lot from her. … There are like hundreds of people I'd like to work with, but those are just a couple that I can think of.
You're doing so much now and you're only 13 years old, but what are some of the things that you'd like to do when you grow up?
That's hard. I want to go to college, and I also want to do a lot of charity and inspire people when I'm older. Obviously with The One and Only Ivan, I want to have my own charity to help animals and stuff, because that's a big passion of mine. … I really want to travel the world and film in all the different places, and hopefully be an award-winning actress. … And hopefully I can be a very inspiring and powerful woman to other young girls in the future that can look up to me.



Click here to subscribe to the free digital editions of South Jersey Magazine.

To read the digital edition of South Jersey Magazine, click here.

Published and copyrighted in South Jersey Magazine, Volume 17, Issue 8 (November 2020).

For more info on South Jersey Magazine, click here.
To subscribe to South Jersey Magazine, click here.
To advertise in South Jersey Magazine, click here.
Author:
Brittany Ann Morrisey
Archives
---
Who's Who in Health Care
Former Shawnee star Doolittle Calls It A Career
Camden County College welcomes Baseball Hall of Fame
South Jersey Football Games of the Week
Out & About
QB Ronnie Borden is Back in the Game
Should fans be worried for the Phillies bullpen?
South Jersey Football Games of the Week
A look at South Jersey's Top H.S. Girls' Soccer Teams
Out & About
Eagles will be fine after close call in opener
High School Football Games of the Week
Is it Super Bowl or bust for the Eagles?
What's New in South Jersey?
From New Jersey to Nashville
More...