Blue-sky Thinking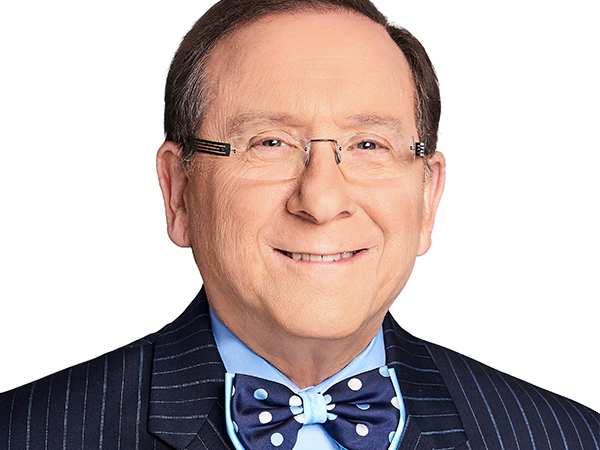 Forecasting the weather in Philadelphia has been a "dream come true" for iconic meteorologist Glenn "Hurricane" Schwartz.
He stands a modest five feet, six inches tall. Studious and scholarly, he wears glasses and a bow tie, his signature. He doesn't look particularly tough, though he once worked as a fearless storm chaser. Prior to the COVID-19 pandemic, he rode a crowded train from his home in Jenkintown to his office in Center City five days a week. He's athletic, swimming and playing softball—and he's quite a good racquetball player. His nickname makes him sound like a boxer.
He is Glenn "Hurricane" Schwartz, a Philadelphia icon and arguably the city's most widely known and respected weatherman. The Philly native and Central High graduate has been providing spot-on weather forecasts at WCAU (NBC10) for the past 25 years. In an interview at the Comcast Center in Center City, Schwartz talks fondly about returning to his hometown in 1995 after more than 20 years traveling from city to city following his graduation from Penn State.
Article continues below
---
advertisement


---

"It was a dream come true coming back here," Schwartz says. "When I was around the age of 10, I decided to become a meteorologist. And I wanted to do the weather right here in Philadelphia because of the influence of [former legendary Philly meteorologists and nationally recognized broadcast pioneers] Wally Kinnan and Francis Davis. They were highly respected meteorologists, and they were my heroes."
He had the opportunity to meet Kinnan years later, an experience he describes as "a real thrill." Another former meteorologist Schwartz admired was Herb Clarke. In fact, both Davis and Clarke helped Schwartz with his book, The Philadelphia Area Weather Book, which he co-wrote with fellow meteorologist Jon Nese. [Editor's note: Schwartz also penned The Weathermaker, a "cli-fi" (short for climate fiction) novel published earlier this year.]

Schwartz is a loyal fan of Philly sports teams, particularly the Eagles. One of his biggest thrills since returning to Philadelphia was meeting Tommy McDonald, the Eagles legend who passed away in 2018. He also had the opportunity to co-host the Eagles uproarious Super Bowl victory parade with TV news anchor Jacqueline London on Feb. 8, 2018. He has thrown the ceremonial first pitch at a Phillies game and rung the miniature version of the Liberty Bell to kick off a Sixers game.
In 2010, Schwartz received perhaps the highest honor someone in his line of work could ever hope to attain: initiation in the Broadcast Pioneers of Philadelphia's Hall of Fame.

Still, Schwartz is the first to tell anyone that being a meteorologist isn't all sunshine and rainbows. It's a demanding job. He does two daily weather reports (11 a.m. and 5 p.m.) on NBC10, as well as two daily radio reports on KYW (3 p.m. and 6 p.m.). Of course, communicating directly to the public represents only a small part of the job—the tip of the iceberg, as it were. Most people will never see the most painstaking aspects of his work.

"They don't just hand the information to me," Schwartz says. "I look at computer models from all over the world. I have 100 different sites I look at. These days meteorologists are tied to their computers. We want to get it right. We have to get it right. People depend on us."

Predicting the weather along the East Coast, particularly the corridor between Philly and New York, presents its share of challenges. He has to cover a wide swath of territory, from Cape May to the Poconos, a large area where "a lot can happen," he says.
"There is a mountain on one side and the ocean on the other," he adds. "In Boston, you get a lot of snow. In Washington, you're more likely to get rain. In Philly and New York, you can get rain or snow or anything in between. It is very challenging because there are more days of question or uncertainty."

One of Schwartz's most memorable on-screen appearances was also his most vulnerable: the live interview he did from a hospital bed in 2012.

In the middle of a vacation in Mexico, Schwartz felt chest pains while swimming. The next day he experienced shortness of breath. Naturally, he became concerned and promptly got himself checked out. It turned out he had a major blockage in a coronary artery, requiring open-heart surgery. He described the traumatic event in detail during the postoperative TV interview, including the importance of taking action after warning signs such as chest pain, shortness of breath, or an irregular heartbeat. "Your body is trying to tell you something," he told viewers.
Schwartz followed a long and winding road back to his hometown. He cut his teeth working for TV stations in the Northeast and Southeast, gaining a reputation for his preparedness, determination, and likeability. He happily returned to Philly with his 150 bow ties and has steadily gained more and more followers over the years. He believes he has gained as many fans from socializing at Philadelphia sporting events and public functions as he has from his time in front of the camera.
"I really enjoy being back here and talking with people," Schwartz says. "The people here have really treated me well, and I greatly appreciate them. Wherever I go I make an effort to talk to people. I worked at a lot of places, but I've never been so involved in the community before. And I don't have people making fun of my accent anymore."
Birth of a Hurricane
After graduating from Penn State in 1972 with a degree in meteorology, Glenn Schwartz spent two years working at AccuWeather in State College. He would go on to hone his skills elsewhere, including the National Hurricane Center in Miami (1974 to 1977), and WAGA-TV in Atlanta, where he made his first on-camera appearance. His work took him to a number of other stations in cities far from his Philadelphia roots—namely, Cincinnati, Raleigh, and the Florida towns of Fort Myers and West Palm Beach.
Schwartz's career took a momentous step forward in 1985, when he became the first storm chaser for the Weather Channel. He received a lot of recognition for his persistence in trailing Hurricane Elena in a van, cataloging the storm's destructive and turbulent path. Years later, while at WCAU, Schwartz received similar accolades for his coverage of the infamous blizzard of 1996 that pummeled the East Coast, as well as Hurricane Floyd (1999) and Superstorm Sandy (2012).

As for his nickname: He got it while working at WNYW in New York City. A colleague watched him get tossed around during a live coverage of a hurricane. The rest, as they say, his history.
To see more information about the methodology of
South Jersey Magazine
,
click here
.
Click here
to subscribe to the free digital editions of South Jersey Magazine.
To read the digital edition of South Jersey Magazine,
click here.
Published and copyrighted in South Jersey Magazine, Volume 17, Issue 9 (December 2020).
For more info on South Jersey Magazine,
click here
.


To subscribe to South Jersey Magazine,
click here.

To advertise in South Jersey Magazine,
click here.
Author:
Walter Ault
Archives
---
Who's Who in Health Care
Camden County College welcomes Baseball Hall of Fame
South Jersey Football Games of the Week
Out & About
QB Ronnie Borden is Back in the Game
Should fans be worried for the Phillies bullpen?
South Jersey Football Games of the Week
A look at South Jersey's Top H.S. Girls' Soccer Teams
Out & About
Eagles will be fine after close call in opener
High School Football Games of the Week
Is it Super Bowl or bust for the Eagles?
What's New in South Jersey?
From New Jersey to Nashville
Frustrating times for Millville's Mike Trout
More...