Serving Up Something Special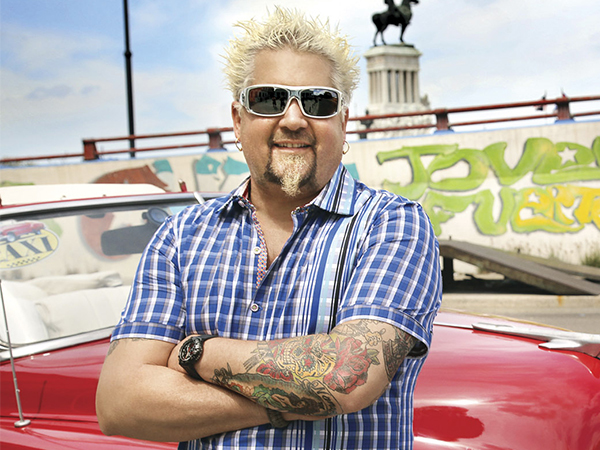 After raising $22 million to help restaurant workers across the country who were affected by the coronavirus shutdowns, Guy Fieri proves he's a big personality with an even bigger heart.
Guy Fieri may be one of the faces of Food Network, but it's his signature blonde spikes that make him so easily identifiable. In this day and age of celebrity chefs with large résumés and even bigger egos, Fieri comes across as a genuinely fun-loving person who doesn't take himself too seriously. His colorful hair and tattoos make him look more rock star than restaurateur and his love of fist bumping and trips to "Flavortown" where everything tastes "money" are just some of the reasons why the public can't get enough of him. Not that he's starving for the attention.
Fieri became a household name when he debuted as a contestant on the second season of The Next Food Network Star in 2006. Nine years later he dominates the channel, hosting several shows, including the hit Diners, Drive-Ins and Dives where he travels the country seeking out greasy spoons and homespun eateries that serve up a mix of down-home cooking and high-end comfort food. He's filmed several episodes in the area over the years and recently he's updated the show to feature great takeout options as restaurants operate differently during the COVID-19 pandemic.
Fieri is much more than just a cook for the camera too. He owns a dozen restaurants across the country, including three in Atlantic City. Supermarket shelves are lined with his products—from barbecue sauce to sausages—and he's also a best-selling author.
Article continues below
---
advertisement


---

But, more recently, Fieri has made headlines for the tremendous work he has been doing to help those in the restaurant industry that have been affected by the pandemic. Back when the coronavirus first began to force restaurants across the country to shutter, he joined forces with the National Restaurant Association Educational Foundation to form the Restaurant Employee Relief Fund. The fund was designed to allow workers impacted by the shutdowns to apply for $500 grants. By early May, Fieri had helped raise nearly $22 million with the help of major partners like Pepsi and Netflix. He even went as far as to host a special nacho cook-off where he and his son Hunter faced off against actor Bill Murray and his son Homer. The livestreamed event was judged by the likes of Shaquille O'Neal and actor Terry Crews.
Somehow, despite his grueling schedule, Fieri found time for this interview. He told us all about his relief efforts, what inspired him to first get into the kitchen and why it's so important for him to pay it forward to a new generation of up-and-coming chefs.

You've been doing great work with the Restaurant Employee Relief Fund and there's an obvious need to help sustain the industry and its workers, but what made you decide to be the one to help lead the charge?
All that I've ever known is the restaurant business. That's what I do. So, when I saw all of my restaurant brothers and sisters in need, I just knew I had to help in any way I could.
To raise the amount of money you have so far, and to have big name partners that have come on board to help, are you surprised by the level of support?
Yes and no. I guess I'd say that I was hopeful that the big players of the industry would step up, but I wasn't sure. I'm very proud of the effort and support that came from big companies and individuals alike.

With a show like Diners, Drive-ins and Dives, you travel all over the country and have the chance to meet so many small restaurant owners that are dedicated and passionate about what they do. Does having that experience along with being a restaurant owner yourself make you feel more directly connected to their struggles?
Absolutely. Restaurant people are my people. They are our community and a community I'm proud to be a part of. I'm very fortunate to be in the position that I am so it's all that much more important that I support where I can.
Who was the first person that inspired you to get in the kitchen and do you remember the first dish you thought you had mastered?
You know, it was really my parents, but in kind of an indirect way. When I'd complain about what my Mom was making for dinner, she'd just say, "Ok, Guy, then you do it." I'll never forget that first steak I cooked for my Dad. When he told me it was one of the best he'd ever had, I knew that my life would be in the kitchen.
Now that you've reached the level of success that you have, do you feel it's important to be a support system and offer advice to younger chefs in order to help them grow?
Of course. I've had many chefs, business people, friends, family members, etc. mentor me along the way. So, if there's anything that my experience can lend to helping somebody else, I'm all about it.
Have you learned anything during this crisis that you think will make you better or your businesses stronger?
As difficult as these types of things can be, I'm all about positivity, and I truly believe that now, more than ever, keeping that positive attitude alive is everything.
Like the rest of us, you've been spending a lot of time at home. So how have you been passing the time? Are you just in the kitchen constantly?
Oh yeah, I cook every day, but I'm always that way when I'm at home. The family time has been great. I haven't been home this long in years! Tough circumstances, for sure, but extra family time is always a plus.
How did the nacho contest with Bill Murray come together and could you see something along those lines happening again, perhaps with another celebrity guest?
My restaurant attorney, Riley Lagesen, paired me up with Bill, and of course, that was a dream come true for me. He's a legend. I'm always down for a nacho battle, so if you have any ideas of a worthy challenger, I'm all ears.
Getting back to the relief fund for a second, this isn't the first time you have helped out during a crisis. You've also stepped up after the Las Vegas shooting and Hurricane Maria and the wildfires in California to name a few instances. What's the most rewarding aspect of using your celebrity and reach to make a difference?
Look, I just want to help however I can. Whether raising money, cooking food or generating some mojo, I'm always going to go where I'm needed. Seeing people get even a little relief from whatever they are going through is always rewarding.
People know you as this fun-loving, good-natured television personality, but what is something that we may be surprised to learn about you?
Besides cooking, what are your other biggest passions?
I love anything outdoors from hiking to camping to boating. Get me outside with the family and I'm happy.
Production schedules can be grueling, but you always seem to really enjoy being in front of the camera; are you having as much fun as it seems?
You know, I am. Like any other job, there are ups and downs, but I really do love all of my shows and working with all of the great folks behind and in front of the cameras.
What's the hardest part about working in television that people don't get to see or may not realize?
The constant travel can be tough, and let me tell you, there are some longggg days.
You're doing this amazing relief work and you also have restaurants across the country and a noticeable presence on television. Do you ever give much thought as to what you want your culinary legacy to be?
Nah, I'm just doing what I do and hope that people take something positive from it.
On the Menu
Guy Fieri tells us what works well on pizza, what you should have in your pantry and who he'd most like to share a meal with
What is your least favorite condiment?
Mayo can certainly be overused.
Best and worst toppings for a pizza?
The three ingredients you should have in the pantry at all times?
Fresh cracked pepper, good finishing salt, Santo tequila.
Favorite midnight snack?
Who is the person you'd most like to share a meal with?
My dad's dad, Louis. He died when my dad was 15 so I never met him. He was a great cook and taught my dad so much. I'd love to hear the lessons.


Click here
to subscribe to the free digital editions of South Jersey Magazine.
To read the digital edition of South Jersey Magazine,
click here.
Published and copyrighted in South Jersey Magazine, Volume 17, Issue 10 (January 2021).
For more info on South Jersey Magazine,
click here
.


To subscribe to South Jersey Magazine,
click here.


To advertise in South Jersey Magazine,
click here.
Author:
Peter Proko
Archives
---
Who's Who in Health Care
Tight Race in Boys Soccer Colonial-Liberty Division
Should Eagles fans worry over recent wins?
South Jersey Football Games of the Week
Former Shawnee star Doolittle Calls It A Career
Camden County College welcomes Baseball Hall of Fame
South Jersey Football Games of the Week
Out & About
QB Ronnie Borden is Back in the Game
Should fans be worried for the Phillies bullpen?
South Jersey Football Games of the Week
A look at South Jersey's Top H.S. Girls' Soccer Teams
Out & About
Eagles will be fine after close call in opener
High School Football Games of the Week
More...