Hidden Treasures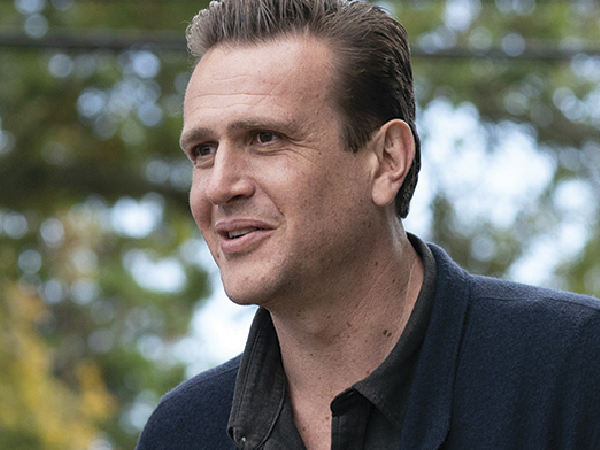 Jason Segel unveils a visually stunning "love letter" in the imaginative series Dispatches From Elsewhere.
Jason Segel has had a lot of thrills in his accomplished career, but one of the biggest came a handful of years ago when he was asked to be part of a marketing campaign for Disney. The Disney Dreamers Portrait series saw famed photographer Annie Leibovitz capturing images of celebrities dressed as popular characters. When it came time to find subjects to portray the hitchhiking ghosts from the Haunted Mansion attraction, Segel was tapped alongside fellow actors Jack Black and Will Ferrell—and he could barely hide his excitement.
Article continues below
---
advertisement


---

"As soon as I got the email that this was even a possibility, I freaked out like a little kid in a candy store," he says in a behind-the-scenes video from the shoot. "This is maybe the best day ever."

When he's not wearing extensive makeup and posing for photos, Segel has enjoyed great success in Hollywood, navigating effectively between film and television. He's part of filmmaker Judd Apatow's inner circle, having first appeared in the short-lived Freaks and Geeks TV series before showing up in several of Apatow's hit films, including Knocked Up and This is 40. Many other folks will recognize him as Marshall Eriksen, the character he portrayed for nine seasons on the hit, How I Met Your Mother.

What's more, Segel has furthered his career by going behind the camera as well, working as a writer and producer. In 2008, he wrote and starred alongside Kristen Bell in Forgetting Sarah Marshall, a romantic comedy produced by Apatow. And in 2011, he starred in The Muppets, a film he not only wrote but helped pitch to Disney, calling it a "passion project" and a "dream come true."

More recently, Segel has ventured back into television, creating and starring in Dispatches From Elsewhere, a unique drama that just concluded its first season on AMC. The show is an inventive 10-episode series that follows a group of "ordinary people" who go on a modern-day quest to break from their daily routine in pursuit of magic and discovery. The show was shot in Philadelphia and co-stars Sally Field, André Benjamin and Eve Lindley.

The foursome came together as the show portrays an "alternate reality" game that was based on a real-life experiment. And it was Segel who assembled the all-star cast to help bring his idea to life.

Segel plays Peter, a sad sack who works for a music-streaming company; two-time Oscar winner Field plays Janice, a lonely grandmother who needs to reclaim her identity; actor-rapper Benjamin, also known as André 3000 of the group Outkast (American Crime), introduces viewers to a paranoid man named Fredwynn who seeks the truth; and Lindley (Mr. Robot) plays Simone, a trans woman struggling to escape feelings of isolation.

We spoke with three mem­bers of the Dispatches From Else-where cast—Segel, Field and Lindley—about the show, the similarities among people who at first glance seem dissimilar, and finding magic in unexpected places.
Jason, how did you get the idea to create this unique show?

Segel: I had just read Infinite Justice, so I was feeling alive with these ideas, and then I stumbled into this crazy experience in real life that I took part in that we document and dramatize in our show.

The show is based on The Institute, a documentary about an elaborate game that was played in the San Francisco Bay Area between 2008 and 2011. I found it really moving, that a bunch of people in really different stages of life, from totally different walks of life—socioeconomically, politically, ethnically—were all taking part in this thing because something was missing from their lives.

And that was just so interesting to me, that maybe we are all much more alike and much more confused than we are being told to believe. We're supposed to see our differences, and I wanted to make a show about how we're much more similar than we realize.

Please talk about finding Eve Lindley for the role of Simone.
Segel: I learned over many years that it's all about the casting and finding people with whom you can explore these scenes together. And you then end up adapting it for the actual actor and actress that you cast. So, I was doing improv in this scene with Eve, and she was doing it so much more nuanced than I had even imagined it when I was writing it. We finished the moment, and I turned to Eve and I said, "Gosh, she's so much more complicated than I realized." And Eve looked up at me and said, "She always is, Jason."

Where did the epiphany come from for your stylistic choices?
Segel: We are inundated with so much television that it is very easy to zone out when you're watching something, especially by the end of the episode. So, I wanted as much as possible through-out the season to use unconventional storytelling to force you to pay attention. When you're thrust into a situation you haven't seen before, your brain activates a little bit and you might be receptive to the theme that we're trying to communicate. It's kind of a wake-up for all of us.

Sally, what attracted you to this show?
Field: Well, as Jason has said, hopefully in life, we are all sort of taking these journeys without knowing that we are. Not quite as fanciful as this is. The reason that I wanted to do this show is that it's this really involved treasure hunt that they get caught up in, it comes about to alter their whole lives, and they find out who they are within that.

The whole story was so unusual in a lot of ways. And the best part of doing television is that you're always kind of flying by the seat of your pants. This show was certainly an example of just figuring it out as we went along, in a lot of ways—especially when it came to the character stuff. And that makes it so much fun because it's completely alive up until the last second.

This show is about self-discovery. What do you feel you discovered about yourself?
Field: Last year was an incredibly busy year for me. Three weeks before I got to Philadelphia [to film the show], I had just come home from London where I had done a play for the first part of the year. I had been there for three and a half months. So, I was just twirling all of these very different work experiences, and then I went into this incredibly eclectic, fanciful group. So, I don't know what I learned last year from this show, and I hope I live long enough to figure it out.

Eve, please share your fond memories of working with Sally Field.
Lindley: There are so many. We both love doing puzzles, and I have been working on a few that she gave me when we were together.

What's the takeaway from the show?

Lindley: The real joy of this show, and any TV show, is getting to know a character or a person you thought you didn't have anything in common with, and then slowly realizing how similar you are to them. So, I think that this show really embodies that because all four of our characters seem so wacky and different, and not really the type of people that you may see on TV all the time. If you watch, you will grow to love all of them. I think it's really about human connections and trying to connect with people that you initially felt you were not connecting with.


Click here
to subscribe to the free digital editions of South Jersey Magazine.
To read the digital edition of South Jersey Magazine,
click here.
Published and copyrighted in South Jersey Magazine, Volume 17, Issue 10 (January 2021).
For more info on South Jersey Magazine,
click here
.


To subscribe to South Jersey Magazine,
click here.

To advertise in South Jersey Magazine,
click here.
Author:
Debra Wallace
Archives
---
Who's Who in Health Care
Tight Race in Boys Soccer Colonial-Liberty Division
Should Eagles fans worry over recent wins?
South Jersey Football Games of the Week
Former Shawnee star Doolittle Calls It A Career
Camden County College welcomes Baseball Hall of Fame
South Jersey Football Games of the Week
Out & About
QB Ronnie Borden is Back in the Game
Should fans be worried for the Phillies bullpen?
South Jersey Football Games of the Week
A look at South Jersey's Top H.S. Girls' Soccer Teams
Out & About
Eagles will be fine after close call in opener
High School Football Games of the Week
More...