Eagles make promising first-round pick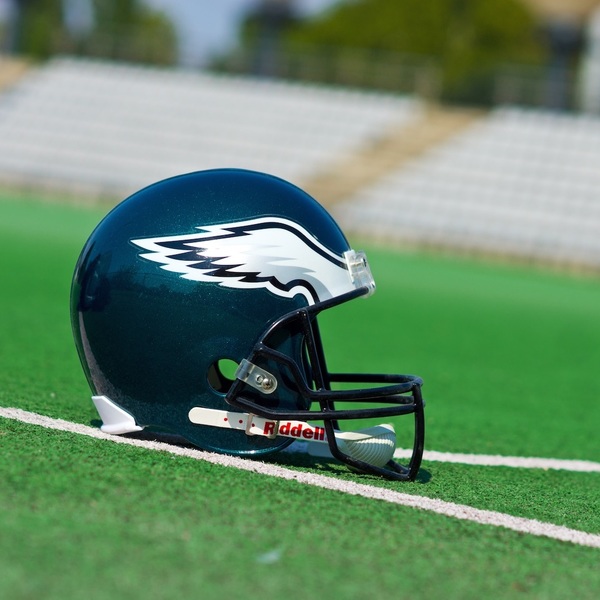 It is difficult for Philadelphia sports fans to agree with just about anything 100%, but the fans and the media seemed to be unified in agreeing that the Eagles hit a home run by selecting Alabama wide receiver DeVonta Smith with the No. 10 overall pick in last week's NFL draft.
Smith is coming off one of the best seasons for a receiver in college football history and he was the runaway winner of the Heisman Trophy.
Playing in by far college football's top conference, the SEC, Smith had 117 receptions for 1,856 yards and 23 touchdowns. He also added a rushing touchdown.
The one negative about Smith is his size. He was recently measured at 6-foot and 166-pounds. Some may fear that at such a light weight, Smith will get crushed by NFL players.
Yet he played 54 college games in the rugged SEC and it never seemed to bother him.
Defenders discovered they can't hit what they can't catch.
In addition, Eagles GM Howie Roseman did a great job maneuvering to get the pick. The Eagles originally owned the No. 6 pick but traded down with Miami to the No. 12 pick.
Besides swapping picks, the Eagles also sent Miami a fifth-round pick and received a fourth-round selection and a 2022 first-round pick.
Then having a good idea that the New York Giants, who were picking 11th wanted Smith, Roseman offered Dallas, of all teams, a third-round pick to swap first-round places. That gave the Eagles the No. 10 pick. (It was a good move for Dallas since the Cowboys wanted Micah Parsons, who they still were able to draft at No. 12.)
Smith had to wait his turn but even as a freshman he showed big-play potential. That season he had just eight receptions for 120 yards, but three of the catches went for touchdowns.
He ended his freshman year by scoring the game-winning 41-yard touchdown reception from Tua Tagovailoa during Alabama's 26-23 overtime win over Georgia in the national championship games.
During this season's 52-24 win over Ohio State in the national championship game, he had 12 receptions for 217 yards and three touchdowns before suffering a dislocated finger in the third quarter.
Smith was known for his big-game ability, especially his senior season. It's easy to suggest he played well in the big games, but he dominated in all of them.
During Alabama's 31-14 semifinal win this season over Notre Dame, Smith had seven receptions for 130 yards and three touchdowns.
This season, he had two or more touchdown receptions in eight games.
In 54 career games, Smith had 235 receptions for 3,965 yards and 46 touchdowns.
He is the type of player new coach Nick Sirianni will move all over the field, finding places to get him the ball in space.
The expectations are huge. Smith immediately will become the top receiver for a unit that was far from overwhelming.
He will breathe life into the Eagles offense and give quarterback Jalen Hurts, his former teammate at Alabama before Hurts transferred to Oklahoma, a major big-play treat.
Even as a rookie, Smith should see double-teaming, which could open things up for the other receivers.
Smith has done something that is extremely hard - raised the optimism of the fans after a 4-11-1 season. The Eagles still have plenty of holes, but in a still-watered-down NFC East, they can be competitive, and much of the optimism comes with the addition of DeVonta Smith.
Article continues below
---
advertisement


---
Author:
Marc Narducci
Archives
---
Colleges After COVID
A TALE OF THREE WEDDINGS
Keep it Moving
A Golden Opportunity
A New Kind of Seller's Market
The Man of the Hour
TOP DENTISTS 2021
Best of the Shore
Rowan baseball finishes No. 7 nationally
Bishop Eustace's Anthony Solometo now awaits MLB draft
Sixers season ends in disappointment
A contract that hasn't worked out with Scott Kingery and the Phillies
High seeds were winners in SJ Public school softball titles
Familiar foes meet in SJ Baseball Public School championships
Serving Up Something Special
More...