Flyers miss this season's playoffs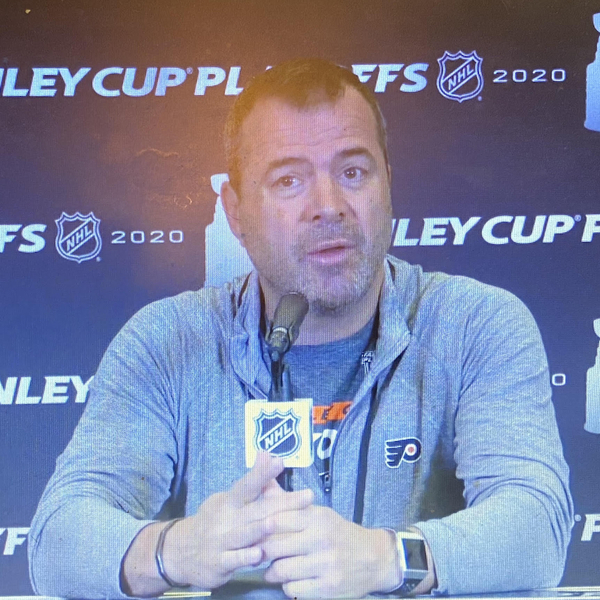 In this shortened NHL season, the Flyers continued a pattern of making the playoffs one year and then not qualifying the next.
In 2011-2012, the Flyers qualified for the playoffs and lost in the second round to the New Jersey Devils.
The next season they didn't qualify for the postseason.
In 2013-14 they were back in the playoffs, but lost in the first round.
The next season they didn't qualify before returning to the playoffs in 2015-2016, losing in the first round.
They missed the playoffs the next year, only to lose in the first round to Pittsburgh in 2017-2018.
The following year again they didn't qualify, but then returned to the postseason a year ago, winning a first round series against Montreal and then losing in seven games to the New York Islanders in the second round.
This season the Flyers got off to a quick start. After a 3-0 win over the Buffalo Sabres on Feb. 28, the Flyers were 11-4-3 and looking very much like a playoff team and one that would be dangerous.
From that point on, the Flyers finished 14-19-5, ending their season 25-23-8.
There was a little different playoff format this year, with the top four teams in each division qualifying. The Flyers played in the East Division. They had 58 points, 13 fewer than the Islanders, who were the fourth and final qualifier in the East.
For what it's worth, 18 teams had more points this season than the Flyers.
There were many reasons for the demise. Carter Hart, who looked like one of the bright young goalies in the NHL in 2019-2020, took a major step back this season.
The defense also must share in the blame for the NHL's worst goals against average, 3.52.
As for the offense, Jake Voracek, Claude Giroux and James van Riemsdyk each shared the team lead with 43 points. Voracek had nine goals and 34 assists. Riemsdyk added 17 goals and 26 assists while Giroux produced 16 goals and 27 assists.
That put the Flyers trio tied for 53rd in the NHL in scoring.
The Flyers' top goal scorer was 21-year-old Joel Farabee, who had 20 along with 18 assists.
There wasn't that one explosive scorer that teams had to fear and the defense and goaltending faltered after that first 18 games.
So in his second year as the Flyers coach, Alain Vineault saw his team take a major step back.
Now there will be questions as to whether general manager Chuck Fletcher will shake things up.
Or will Fletcher feel that the team is close and just try to add a player or two?
Actually, it may be somewhere in between. There may not have a major shakeup, but there likely will be changes.
"I think we have quite a few priorities," Fletcher said in his press conference after the season. "Looking outside the organization certainly we could upgrade everywhere, up front, defense. Certainly, we're going to have to take a look at our situation in goal, which has kind of been a constant struggle here for years. We have different areas we have to look at. We also need a lot of our young players to be better."
He feels that there is plenty of talent among the young players.
"We're going to have to look outside the organization, but certainly it's difficult to replace the whole team," Fletcher said. "You're going to need your young players to take a step and be better."
Fletcher says that Farabee performed well but many other young players didn't meet expectations.
So young players such as forward Travis Konecny, who was an all-star last season, defenseman Philippe Myers, who are 24, are examples of players who the Flyers have to hope have bounce-back seasons.
It will be an interesting offseason, but improvement from within will go a long way toward the Flyers returning to the playoffs next year.
Article continues below
---
advertisement


---
Author:
Marc Narducci
Archives
---
Egg Harbor Township Football Showing Great Improvement
Phillies face a difficult, but not impossible final week
Continuing the Difficult Climb
South Jersey Coronavirus (COVID-19) Developments - Booster Shots (September 27)
South Jersey H.S. Football Games of the week
Something to Build On?
Who's Who in Real Estate
Colonial Liberty is highly competitive in South Jersey Girls' Soccer
South Jersey Football Games of the Week
South Jersey Coronavirus (COVID-19) Developments (September 20)
Still way too early for Eagles conclusions
Sixers and Ben Simmons have plenty of training camp intrigue
Best of Home and Garden
Top Physicians 2021
Back to School
More...