Another tough injury for Mike Trout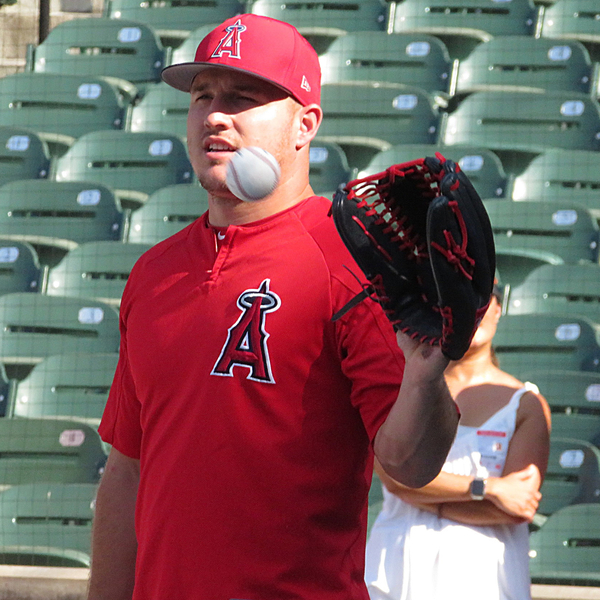 Mike Trout has long been considered the best player in Major League Baseball, but the 2009 Millville graduate has been hit hard the last few years by injuries and now finds himself again on the MLB injured list.
Trout, who was drafted in the first round, 25th overall out of Millville by the Los Angeles Angels in 2009, has already done enough to warrant Hall of Fame induction.
Now in his 11th season, Trout, who turns 30 on Aug. 7, suffered a calf strain last week that is expected to sideline him for six to eight weeks.
This continues a recent pattern of injuries. He suffered a torn thumb ligament in 2017 and missed 39 games. He was sidelined 19 games in 2018 due to wrist inflammation. In 2019, he was sidelined 19 games following foot surgery.
Before the most recent injury, he was having another Trout-like season, which has been pure dominance.
In 146 plate appearances, he is hitting .333 with an MLB best .466 on base percentage. He also has a .624 slugging percentage and for an MLB-leading 1,090 OPS. His 199 OPS+ is the best of his career.
What is more impressive is that this has been the year of the pitcher, with offenses struggling and players striking out at an all-time rate.
If Trout never played another game, he would be a Hall of Famer.
He is a career .305 hitter with 310 home run and 816 RBI. His career OPS is 1,002 and his OPS+ is 176.
His OPS+, known as adjusted OPS, which takes into consideration the ballpark played in, is fifth best in MLB history. The players ahead of him are 1. Babe Ruth (206), 2. Ted Williams (191), 3. Barry Bonds (182), and 4. Lou Gehrig (179).
His career wins above replacement (WAR) is 76.1, which is already above Hall of Famers such as Paul Molitor, Johnny Bench, Reggie Jackson, Jim Thome, Larry Walker and Derek Jeter, just to name a few.
Trout is also a three-time American League MVP and four times finished runner-up. He was fourth another year and fifth last season. Trout is also an eight-time all-star.
This year's MLB All-Star voting begins on June 3. It wouldn't be a surprise if despite the injury, Trout is voted a spot.
He has been recognized as the top player in baseball for years and despite the current injury, that doesn't look to change for quite some time.
Article continues below
---
advertisement


---
Author:
Marc Narducci
Archives
---
Just Getting Started
South Jersey Coronavirus (COVID-19) Developments (January 14)
Big Season for Timber Creek grad Devin Leary of N.C. State
Camden-Lenape highlights the best of South Jersey boys' basketball
Just Getting Started
Growkowski, Jalen Hurts the two big keys in Eagles-Bucs playoff
Women to Watch 2022
Bringing out the Best
Top Children's Physicians 2022
Girls Basketball Tournament recap
Top Attorneys 2021
Stealing the Show
South Jersey Coronavirus (COVID-19) Developments (January 4)
Boys basketball tournament recap
Back on Top
More...