Burlington Township's Jordan Dotson chooses Harvard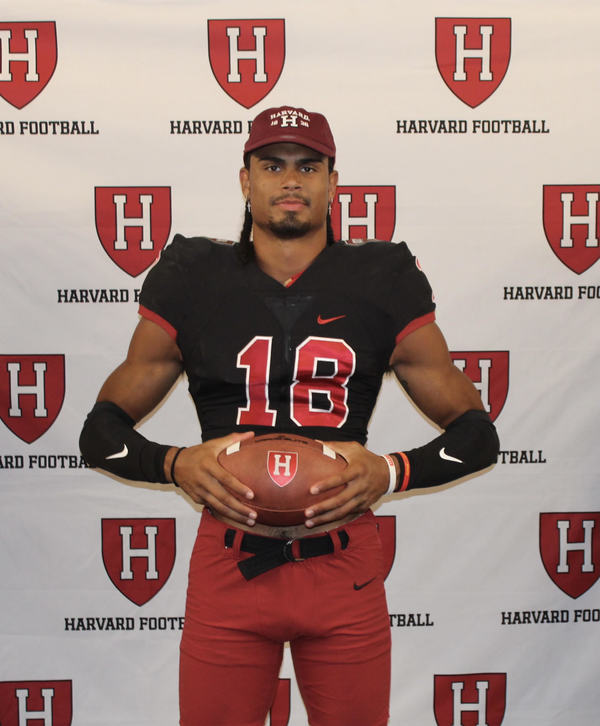 Jordan Dotson can now enter Burlington Township's football season stress-free, at least as far as recruiting is concerned.
A 6-foot-4, 205-pound receiver and outside linebacker, Dotson made a recent verbal commitment to attend Harvard.
Not only will he attend a top-flight Ivy League football program, but one of the top educational universities in the country.
"I am really excited for that," he said about Harvard's educational reputation. "It was a huge point for me getting an education at such an elite institution."
Dotson made the announcement after a second visit to the campus.
"I did an official visit and another one and I just loved it," he said.
Last season Dotson helped lead the Falcons to a 6-1 record in a season shorted by COVID for all teams. He had 14 receptions for 286 yards (20.4 avg.) and five touchdowns. Burlington Township rarely has players go both ways, but Dotson was a force on defense, with 66 tackles, an average of 9.4 per game. He had four tackles for loss.
He said Harvard has recruited him to be an outside linebacker.
Dotson said he didn't want to enter the season with the college decision weighing over him which is why he made his decision on July 31.
He said that among the other schools he considered were Temple and Villanova.
"I chose Harvard because of not only the great education but I have a lot of family in the Boston area," he said. "I have always loved that area."
Like any most high school students, he felt pressure in deciding on his future destination.
"It got stressful but my parents said it was a good problem to have," he said. "It was a once in a lifetime experience and I enjoyed it while it lasted."
Now he can concentrate on his senior season for a Burlington Township team that has the look of a Top 10 South Jersey team.
The Falcons compete in the West Jersey Football League Liberty Division and should wage a battle with Timber Creek for division supremacy. The two schools are also among the leading contenders in South Jersey Group 3.
In addition to Dotson, the Falcons have plenty of firepower that includes senior quarterback Gage Miller, who threw for 1,227 yards and 14 touchdowns and fellow receiver Anthony Johnson who had 23 receptions for 675 yards (29.3 avg.) and eight touchdowns.
In addition to the experience, the Falcons are guided by Tom Maderia, who has long been among the top coaches in South Jersey.
"I think we will be pretty solid with a lot of players returning," Dotson said. "I feel really good about this team."
Just as he does about his choice for his future destination.
Article continues below
---
advertisement


---
Author:
Marc Narducci
Archives
---
Who's Who in Health Care
Crowd Pleaser
Can the Eagles Regain Their Winning Way?
A Bight Future Ahead for Glassboro Football
The Big Impact of Small Businesses
Eagles Need to Reset
Feeling Festive
Another dominating season for Delsea football
Mainland's Historic Football Season
A Rooting Interest
Eagles Continue to Fly High
Raising the Bar
Thanksgiving Football Continues
Hotstovers to honor All-SJ Baseball and new HOF inductees
South Jersey Football Games of the Week
More...