Phillies Need Vintage Nola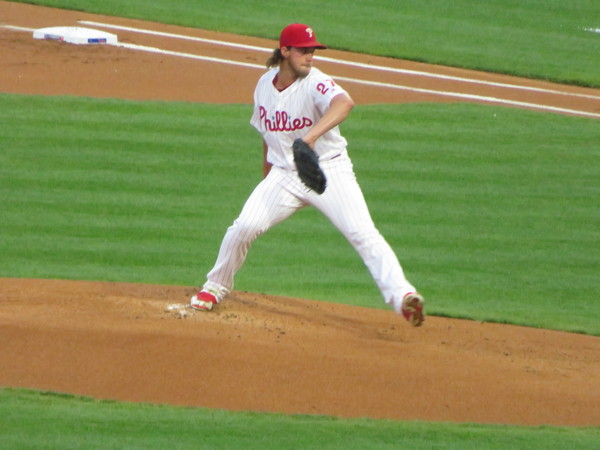 One of the most confounding stories has been the inconsistency of Phillies righthander Aaron Nola.
In 2018 he finished third in the Cy Young voting and earned his first All-Star berth, while looking like one of the bright young dominant pitchers in Major League Baseball.
That season he was 17-6 with a 2.37 ERA, with 224 strikeouts in 212 1/3 innings pitched. He was 25-years old and entering his prime.
Yet, since then, he has not matched that output.
In 2019 he went 12-7 with a 3.87 ERA, a very much respectable season, but far from being an All-Star.
Then last year in the shortened 60-game season, he went 5-5 with a 3.28 ERA, again another solid season.
This year he is 7-7 with a 4.48 ERA.
What has haunted Nola in his career has been late-season slumps. In the months of September/October, he is 7-12, with a 4.28 ERA according to Baseball-reference.com. It's the only month in which he has a losing record. His WHIP (Walks and hits per innings pitched) is 1.307.
This year the Phillies will certainly need Nola to reverse this September trend.
Of course has to first start picking things up in August. In his last three starts, he is 0-1 with a 6.08 ERA and has pitched just 13 1/3 inning.
Nola's most recent start came in Sunday's 7-4 home loss to the Cincinnati Reds. He lasted just 4 1/3 innings and allowed four runs (all earned).
The bullpen also allowed three runs and didn't do the job, but manager Joe Girardi shouldn't have had to go to his relievers so soon in the game.
Granted, Cincinnati is a quality team, with a strong offense and the Reds are seriously in the run for a wild card spot, but despite the talent, lasting fewer than five innings is a difficult way to try to win.
Nola talked afterwards about not having a good command, and that was clearly evident. He walked three and hit a batter in his brief outing.
What had to be frustrating for Girardi and his team was seeing how dominant Nola looked in his previous start.
Pitching on Aug. 10 against the defending World Series champion Los Angeles Dodgers, Nola threw four shutout innings before a long rain delay took place. Both Nola and Dodgers righthander Max Scherzer were pitching a shutout.
It looked like a game with two dominant righthanded All-Stars. (Scherzer was selected to the All-Star team while a member of the Washington Natioinals and is a future Hall of Famer).
That game showed how dominant Nola can be in stretches.
At the beginning of the week,, the Phillies had the easiest remaining MLB schedule, according to Tankathon.com. The Phillies remaining opponents had a .440 winning percentage. None of that will matter if Nola, still the Phillies unquestioned No. 2 pitcher, isn't able to show more consistency and also turn around his September pitching narrative.
Article continues below
---
advertisement


---
Author:
Marc Narducci
Archives
---
Bishop Eustace's Danny O'Rourke a model of stability
South Jersey Football Games of the Week
Eagles saved their season with win over Carolina
A Difficult Loss
Top Physicians 2021
Phillies wasted lights-out seasons from Bryce Harper and Zack Wheeler
Another strong season for Olympic American Girls' Soccer
South Jersey Football Games of the Week
'You Do Not Have to Suffer'
Egg Harbor Township Football Showing Great Improvement
Phillies face a difficult, but not impossible final week
Continuing the Difficult Climb
South Jersey Coronavirus (COVID-19) Developments - Booster Shots (September 27)
South Jersey H.S. Football Games of the week
Something to Build On?
More...