An expert's view on the top girls' soccer teams in South Jersey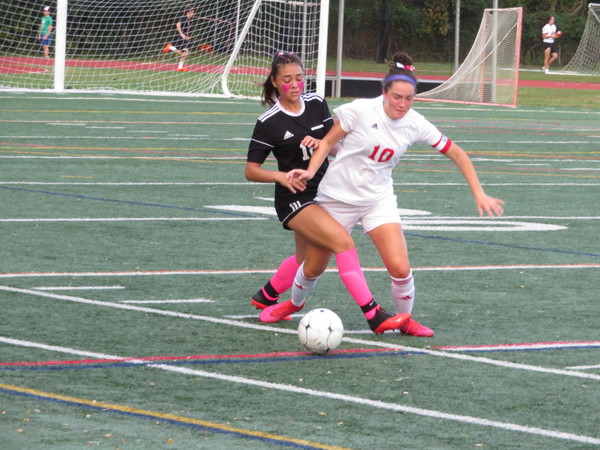 Few people have a better handle of the South Jersey high school girls' soccer scene than veteran Eastern coach Jamie McGroarty.
Each preseason McGroarty sends out his preseason Top 20 in South Jersey.
Most coaches don't want to put the heat on their own program, but McGroarty gives an honest assessment.
That is why he says his Eastern team should start out No. 1..
Then again, the Vikings were the consensus No. 1 team in South Jersey, going 15-0 and winning the South Jersey Group 4 title in 2020. (Last season due to the pandemic, NJSIAA only allowed soccer teams to play for a sectional title but not a state championship)..
Eastern lost several key players either to graduation or injury. Replacing Riley Tiernan, now at Rutgers, will be the biggest challenge.
Tiernan has 15 goals and 10 assists and was among the top players not only in the state, but the country.
Still, Eastern will have some of the top players in South Jersey while attempting to defending their place at the top of the rankings,
Senior midfielder Cami Silvestro is a West Point commit who had 14 goals and six assists. Senior keeper Alex Clark is among the best in South Jersey.
Leading the defense is junior outside back Faith Quinn. Four players will miss the season with ACL injuries.
Still, the Vikings should begin the season on top, not only in their coach's ranking, but in just about every other preseason Top 20.
Here is McGroarty's South Jersey preseason Top 20.
1. Eastern
2. Cherokee
3. Rancocas Valley
4. Ocean City
5. Millville
6. Clearview
7. Williamstown
8. Kingsway
9. Washington Township
10. Haddonfield
11. Paul VI
12. Shawnee
13. Haddon Township
14. Burlington Township
15. Mainland
16. Holy Cross
17. Egg Harbor Township
18. Schalick
19. GCIT
20. Moorestown
Article continues below
---
advertisement


---
Here are a couple of our takeaways from the ranking
*It's no surprise that the Olympic Conference American Division should again be the top division in South Jersey. Besides Eastern, the Other American Division teams in the preseason rankings are (2) Cherokee, (9) Washington Township and (12) Shawnee.
* Defending sectional champions Haddonfield and Haddon Township in Group 2 and Group 1 respectively, were shown great respect by being ranked No. 10 and No. 13 respectively despite both teams losing several key players to graduation. That is a credit to Haddonfield coach Lori Quintavalle and Haddon Townshp's Aileen Fallon, who have programs that expect to contend regardless of how many players are lost to graduation.
*The season is upon us with preseason practice beginning on Aug. 16 with the regular season beginning the second week of September.
Author:
Marc Narducci
Archives
---
Egg Harbor Township Football Showing Great Improvement
Phillies face a difficult, but not impossible final week
Continuing the Difficult Climb
South Jersey Coronavirus (COVID-19) Developments - Booster Shots (September 27)
South Jersey H.S. Football Games of the week
Something to Build On?
Who's Who in Real Estate
Colonial Liberty is highly competitive in South Jersey Girls' Soccer
South Jersey Football Games of the Week
South Jersey Coronavirus (COVID-19) Developments (September 20)
Still way too early for Eagles conclusions
Sixers and Ben Simmons have plenty of training camp intrigue
Best of Home and Garden
Top Physicians 2021
Back to School
More...