Phillies wasted lights-out seasons from Bryce Harper and Zack Wheeler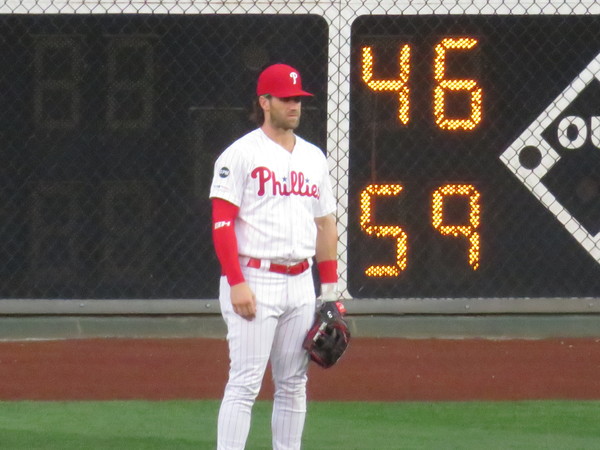 The Phillies finished with a winning season for the first time since 2011, but it was a truly hollow achievement.
At 82-80, the Phillies seemed to squander a chance to make the playoffs when the National League East was its weakest in recent memory.
The Atlanta Braves won their fourth straight division title, despite several key injuries, including a season-ending torn ACL by then MVP candidate Ronald Acuna Jr. right before the All-Star break.
What should sting the most is that the Phillies wasted potential award-winning seasons from both Bryce Harper and Zack Wheeler.
It would not be surprising if Harper earns the National League MVP award and Wheeler is the Cy Young Award winner.
If either or both don't win, it will undoubtedly be because the Phillies failed to reach the postseason, a drought that has now reached 10 years, the longest current streak in the National League.
Harper led all of baseball in OPS (1.044) and slugging percentage (.615)
He was second in on base percentage (.429). Harper also had 35 home runs and was third in all of baseball with 100 walks. He batted .309, the third time in his career he has hit over .300.
He had just 84 RBI, but that was mainly because there weren't enough runners on base this season when he came to bat.
For good measure he tied for the MLB lead in doubles with 42, joining Detroit's Jeimer Candeleria, Kansas City's Whit Merrifield and Boston's J.D. Martinez.
Harper just completed his third season with the Phillies. He originally signed a 13-year $330 million deal.
He has one MVP on his resume, winning the award in 2015 when he hit .330 with 42 home runs and 99 RBI. Harper had a 1.109 OPS that season. As great as that season was, Harper's Washington Nationals didn't make the postseason.
His Washington Nationals team finished 83-79 in 2015, seven games behind the NL East champion New York Mets and 14 games behind the second wild card team, the Chicago Cubs.
Harper turns 29 on Oct. 16 and is in his prime, but how many times will he be able to duplicate seasons like this in the future?
Harper has already played 10 Major League seasons and he has 267 career home runs and a .916 OPS. If he can stay healthy, then Harper, already a six-time All-Star, could be on this way to a Hall of Fame career. If he wins the MVP this year, that will be another major achievement in his HOF argument.
As for Wheeler, he was 14-10 with a 2.78 ERA. The won-loss record doesn't begin to tell the story and in these days of advanced analytics, a pitcher's wins don't carry as much weight.
Still, what might hurt Wheeler is the same as Harper, not being on a playoff team.
Wheeler led MLB with 213 1/3 innings pitched. He was second to Toronto's Robbie Ray in strikeouts with 247, one fewer than the Bluejays lefthander.
Wheeler was fifth in the majors in WHIP (walks and hits per innings pitched, 1.01).
This season Wheeler made his first All-Star game.
In his two seasons since signing a five-year, $118 million free agent deal with the Phillies, Wheeler is 18-12 with a 2.82 ERA, 300 strikeouts and an ERA+ of 151
Wheeler will be 32 in May, and as a pitcher, one has to wonder how many of these 200-inning, 200-strikeout seasons he has left in him.
During the shortened 60-game season in 2020, he pitched 71 innings, so this year he threw more than three times that total. We'll have to see if that added pitching load from one season to the next will affect him in the future.
Either way, these were two great seasons and the Phillies as a team have nothing to show for it. There were many wasted opportunities this season, but not taking advantage of dominant performances by their top pitcher and hitter is something that Phillies fans, not to mention the team itself, greatly regrets
Article continues below
---
advertisement


---
Author:
Marc Narducci
Archives
---
Who's Who in Health Care
Tight Race in Boys Soccer Colonial-Liberty Division
Should Eagles fans worry over recent wins?
South Jersey Football Games of the Week
Former Shawnee star Doolittle Calls It A Career
Camden County College welcomes Baseball Hall of Fame
South Jersey Football Games of the Week
Out & About
QB Ronnie Borden is Back in the Game
Should fans be worried for the Phillies bullpen?
South Jersey Football Games of the Week
A look at South Jersey's Top H.S. Girls' Soccer Teams
Out & About
Eagles will be fine after close call in opener
High School Football Games of the Week
More...