South Jersey High School Girls' Soccer Preview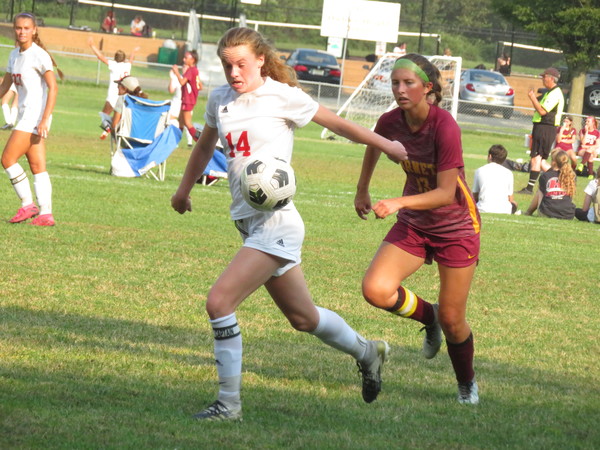 The South Jersey girls' soccer tournament begins on Tuesday Nov. 2 and here is a look at what should be some outstanding races. The official pairings haven't been released but based on the point points after Saturday's cutoff date (courtesy of NJ.com), these are the projected seedings.

SJ Group 1
Top seed: Pitman
Favorites: (1) Pitman, (2) Schalick, (3) Pennsville, (4) Clayton, (5) Haddon Townshp, (7) Audubon.
Outlook: Last season Haddon Township was a sectional champion as a No. 4 seed. Even though the Hawks are seeded No. 5, they should be a serious threat. Playing such a difficult schedule will help the Hawks. Junior Sara Wiedeman (11 goals), is the Hawks' offensive leader. Last week Audubon, a fellow member with Haddon Township in the difficult Colonial Conference Liberty Division, tied Haddon Township, 1-1, so nobody should discount the Green Wave.
SJ Group 2
Top seed: Sterling
Favorites: (1) Sterling, (2) West Deptford, (3) Haddonfield, (4) Cinnaminson.
Outlook: The top three seeds come from the Colonial Conference Liberty Division, which Sterling won. Just last week, Sterling lost consecutive games to Haddonfield and West Deptford. That said, the Silver Knights will be difficult to beat. They bounced back from those two losses to earn an opening round SJ Coaches Tournament 4-1 win over Williamstown.
SJ Group 3
Top seed: Ocean City
Article continues below
---
advertisement


---
Favorites: (1) Ocean City, (5) Mainland.
Outlook: Ocean City is a heavy favorite. The Red Raiders began the week 16-1, but the one loss was 1-0 on Oct. 12 to Mainland. Still, Ocean City will be difficult to beat. Senior Summer Reimet has scored an incredible 49 goals for Ocean City, the type of finisher needed in the state tournament.
SJ Group 4
Top seed: Toms River North.
Favorites: (1) Toms River North, (2) Eastern, (3) Shawnee.
Outlook: Toms River North began the week 15-0-1 and benefits from playing in the difficult Shore Conference. Then again, Eastern and Shawnee compete in the Olympic Conference American Division, among the best not only in South Jersey, but statewide.
Eastern has withstood so many injuries to capture the American Division title. Senior Cami Silvestro, an Army commit, has scored a team-high 12 goals for Eastern, which has a balanced offense. Two of Shawnee's three losses have been to Eastern, both by one goal, so the Renegades should be a factor.
SJ Non-Public A
Top seed: Red Bank Catholic
Favorites: (1) Red Bank Catholic, (2) Notre Dame, (3) St. John Vianney. Red Bank Catholic and St. John Vianney were ranked among the top 10 teams in the state in last week's NJ.com Top 20.
Outlook: The highest seeded team from the seven-county South Jersey area is No. 7 Camden Catholic. The Irish aren't expected to contend in what is usually one of the toughest sections in the state.
SJ Non-Public B
Top seed: Bishop Eustace.
Favorites: (1) Bishop Eustace (2) Rutgers Prep
Outlook: There is no perceived overwhelming team in this group. Eustace should benefit from a difficult regular season schedule that included a tie against South Jersey's top team, Eastern and a win over Cherokee in the Coaches Tournament. Sophomore Allie Serlenga (16 goals) is a big-play performer for Eustace.
Author:
Marc Narducci
Archives
---
Dick Allen a glaring omission in recent Hall of Fame vote
One Last Thing: Off the Ice
The Long Journey in a High School Football Season
South Jersey Coronavirus (COVID-19) Developments (December 7)
Sandwich Supremacy
Four South Jersey Regional Football Champions
A Familiar Voice
Men of The Year 2021
Joining the Family Business
Giving Kids a Shot
Deck the Halls
High School Football Regional Championship preview
South Jersey Coronavirus (COVID-19) Developments (December 1)
There is still a place for Thanksgiving football
Eagles soap opera continues
More...