A look at the South Jersey H.S. Football Playoffs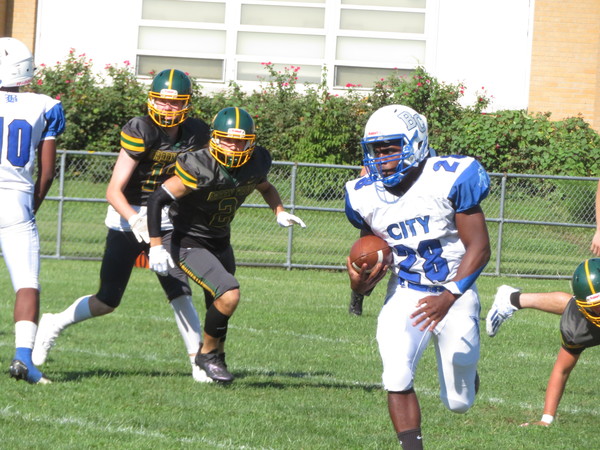 The NJSIAA football playoffs kick off this weekend. Teams from the seven-county South Jersey area will compete in Central and South Jersey brackets. Here is a look at the South Jersey public schools with the seedings courtesy of gridironnewjersey.com
South Jersey Group 5
Teams: (8) Lenape @ (1) Washington Township; (5) Old Bridge @ (4) Kingsway; (6) East Brunswick @ Toms River North; (7) Edison @ (2) Manalapan.
Outlook: This is not a strong group. Washington Township is a contender, but the Minutemen have lost to (4) Kingsway, 21-14. Unlike in many years, this is up for grabs.
Central Jersey Group 5
Teams: (8) New Brunswick @ (1) Hillsborough; (5) Williamstown @ (4) Southern; (6) Eastern @ (3) North Brunswick; (7) Egg Harbor @ (2) Cherokee.
Outlook: This is up for grabs as well. Egg Harbor Township is a darkhorse, having won four in a row. The winner of the EHT Cherokee first round game is one to watch.
South Jersey Group 4
Teams: (8) Toms River South @ (1) Millville; (5) Central @ (4) Pennsauken; (6) Freehold Boro @ (3) Long Branch (7); Mainland @ (2) Ocean City.
Outlook: It would be a major surprise if anybody other than Millville and Ocean City met in the final and this could be one the more entertaining sectional finals.
Central Jersey Group 4
Teams: (8) Hightstown @ (1) Winslow Township; (5) Timber Creek @ (4) Colts Neck; (6) Clearview @ (3) Lacey; (7) Hammonton @ (2) Shawnee.
Outlook: This should also feature a championship of the top two seeds, Winslown Township vs. Shawnee. Winslow Township has lost to just one team from the seven-county South Jersey area, falling to unbeaten Cedar Creek, 35-27. Shawnee has played the toughest schedule in the group and QB Matt Welsey has already guided the Renegades to two sectional titles.
South Jersey Group 3
Teams: (8) Absegami @ (1) Cedar Creek; (5) Rahway @ (4) Somerville; (6) Ewing @ (3) Delsea; (7) Hopewell Valley (2) Wall.
Outlook: Two unbeaten teams, Cedar Creek and Delsea appear headed to meet in the finals. Cedar Creek senior Joseph Landicini has thrown for 2,158 yards passing and 20 touchdowns. Delsea is among South Jersey's top rushing teams.
Central Jersey Group 3
Teams: (8) Oakcrest @ (1) Rumson-Fair Haven; (5) Delran @ (4) Burlington Township; (6) Holmdel @ (3) Manasquan; (7) Triton @ (2) Woodrow Wilson. .
Outlook: Woodrow Wilson, with QB Devon Kargman (1,795 yards passing, 15 touchdowns) appears to be the team to beat. A great matchup is between Burlington Township and Delran and the winner could get to the final.
South Jersey Group 2
Teams: (8) Monmouth @ (1) Point Pleasant Boro; (5) New Providence @ (4) Delaware Valley; (6) Haddon Heights @ (3) Nottingham; (7) Sterling @ (2) Willingboro.
Outlook: Top seeded Point Pleasant Boro (7-1) is averaging 38.7 points. A darkhorse could be No. 6 Haddon Heights, which beat (2) Willingboro, 14-6 in a non-divisional WJFL game this past week.
Central Jersey Group 2
(8) Barnegat @ (1) Raritan; (5) Overbrook @ (4) Hillside; (6) Middle Township @ (3) Haddonfield; (7) Bound Brook @ (2) Bernards
Outlook: Top seeded Raritan (4-4) has played in the difficult Shore Conference, and that helped its rating. Bernards lost to Penns Grove in its opener but has steadily improved and will be dangerous. Watch out for Haddonfield, another team that is helped by playing a difficult schedule.
South Jersey Group 1
Teams: (8) Maple Shade @ (1) Woodbury; (5) Asbury Park @ (4) Penns Grove; (6) Middlesex @ (3) Woodstown; (7) Burlington City @ (2) Shore.
Outlook: Woodbury (8-0) will be difficult to beat but watch out for Penns Grove (5-4). The Red Devils have played a tough schedule as part of the WJFL Diamond Division and should benefit in the postseason.
Central Jersey Group 1
Teams: (8) South Hunterdon @ (1) Paulsboro; (5) New Egypt @ (4) Gloucester City; (6) Gateway @ (3) Audubon; (7) Keyport @ (2) Salem.
Outlook: Paulsboro (7-1) has won six in a row since a 6-0 loss to Woodbury, including a 25-17 victory over (2) Salem. That could be a preview of the championship.
Non-Public A
Teams: (1) Bergen Catholic (bye); (2) St. Augustine (bye); (3) St. Joseph Montvale (bye); (9) Notre Dame @ (8) Donovan Catholic; (12) St. John Vianney @ (5) Seton Hall Prep; (13) Pope John @ (4) St. Peter's Prep; (11) Paul VI @ (6) Don Bosco Prep; (10) Camden Catholic & (7) Delbarton.
Outlook: This is by far the most difficult Group involving South Jersey teams and may be the best in the state. Bergen Catholic is the top team in the state and will be difficult to beat. St. Augustine would do well to reach the final, no easy task.
Non-Public B
Teams: (8) Immaculata @ (1) DePaul; (5) Holy Spirit @ (4) Hudson Catholic; (6) St. Thomas Aquinas @ (3) St. Joseph Hammonton; (7) Morris Catholic @ (2) Red Bank Catholic.
Outlook: DePaul is a perennial power and will be tough to beat. The Spartans (7-2) lost to powers St. Peter's Prep and Don Bosco Prep by a total of six points. St. Joseph should be highly competitive but the Wildcats have to show they have the offensive consistency to win this tough division.
Article continues below
---
advertisement


---
Author:
Marc Narducci
Archives
---
A Familiar Voice
Men of The Year 2021
Joining the Family Business
Giving Kids a Shot
Deck the Halls
High School Football Regional Championship preview
South Jersey Coronavirus (COVID-19) Developments (December 1)
There is still a place for Thanksgiving football
Eagles soap opera continues
A Familiar Voice
Executives of the Year
Observations of the South Jersey Football Teams in championship play
'Lifeblood of the Economy'
South Jersey Thanksgiving Games of the Week
Weed and the Workplace
More...