Men of The Year 2021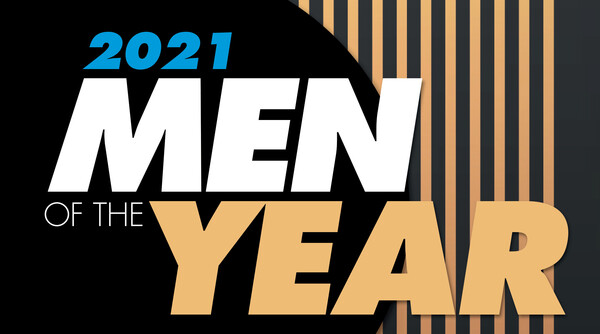 Here in South Jersey, we are fortunate to have a seemingly endless supply of good-hearted people who always seem to put others before themselves, and it is our honor every November to highlight just a few of them with our annual Men of the Year story. Some have made a career out of lifting their neighbors up and improving our communities, while others find time to volunteer to causes of particular importance to them. Either way, there is no question these men are special and deserve our gratitude.
Man of the Year: Arthur Aston
Reaching the age of 40 is a significant milestone for anyone, but when Aston celebrated the big 4-0 on Thanksgiving this year, it was even more meaningful. A Collingswood resident, Aston was born with spina bifida and was not expected to live past 15. "It's really something special and it gives me chills every time I say that to people," he says. "I'm beating the odds."
For that reason alone Aston could be considered an inspiration, but he goes above and beyond in numerous ways to advocate on behalf of people with disabilities. As the executive director of Build Jake's Place, he helped get "Jake's Law" passed, requiring every county in New Jersey to have at least one inclusive playground. The organization is currently collaborating with townships throughout the state to build playgrounds for children of all abilities.
Also under the Build Jake's Place umbrella, Aston is the general manager of the Camden County Miracle League, a baseball organization for children and adults with special needs that just resumed play this fall following a lengthy break due to the pandemic.
Finally, Aston is the founder of OurView, a company he started in 2010 "to raise awareness, educate and change the tone of conversation about disabilities." He speaks to students of all ages and shares his personal story, promotes acceptance and shows students that those with disabilities are normal people with similar likes to their own. When the pandemic put a halt to those presentations, he started a podcast to keep the conversation going, and releases a new episode every Monday in which he interviews authors, filmmakers and special guests like disability rights activist Judy Human or Ali Stroker, the first wheelchair user to win a Tony Award. He is looking forward to continuing the podcast while also returning to schools, which he calls his true love. "If the kids see another student using a wheelchair or crutches, they can remember me and not be afraid of that person."
Aston is clearly a difference-maker in South Jersey but he is quick to share the credit. "My name is Arthur so I always say that I have my A team of family and friends behind me. I don't do any of this by myself. I have a great support system that I'm extremely grateful for. Getting the opportunity to work with the people at Jake's Place and having them believe enough in me to be the executive director has been such a great blessing."
Tony Parlante
Parlante, a Williamstown resident, loves to crack people up as a standup comic, but the struggles of local families are no laughing matter, and that is why he and his wife Marge have been ardent supporters of Family Promise of Southwest New Jersey for close to 20 years. The faith-based nonprofit provides shelter, food, financial education and other services to those in need, and since the pandemic started has focused its attention on helping families stay intact within their own residences by assisting with rent and utility bills. Parlante is a board member who visits local chambers of commerce, rotary clubs, etc., to spread the word about Family Promise's mission, and he also helps organize its two major fundraisers, a Taste of South Jersey in the fall and a comedy night in the spring. Parlante himself got into standup after retiring as a mattress salesman, and he also puts together shows for charities like Community Options and the Tim Tebow Foundation's Night to Shine. "Within five minutes of meeting me, people learn about Family Promise and about comedy," he says. "I'm especially proud of working with Family Promise and impacting these families. Not only are we helping with housing, but we're helping these families function on a daily basis and sustain that in the future."
Greg Davis
Davis has been a resident of Washington Township for more than 20 years, where he and his wife Kelly raised two daughters, current college students Allison and Morgan. He has been active in nonprofits and charitable work throughout that time, most notably serving on the board of directors for the Volunteer Center of South Jersey for the past 15 years. As the previous president of the organization, which promotes volunteerism and connects both individuals and businesses with opportunities to give back, he initiated the broadening of the Volunteer Center beyond Gloucester County to become more of a regional nonprofit across South Jersey. Davis also founded The Spirit of Community Awards in 2011 and saw it become the largest volunteer recognition event in the state prior to its hiatus for COVID-19. He is excited to resume the event in 2022. Another of his creations is the Scholarship Award for Volunteer Excellence, and he has been the primary funder and fundraiser for the two annual gifts given to high school seniors who have excelled in giving back to their communities. A 30-year engineering member of the Paulsboro Refinery, Davis started a new career journey with Matheson earlier this year and hopes to bring the volunteer spirit to his new place of employment.
Kevin Nowak
Athletics clearly play a major part in Nowak's life, both professionally and personally. A sports architect for 22 years, he has completed projects at Citizens Bank Park and Villanova University and is currently working on a locker room renovation for the Columbus Blue Jackets of the NHL. But a cause that is especially close to his heart is the Pan-Mass Challenge (PMC), a bike-a-thon in his native Massachusetts that he participates in every August. The PMC raises more money for charity than any other single athletic event in the country, with the proceeds going to Dana-Farber Cancer Institute, a world leader in cancer treatment and research. That is where Nowak underwent surgery and chemotherapy for testicular cancer as an 18-year-old fresh out of high school, and ever since he has been committed to helping others facing a similar battle. "It was a feeling I had that if I made it through, it was my responsibility to give back and keep those all-important research dollars coming in," he says. This past summer was Nowak's 14th year taking part in the two-day event, which includes 192 miles of cycling for he and his team, and the Westmont resident has helped contribute to the nearly $1 billion total that the PMC has raised since 1980.
David Snyder
Not everyone can say they are working in their "dream job," but that is exactly how Snyder feels about serving as the chief advancement & community relations officer of the Jewish Federation of South Jersey, a role he has held since 2009. As a native of Cherry Hill, he finds it rewarding to be making such a positive impact not just in his hometown but in communities across Camden, Burlington and Gloucester counties. In addition to his primary role of raising the vital resources to support the hundreds of programs and services of the Jewish Federation and its family of agencies, Snyder also works with elected officials and law enforcement professionals, along with civic and interfaith leaders, to ensure that South Jersey remains a welcoming, safe and thriving community for people of all faiths and ethnic backgrounds. Snyder also proudly serves as the College Connection chair at his local synagogue, M'kor Shalom, and has volunteered at the IHOC (Interfaith Homeless Outreach Council) program with his three sons for more than a decade. Snyder and his wife Allison have set up bequests and an endowment fund to support multiple organizations whose work helps to support educational and training opportunities for disadvantaged youth in their community.
Erik Estrada
A native Californian, Estrada is a firm believer that his parents as well as the community he grew up in helped shape the man he is today, which is why it's so important to him to pay it forward to the different areas of his adopted home state that need assistance. As the community manager at the Community Foundation of South Jersey (CFSJ), he is responsible for the execution of Transform South Jersey, a collaboration between local and national partners to strengthen the social, cultural and economic vibrancy of select municipalities having a population less than 50,000. He is also proud of CFSJ's efforts to coordinate a philanthropic response to the COVID-19 pandemic for residents of Camden. Prior to joining CFSJ, Estrada served in a variety of roles for the Robert Wood Johnson Foundation, and his other causes include the Camden Funders Affinity Group for the Council of New Jersey Grantmakers, which he serves as co-chair. The Westville resident is also a supporter of the Ubuntu Giving Fund. Estrada traces his interest in helping others back to an assignment he had as a student at the University of California at Berkeley, when he was tasked with interviewing immigrants and chose his parents. "One of the things that came out of that was my father said, 'If you can, you have the obligation to help others.' It wasn't until I heard my dad verbalize it that it kind of hit me," he says. "He also unexpectedly passed away shortly after, so I think that's why it stuck with me so much."
Tom Peculski
Peculski, a Voorhees native, was a firefighter and worked with EMS for 31 years and currently teaches emergency response, CPR and first aid, so helping people comes as second nature to him. But in recent years he has taken that assistance to another level in caring for the area's homeless. It all began when a classmate from high school was presumed to be living on the streets and the family asked for Peculski's help in locating him, and that led to others seeking his services. Soon Peculski and a small group of friends were finding more missing people, bringing food, clothing and necessary items to the homeless in Camden and surrounding areas, and assisting substance abusers to seek treatment. They called their nonprofit the Helping Hands Outreach Program, and in just two years it has gotten 175 people off the streets in Camden and Gloucester counties. The team works closely with local law enforcement and has built close relationships with the people it serves, even celebrating birthdays and holidays with them. "It has really blossomed into something incredible and it's definitely restored hope that one or two people can make a difference," he says. "We're starting to see other outreaches pop up in different counties of the state, so hopefully we inspire people and we can get the whole state covered."
Joseph Manni
Manni is the executive vice president and chief operating officer of both Deborah Heart and Lung Center, a renowned hospital focusing on cardiac, lung and vascular health, and Deborah Hospital Foundation, its fundraising arm. In the latter role, he provides crucial leadership and helps drum up financial support from individuals, organizations and other charitable foundations to support the mission of the hospital, which is to offer world-class care without the high price tag usually associated with it. In fact, Deborah will celebrate its 100th anniversary next year, and it has never rendered a bill to a patient throughout its history. "I get to see the benefit of the patient not only walking out of here better than when they came in from a health standpoint, but also not having to worry about the medical bills," he says. "So it is actually doubly rewarding." Manni, who has been at Deborah for 37 years, is also proud of the Foundation's fundraising to support various outreach programs in the community, such as screenings for sudden cardiac arrest in adolescents. A Medford resident, Manni and his wife Loren, a nurse at Deborah, are active in their church and give to local EMS and the Food Bank of South Jersey.
Dan Lombard and James Corbett
When Lombard, a Magnolia native who currently lives in Pennsauken, returned to South Jersey after serving in Afghanistan and being discharged from the Army, he made a Facebook post explaining to friends that he would be a little bit different than the person they remembered because of his experiences, most notably surviving two IED explosions that left him with traumatic brain injury and post traumatic stress disorder. Corbett, a Voorhees resident who had previously met Lombard through a mutual friend, read the message and immediately reached out to help in any way and also to share his idea for a nonprofit. That led to them founding Project Refit, which aims to combat isolation and reduce suicide rates among veterans, active military and first responders, not just here in South Jersey but all over the country. Project Refit helps to build camaraderie and give veterans and first responders a forum to express themselves and talk about their shared experiences through a mobile base, which Corbett describes as a VFW or American Legion Hall on wheels; through regular Zoom meetings open to anyone throughout the country, including civilians; and through a mobile app that is exclusive to those populations. The nonprofit has impacted thousands since forming in 2017, and that was the goal all along for Corbett, who did not serve in the military but comes from a family where patriotism was always emphasized. "We as citizens have a responsibility to look out for these people," he says. As for Lombard, being involved in the nonprofit has not only allowed him to help others but also to heal himself. These men and women who have sacrificed so much often feel forgotten, but that is no longer the case thanks to their efforts. "To break that feeling and make them feel like they're seen again is a hard barrier to break, but I honestly feel like we're doing it at Project Refit," Lombard says.
Click here to subscribe to the free digital editions of South Jersey Magazine
To read the digital edition of South Jersey Magazine, click here.
Article continues below
---
advertisement


---
Published and copyrighted in
South Jersey Magazine
, Volume 18, Issue 8 (November 2021)
For more info on South Jersey Magazine, click here.
To subscribe to South Jersey Magazine, click here.
To advertise in South Jersey Magazine, click here.
Author:
Matt Cosentino
Archives
---
Who's Who in Health Care
Former Shawnee star Doolittle Calls It A Career
Camden County College welcomes Baseball Hall of Fame
South Jersey Football Games of the Week
Out & About
QB Ronnie Borden is Back in the Game
Should fans be worried for the Phillies bullpen?
South Jersey Football Games of the Week
A look at South Jersey's Top H.S. Girls' Soccer Teams
Out & About
Eagles will be fine after close call in opener
High School Football Games of the Week
Is it Super Bowl or bust for the Eagles?
What's New in South Jersey?
From New Jersey to Nashville
More...