Looking back on the high school football season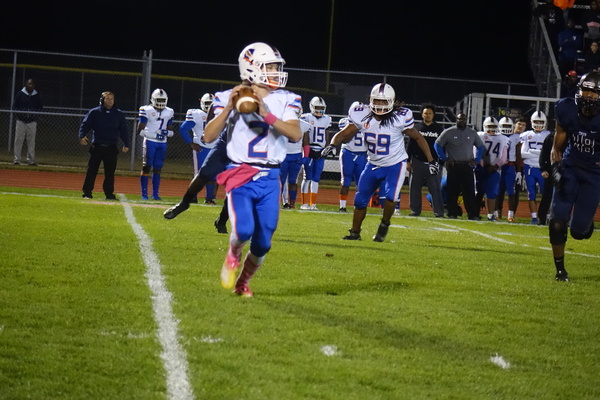 The recently completed South Jersey football season had more than its share of big moments, great games and outstanding individual performances. Here is a look back at the season.
The 400 club
According to NJ.com, three players from the seven-county South Jersey area threw for 400 or more yards in a game. Timber Creek's Donovan Leary completed 27 of 41 passes for 409 yards and five touchdowns in a 41-14 win over Clearview.
Millville's Nate Robbins completed 24 of 28 passes for 408 yards and four touchdowns in a 40-7 win over Williamstown.
Woodrow Wilson's Devin Kargman completed 19 of 23 passes for 407 yards and five touchdowns in a 44-21 win over Haddonfield.
Game of the year
Cedar Creek 35, Woodrow Wilson 34. This was the South/Central Group 3 regional championship and enabled Cedar Creek to finish with a 13-0 record. JC Landicini threw five touchdown passes for the winners.
The outcome wasn't determined until Wilson running back Naz'sir Oglesby was ruled inches short of the goal line on a fourth down pass from the seven-yard line with 10 second left.
Video review of the play confirmed the call, after a lengthy review, much to the chagrin of Woodrow Wilson and its fans.
Cedar Creek didn't have the best of starts, trailing 22-0, but the Pirates kept chipping away. Landicini's 49-yard touchdown pass to Zac Ricci and Matthew Best's PAT was the game-winner, giving the Pirates a 35-34 lead with 3:21 left.
Oglesby rushed for a team-high 180 yards, while Devin Kargman threw two touchdown passes.
This was a much more dramatic game than the regular season meeting between the two teams when Cedar Creek won, 21-8.
Top performer
There were so many people to chose from, but Millville senior LeQuint Allen was named the New Jersey Gatorade Player of the Year. A Syracuse commit, Allen rushed for 1901 yards (8.3 avg.) and 23 touchdowns.
During Millville's 45-35 win over Winslow Township in the South/Central Regional Group 4 championship, Allen ended his career in style, rushing for 243 yards and a touchdown on 40 carries.
Allen was also a hard-hitting linebacker for the Thunderbolts.
Most difficult question
Who's No. 1 in South Jersey. Cedar Creek (13-0) was the highest ranked South Jersey team in the final NJ.com Top 20, finishing No. 2. Millville (12-1) was next from South Jersey at No. 3 and and St. Augustine (9-2) was third from the area, finishing No. 7.
The other two South Jersey teams to finish in the final Top 20 were Central Jersey Group 4 champion Winslow Township, which was 16th and the aforementioned Woodrow Wilson Tigers (18th).
This was a difficult decision for No. 1 in South Jersey because St. Augustine was the only team to beat Millville and was ousted from the playoffs by a Don Bosco Prep team that finished No. 5 in the state.
Could St. Augustine have defeated Cedar Creek?
Sure.
Could Cedar Creed have defeated St. Augustine?
Sure.
That is what makes rankings so interesting.
There could be an argument that St. Augustine could have been No. 1 since the Hermits won the head to head matchup with Millville and didn't lose to a team from the seven-county South Jersey area.
Then again, Cedar Creek completed an unbeaten season playing one of the most difficult schedules in South Jersey.
The Pirates owned two wins over a sectional champion (Woodrow Wilson), a victory over Group 2 South/Central Regional champ Haddonfield, shut out a Sommerville team that was ranked in the Top 20 of the state when they played and defeated sectional finalist Willingboro.
There was also an impressive 7-6 win over a Holy Spirit team that was among the best in South Jersey and a 30-13 win over previously unbeaten Delsea in the South Jersey Group 3 championship.
That is quite a resume.
Article continues below
---
advertisement


---
Author:
Marc Narducci
Archives
---
Who's Who in Health Care
Former Shawnee star Doolittle Calls It A Career
Camden County College welcomes Baseball Hall of Fame
South Jersey Football Games of the Week
Out & About
QB Ronnie Borden is Back in the Game
Should fans be worried for the Phillies bullpen?
South Jersey Football Games of the Week
A look at South Jersey's Top H.S. Girls' Soccer Teams
Out & About
Eagles will be fine after close call in opener
High School Football Games of the Week
Is it Super Bowl or bust for the Eagles?
What's New in South Jersey?
From New Jersey to Nashville
More...