Brotherly Love for the Game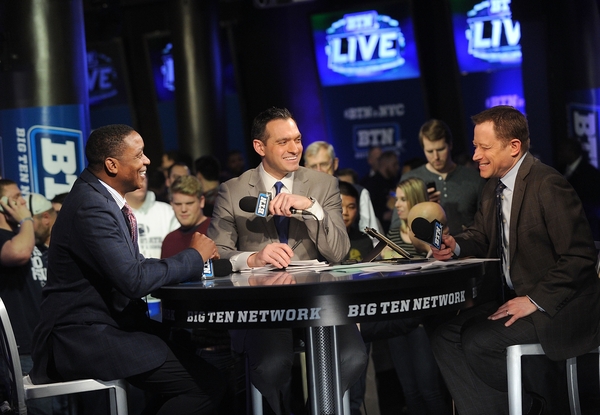 Before the state championships at Pitman High and the Sweet 16 run at Penn State, before the NBA and the professional leagues throughout the U.S. and Europe, the first sign of Joe and Jon Crispin's greatness with a basketball in their hands came in the kitchen of their South Jersey home. That's where a Mickey Mouse hoop hung over the doorway and the brothers, as toddlers, would take on their dad Steve in daily 2-on-1 games. Thus began a lifelong love affair with the sport, and nearly 40 years later the Crispins are still having an impact on the game, each in his own way.
Joe, 42, is in his fifth season as the men's basketball coach at Rowan University, where he is interested in not just competing for national titles but pushing the sport in an exciting new direction. He is also the owner and director, along with his wife Erin, of Crispin Basketball, a burgeoning youth organization that continues to grow in offerings and popularity.
Jon, 40, is a college basketball commentator for ESPN, where he has established himself as one of the brightest minds in the business, whether providing color analysis courtside or sharing his insight on various studio shows.
It has been more than two decades since the brothers were teammates, and the paths to their current endeavors could not have been more different, but there is no question that a mutual respect and support still forms the heart of their relationship. If Joe needs to bounce ideas around or sound off about a stressful day, Jon is always just a phone call away, and vice versa. Even easier than that, they can just take a short walk, since their houses back up to each other a few blocks down the road from their childhood home.
"The fact that we still get to share in the joy [of basketball] doing our respective jobs in the same industry is really something," Jon says. "We talk regularly about all of this—about my job, about his job. Obviously, I've got recommendations for him, and he's got even more recommendations for me as to how to do my job, and the truth is he's often right. It's great that we get to share that together."
Pitman was not exactly known as a hotbed for basketball when the Crispins came along in the late 1990s and changed the narrative. They won a state title together, the school's first, in Joe's senior season in '97, and Jon added another a year later when his brother was a freshman at Penn State. The siblings eventually reunited in Happy Valley and guided the Nittany Lions on a memorable run in the 2001 NCAA Tournament, knocking off North Carolina to reach the Sweet 16.
Joe, who scored a Gloucester County-record 2,654 points at Pitman, was a four-year starter at Penn State and ranks fourth on the school's all-time scoring list. Against all odds, he landed in the NBA for a brief time out of college, appearing in 21 games with the Los Angeles Lakers and Phoenix Suns. With the Lakers, his teammates included legends Shaquille O'Neal and Kobe Bryant, but it all happened so fast that sometimes he forgets it was real.
"It's funny because when you're there, that's your normal, that's your world," he says. "You're going to practice and you're trying to make it and do well every day. At least for me, I wasn't overly reflecting on what was going on. Shaq was my teammate … but I didn't get caught up in a lot of that. … All of a sudden I'm just a college kid who loves playing ball and bam, I'm in the best league in the world trying to figure it out."
He bounced around after that rookie season to several minor leagues and eventually headed to Europe, where he played into his 30s in countries like Italy, Ukraine, Turkey, Spain, Poland and Greece. He and Erin, who have five children now, had already started their family, so moving from place to place was not exactly glamorous, but they recognize now how lucky they were to experience living abroad. At the same time, Joe was learning how to play all different styles of basketball under multiple coaches.
"I always tell people that my playing career was the best basketball education I never asked for," he says. "I didn't want that; I wanted to be in the NBA and that's it. But I ended up in the minor leagues and summer leagues and all sorts of different countries playing ball. When you soak in the opportunity to receive that education, you have more to share."
Joe initially resisted the lure of coaching—he thought about becoming a pastor in his church—but came to realize that it was inevitable. His grandfather, father and uncle had all been coaches, and after deciding to retire as a player he followed in their footsteps. He joined Rowan as an assistant for the men's and women's teams before being elevated to the top job for the men in 2016.
As a player, Joe had been somewhat ahead of his time with his proclivity for shooting 3-pointers, playing at a quick pace and spreading the floor. Now that is the standard across all levels, but he wants to continue evolving the game and finding new ways to make it enjoyable to play and watch. His Rowan teams consistently score in the 90s or even the 100s—which is rare for college basketball—because of his preferred style.
"Whether it's politics or medicine or basketball or how we teach kids in school, we should assume that we're doing something that in 50 years is going to seem really dumb," he says. "That was true when I was a rookie in the NBA. [Then-Suns coach] Frank Johnson told me he didn't want to shoot as many 3s and I looked at him side-eyed. I couldn't understand it. I didn't have analytics but I did have my gut, and my gut said, 'I can make [the 3-point shot] quite a bit, and you don't want to shoot it? This doesn't make any sense.'
"That's one of the reasons why, even as a coach, I probably don't fit into a box, because I'm not real restricted in what I'm willing to do or not do. The only thing I'm really committed to is not being boring. Let's have fun and learn along the way."
His approach has led to success at Rowan, including the program's first conference championship in 20 years in 2019 and a berth in the NCAA Division III Tournament. He makes no secret of the fact that he would love to test his methods at the Division I level, but it would have to be the right fit, and there is a lot tying him to South Jersey. In addition to his family and his love for Rowan, there is Crispin Basketball, which has been booming in recent years with its camps and leagues for area children.
Originally started as a summer camp by Steve Crispin, the organization has become larger than anyone in the family expected and is central to Joe's mission. "Our goal is to positively impact the community through basketball," he says. "We want to make South Jersey basketball better, and I want to do that through Rowan and through Crispin Basketball. You do that by reaching as many kids as you can, coming up with structures they enjoy, where they can improve upon things, etc. Those are the principles that all of our programs revolve around."
Jon, also a member of the 2,000-point club at Pitman and a key contributor at Penn State, actually transferred to UCLA following Joe's graduation and spent the final two seasons of his college career at one of the most storied programs in the country. He had a brief professional career before getting into acting while living in Los Angeles, and it was a national Coke commercial in which he shared a story about his grandfather that led to broadcasting.
Andrew Siciliano, then with Fox Sports Radio, reached out and invited Jon onto his show, which eventually led to a regular co-hosting gig. Television opportunities came next, and he was calling college basketball games on the West Coast before joining ESPN and then becoming the lead analyst for the Big Ten Network for four years. He returned to ESPN and also does work for Westwood One Radio during the NCAA Tournament.
"It's been a crazy ride and it's hard to believe I've done it as long as I have," he says. "I've done hundreds and hundreds and hundreds of games, I can't even count them. I've been all over the country talking about basketball—what a freaking joy. You can't write the script, you can only pick it up and go along with it."
Jon has avoided the "hot takes" and outrageous opinions that have become such a huge part of today's media and sports journalism. His goal with each broadcast is to see beneath the surface, help translate the feel of the game and the arena to viewers at home, use his insight as a player and student of the game to make salient points, and above all else, to share his enthusiasm for the sport.
"I actually care: I watch tape, I break it down and I trust in my conviction," he says. "I think ultimately that's probably one of the things that separates me. I say this to kids who get into the business: 'Don't say what you think you're supposed to say, say what you think.' The reality is, that is hard to do in my business. It's really hard to say what you think and trust what you see. I trust what I see, say it as respectfully as possible and I think that makes me successful."
Jon has become well respected in the industry and has worked with some of the top play-by-play announcers around, from Gus Johnson at the Big Ten Network to Rece Davis and Dan Shulman at ESPN. He also enjoys talking hoops with coaches from all over the country and has become particularly close with Duke's Mike Krzyzewski and Michigan State's Tom Izzo. "That to me means the world," he says, "not because I can say I have famous friends, but because really successful people appreciate the way I do things."
Jon, who is also involved in several commercial real estate projects locally, is happy to be raising his family in South Jersey after moving back from the West Coast. He and his wife, who have an 18-month-old, were set to welcome their second son in mid-December.
"I grew up in Pitman and people called me Hollywood, because I was a prima donna, this little punk athlete," he says. "When I got to Hollywood, I realized how Pitman I was. It really wasn't me even though I thought it would be. … People thought I was crazy [when I moved home]. L.A. is a great place; it has all of these beautiful things, beautiful people, cars, beaches, restaurants, you name it. They're there to distract you from what it doesn't have, which actually matters, and ironically enough, Pitman has all of those things. It happens to be family, community, all good stuff. It's the type of place I want my kids to grow up."
The spring of 2021 marked 20 years since the Crispins' memorable March Madness run at Penn State, and next year they'll celebrate the 25th anniversary of their state title together at Pitman. Things have come full circle, with Joe's oldest son Elijah now suiting up for the Panthers as a freshman guard.
Jon does not play anymore because of a history of concussions and other health issues, although he still loves to fire away from long range. Joe leaves most of the on-court action to his kids and his players at Rowan. Their time away has given them both perspective and helped them appreciate what they were able to accomplish as players and what they have now.
"Jon and I talk about that—we were such competitors and you're always lost in the moment when you're young," Joe says. "You always think you can do more and you should've done more: You scored 20 but you should've had 27. You went to the Sweet 16 and you should've gone to the Elite Eight or the Final Four. My pop and my dad were always great about … telling us, 'Be thankful for what you have.' We were able to enjoy success in high school, success in college at a great school, and to do it together? It's an incredible gift that I'm really thankful for."
"I think I'm really lucky," Jon adds. "The fact that I still get to be involved at this level and have good life-work balance—and I don't say work-life because I think my life comes first—is awesome. I hope I get to do it as long as possible."
Article continues below
---
advertisement


---
Author:
Matt Cosentino
Archives
---
Who's Who in Health Care
Former Shawnee star Doolittle Calls It A Career
Camden County College welcomes Baseball Hall of Fame
South Jersey Football Games of the Week
Out & About
QB Ronnie Borden is Back in the Game
Should fans be worried for the Phillies bullpen?
South Jersey Football Games of the Week
A look at South Jersey's Top H.S. Girls' Soccer Teams
Out & About
Eagles will be fine after close call in opener
High School Football Games of the Week
Is it Super Bowl or bust for the Eagles?
What's New in South Jersey?
From New Jersey to Nashville
More...