Camden-Lenape highlights the best of South Jersey boys' basketball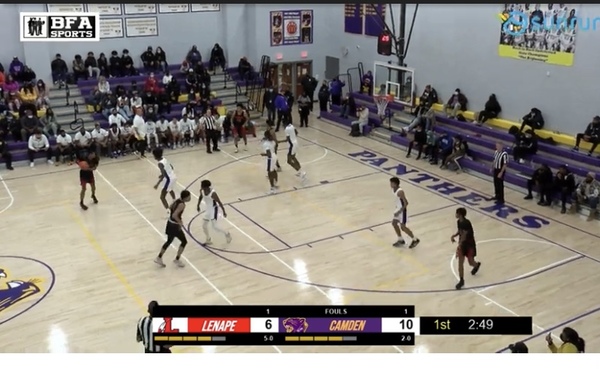 Last week there was an early season boys' basketball showdown, which showed some of the quality depth in South Jersey.
Camden, which is No. 1 in South Jersey and also No. 1 in the nation according to MaxPreps.com, hosted Lenape, which was No. 2 in South Jersey at the time, according to NJ.com.
Camden won the game, 76-64 and there were a lot of positives for both teams.
Camden jumped to a 41-23 halftime lead and was never seriously threatened in the second half. (Those interested in seeing the teams, including this reporter, but who couldn't attend, were able to view the game via live stream).
That said, for Lenape not to get blown out by a Camden team that begant he week with 43 consecutive wins, says something about the Indians. They should surely be a major factor in the South Jersey Group 4 playoffs.
(More on Lenape in a bit).
When discussing Camden, all the conversation begins with 6-3 D.J. Wagner, who is considered in many recruiting circles to be the best junior in the country.
Everybody knows about his lineage, with his grandfather being Milt Wagner and his father Dajuan Wagner, both who starred at Camden, in college at Louisville and Memphis respectively and then spent time in in the NBA.
Milt and Dajuan Wagner are two of the top players in South Jersey history. The youngest Wagner will join that list upon graduation.
D.J. Wagner exploded for 16 second quarter points as Camden outscored the Indians 25-14 enroute to its 18-point halftime lead..
Wagner can hurt teams driving to the basket, and in the second quarter, his three-pointer began heating up and when that is working, he is seemingly unstoppable.
Yet an interesting thing happened in the second half – Camden didn't look to Wagner to score. More specifically, he was getting his teammates involved and he only had two points in the second half.
It didn't matter because this is a Camden team built on depth. They don't need Wagner to get 30 every night, although there will be some of those offensive explosions to come.
Junior Cian Medley is among the top point guards in South Jersey.
Against Lenape, 6-4 junior Cornelius Robinson had 17 points and seven rebounds. Nine different players scored for Camden, displaying the depth of the Panthers.
And now we get to Lenape, which bounced back from that loss with a 64-45 win over rival Shawnee, and then earned wins over Colonia and Newark East Side to begin the week 8-1.
The Lenape leader is 6-1 senior point guard Derek Simpson, who is headed to Rutgers. Simpson had 15 points and 10 assists against Camden. He is also a strong defender and an outstanding leader. And he wasn't even the leading scorer.
Aidan Anderson, a 6-2 senior, had a season-high 26 points against Camden.
Losing by a dozen to Camden should only enhance the belief that Lenape could go a long way this season.
Obviously the same goes for Camden, which competes in Group 2.
This early-season showdown offered no surprises. Both teams entered the game with high expectations and the outcome suggests that nothing should change in that department.
Article continues below
---
advertisement


---
Author:
Marc Narducci
Archives
---
Who's Who in Health Care
Camden County College welcomes Baseball Hall of Fame
South Jersey Football Games of the Week
Out & About
QB Ronnie Borden is Back in the Game
Should fans be worried for the Phillies bullpen?
South Jersey Football Games of the Week
A look at South Jersey's Top H.S. Girls' Soccer Teams
Out & About
Eagles will be fine after close call in opener
High School Football Games of the Week
Is it Super Bowl or bust for the Eagles?
What's New in South Jersey?
From New Jersey to Nashville
Frustrating times for Millville's Mike Trout
More...