Growkowski, Jalen Hurts the two big keys in Eagles-Bucs playoff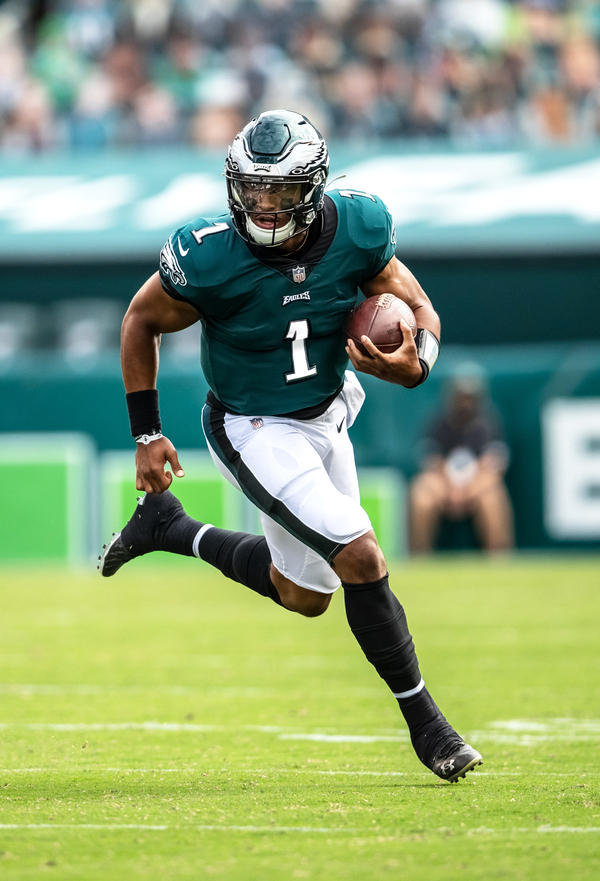 While few will give the Eagles a chance in Sunday's 1 p.m. Playoff game at Tampa Bay, one has to acknowledge that the Birds are a much different team than the one that lost at home to the Bucs, 28-22 on Oct. 14 in a Thursday night game.
From the Eagles standpoint, another positive is that Tampa Bay is a much different team also. And that isn't a positive development.
That's because the Bucs will be playing with a depleted receiver group. That doesn't mean that Tom Brady doesn't have the ability to pick the Eagles apart, but he will be missing Chris Godwin, out for the season with an ACL injury and Antonio Brown, who was kicked off the team after his much publicized dispute with coach Bruce Arians.
Even though Brown has been a disruptive force, he has contributed, if not at his former All-Pro levels. In the win over the Eagles, he had nine receptions for 93 yards and a touchdown.
Godwin is a bigger loss. Against the Eagles, he had five receptions for 43 yards, far from an explosive game, but his consistency and route running made him a dangerous part of the Bucs attack.
Plus, Mike Evans, who just recorded his eighth straight 1,000-yard season, has been playing while banged up.
Tampa Bay is 3-1 in its last four games, with the one loss a 9-0 defeat to a New Orleans club that the Eagles beat, 40-29.
The Bucs have won three in a row, a 28-24 squeaker over the New York Jets, sandwiched around two victories over a Carolina Panthers team that lost its final seven games of the season and was playing as poorly down the stretch as any NFL team.
That is not to say that the Eagles will upset the Bucs, but they are better equipped to compete than the first time.
Even though Tampa Bay only won by six points, the Bucs were in control the entire game and ran out the final 5:54 of the clock in the end instead of scoring.
The key for the Eagles will be attempting to contain tight end Rob Gronkowski.
Gronk is a future Hall of Famer and he was injured and didn't play in the earlier game against the Eagles.
In Tampa Bay's final two regular season games, Gronk had 14 receptions for 252 yards.
In the Eagles' 41-33 win over New England in Super Bowl LII, Gronkowski had nine receptions for 116 yards and two touchdowns.
Gronkowski has always come up big in the most important games.
In five Super Bowls, he has 29 receptions for 364 yards and five touchdowns.
During last year's 31-9 Super Bowl win over Kansas City, he had six receptions for 67 yards and two touchdowns.
The Eagles have a legitimate chance, but they opened up as a touchdown underdog for a reason.
It's difficult to bet against Brady.
And with Gronk hitting his stride, it will be a formidable challenge.
On the other hand, Jalen Hurts, who got a much needed week off to rest his ankle in Saturday's 51-26 loss to Dallas, remains the key for the Eagles.
In the first game with Tampa Bay, Hurts completed just 12 of 26 passes for 115 yards, one touchdown and one interception. He had just a 55.7 passer rating.
Hurts did run for 44 yards and two touchdowns on 10 carries.
Like the Eagles, he has played much better toward the later part of the season.
Along with Gronkowski, he remains the biggest key in a game that has plenty of intrigue and has a chance to be a lot more competitive than the bookmakers think.
Photo Courtesy of Philadelphia Eagles
Article continues below
---
advertisement


---
Author:
Marc Narducci
Archives
---
Just Getting Started
Shawnee's Joe Kessler Continues his amazing run
Sixers offer hope for Philadelphia sports fan
On the Horizon
New key rules for seeding high school boys & girls basketball teams
2022 Annual Resource Directory
Setting the Standard: Top CEOs/CFOs 2022
Tax-Saving Tips
Early story lines in the South Jersey boys' basketball season
South Jersey Soccer Coaches Association names the best of the best
Is Jalen Hurts the Eagles QB of the Future?
South Jersey Coronavirus (COVID-19) Developments (January 14)
Big Season for Timber Creek grad Devin Leary of N.C. State
Camden-Lenape highlights the best of South Jersey boys' basketball
Just Getting Started
More...