Just Getting Started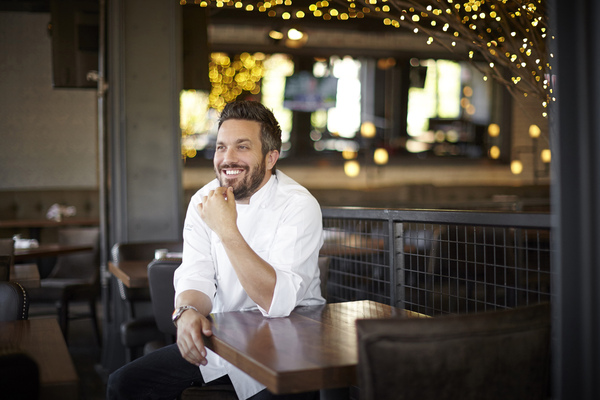 Growing up in Florence, Italy, chef Fabio Viviani always had a passion for food and trained under some of the region's top culinary leaders, eventually opening up five restaurants and two nightclubs in his hometown by the time he turned 27. In 2005, he set his sights on America and moved to California and soon opened four eateries in the Los Angeles area. Three years after that, he was introduced to a wider audience as a memorable contestant on Bravo's Top Chef, a show he would compete on again during its all-star iteration a few seasons later.
Viviani now operates a hospitality empire with dozens of restaurants across the nation—including two spots in South Jersey that opened during the pandemic. He's a New York Times bestselling author, and when he's not globetrotting to various culinary events or appearing on countless TV shows, you can find him on YouTube hosting his popular cooking show, Fabio's Kitchen.
On the day we caught up with him, he was enjoying a rare day off the best way he knows how—at home with his family. He spoke to us about building his business from the ground up, how the pandemic has affected the restaurant industry and why he's a self-proclaimed "idiot."
You recently brought a few of your concepts to the South Jersey area with Chuck Lager's America Tavern in Barrington and Colbie's Southern Kissed Chicken in Mount Holly. What made this area somewhere you wanted to introduce these restaurants?
My [business] partners are from Delaware and South Jersey, so for us, having concepts there was a very easy decision. It's a good area.
Chuck Lager's is meant to be an [easily approachable] but higher-end tavern concept. And the idea is to replicate these concepts all over the nation and create the next level of what makes for a good sports bar. Our idea is to have gourmet food and provide a little fun in a relaxed restaurant experience.
And with Colbie's, you partnered with former Philadelphia Phillie great Ryan Howard. How did you two cross paths?
Ryan is a good friend of one my partners. And not only is he a great baseball player, but he is also a very good businessman. This concept offers the ability for investments from outside people and we pitched him the idea and he loved the concept and he is a fundamental part of our team and a major partner.
As a restauranteur, you offer white tablecloth, fine dining options as well as more casual offerings. Do you like having the ability to go between the two?
It's the same water in different glasses. You have to have a system, you have to have a team and you have to have procedures and processes, and be able to deliver under all circumstances. But a fried chicken concept is easier to open than a full sitdown, higher-end endeavor.
[Right now] is probably the stupidest time to work in the hospitality industry. Stadiums are full, everyone is going out, getting on airplanes; but when it comes to restaurants, you have to social distance still. So, we are like, alright, how can we operate? That falls a lot on the ability of the restauranteur, but we cope with the challenges and keep guests safe and entertained.
Do you have a preference when it comes to the kind of food you are cooking in the kitchen?
I'm not a fancy guy, but there is something to be said about quality food. Even our easier food is quality food.
How do you determine which of your concepts is the best fit when entering into a new marketplace?
What we have done best is to analyze the geography—we analyze the ability of spending in the area, the interests in what they like to eat and what they don't. If you put an expensive steakhouse in a quiet neighborhood in the Midwest, you probably won't be very successful. If you put a bed and breakfast in the middle of Manhattan, it's probably not the best fit. You have to analyze the market and find out who's doing what.
What kind of projects are you working on currently?
We have 15 restaurants opening in the next 18 months. At this point we are somewhat seasoned operators and are trying to figure out what are the next things people are going to like. What is the next concept that we can open? In doing so, we are luckily successful the majority of the time.
The good news is we are educated enough that we can tame our downside while maximizing our upside. We build a great culture, we pay well—that's always a plus. The reality is we are a better bet than most from a real estate perspective because we have a good track record. That helps us with creating deals and finding good opportunities.
It's almost like renting a car. If you are a younger driver, they give you a higher hold [on your funds]. We have been driving this car for over 30 years.
You are certainly no stranger to TV and have such an outgoing personality. Do you like the spotlight? Are you comfortable with being labeled a celebrity chef?
Yes and no. I don't care to be recognized, but being recognized is great for business. I don't like the spotlight; I like the solitude; I like my wife and kids. I don't go out, I don't golf with the boys; I am a boring person. I work and spend time with my family. I'm not the stereotypical celebrity. Yes, I do a ton of TV, but I'm not quite the prototype to be called a celebrity chef. There is very little celebrity about me from a bragging rights perspective. There are a lot more chefs that are much more famous than I'll ever be and they have a tenth of the business I have.
People tell me all the time, "You are so good on TV, you need to do more." But the reality is that TV doesn't provide, it only exposes who you are and what you do. That's why people who are on TV are desperate for more appearances, all due respect. It's just not my thing, I'd rather have a solid business with the ups and downs and something to hold onto.
In what ways has the pandemic directly impacted your business?
Whether you believe it or not, COVID is real and I believe there is a real danger out there, and there are several people that need to be protected and take care of their health. But you can't just stop living because there is a virus. We are going to get to a point where we learn to exist with this thing.
The one thing we learned is that we cannot anticipate everything you can only react to it, especially in a business with 2,500-plus employees. You have to make sure your moves are not only looking out for yourself, but for everyone. If my business goes down, 2,500 families can't pay their bills.
What COVID did is bulletproof our business. We are thriving and are one of the few hospitality groups in the U.S. to open restaurants during the world's worst time in history. What's next? Dinosaurs? Aliens? They'd have to send a space trooper to take us down. Although it was definitely not a blessing, from a business perspective we learned a lot of lessons.
What I always tell people is that you do you the best you can to keep yourself, your family and the people around you safe. At some point you have to make your own judgement, and the ones I make hopefully benefit the most people and not just myself. I turned from being a damn chef to making philosophical decisions about life and death and all I want to do is provide a great [dining experience].
When you first started out cooking, did you envision you would build this culinary empire or was that not part of your plans?
I saw an opportunity to be more than just a chef. I had big dreams and I wanted to make sure that no one put a cap on them. By the end of this year, we'll have 50-plus venues. Hopefully in the next three years, we double that. I'm a guy where the low-hanging fruit is never what I go for. I like to reach really high in the tree.
I'm an idiot, I like the game. You know how many times people told me I should focus on one brand and grow that. That is very limiting and I like to do different things.
Click here to subscribe to the free digital editions of South Jersey Magazine
To read the digital edition of South Jersey Magazine, click here.
Article continues below
---
advertisement


---

Published and copyrighted in South Jersey Magazine, Volume 18, Issue 9 (December 2021)

For more info on South Jersey Magazine, click here.
To subscribe to South Jersey Magazine, click here.
To advertise in South Jersey Magazine, click here.

Author:

Peter Proko
Archives
---
Who's Who in Health Care
Former Shawnee star Doolittle Calls It A Career
Camden County College welcomes Baseball Hall of Fame
South Jersey Football Games of the Week
Out & About
QB Ronnie Borden is Back in the Game
Should fans be worried for the Phillies bullpen?
South Jersey Football Games of the Week
A look at South Jersey's Top H.S. Girls' Soccer Teams
Out & About
Eagles will be fine after close call in opener
High School Football Games of the Week
Is it Super Bowl or bust for the Eagles?
What's New in South Jersey?
From New Jersey to Nashville
More...