Despite not state titles, a strong season for SJ girls basketball teams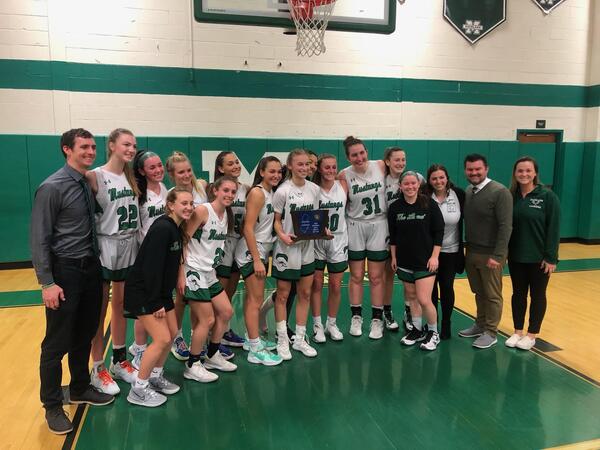 It was a highly competitive season for South Jersey girls basketball, with the only thing missing was a state championship.
No team from the seven-county South Jersey won a state championship this season, although two teams, Cherokee and Mainland earned title game berths.
Another team, Paul VI, advanced to the South Jersey Non-Public A final before losing 69-50 to the state's No. 1 team St. John Vianney.
Had Paul VI been in any other section, the Eagles might have been a state champion.
In fact it's hard to dispute that Paul VI was South Jersey's No. 1 ranked team.
The Eagles beat both Cherokee, 40-35 and Mainland, 64-39.
Paul VI was led by guard Hannah Hidalgo, considered among the best juniors in the country. She averaged 26.3 points per game.
As for Cherokee and Mainland, both won not only South Jersey titles but had state semifinal victories as well.
Cherokee won three titles. The Chiefs captured the South Jersey Invitational, which consists of most of the area's top teams, although Paul VI and Mainland didn't participate in this tournament.
Cherokee (27-4) also shared the Olympic Conference American Division with Shawnee. The Chiefs also defeated Shawnee, 43-35 to win the SJ Group 4 title.
In the state Group 4 semifinal, Cherokee defeated Jackson, 35-24.
Article continues below
---
advertisement


---

The Chiefs season ended with a 43-37 loss to Westfield in the Group 4 state final.

Senior guard Katie Fricker led Cherokee in scoring, averaging 13.5 points.
Under coach Ron Powell, Cherokee was among the area's top defensive teams.

No team scored more than the 43 points that Westfield totaled in the state final against the Chiefs.

Cherokee played a tough schedule that included four games against Shawnee, a Top 5 team in South Jersey. (The Chiefs went 3-1 in those four games).

As for Mainland, the Mustangs saw their season end with a 62-41 loss to Sparta in the state Group 3 championship.

That ended coach Scott Betson's Mustangs record at 28-3.
Besides the aforementioned losses to Sparta and Paul VI, Mainland's only other defeat was a 51-49 loss to Group 2 state champion Manasquan.

Mainland was the overall Cape Atlantic League champion, beating Wildwood Catholic, 54-38 in the championship of the league tournament.

The Mustangs had little trouble in winning the SJ Group 3 title, beating Timber Creek, 53-24 in the finals. They then survived a 54-50 state Group 3 semifinal win over Ewing to advance to the state final.

Mainland will lose key seniors Kaitlyn Boggs and Camryn Dirkes, but returns three current sophomore starters, Kasey Bretones, along with Ava and Bella Mazur.

It wouldn't be surprising if Paul VI opens next season as No. 1 in South Jersey, with Mainland possibly second.

Cherokee, led by current junior forward Gabby Recinto (12.2 ppg.) should also be in the running as well and the competition in South Jersey should remain awfully strong.

Courtesy of Mainland Twitter

Author:

Marc Narducci
Archives
---
Who's Who in Health Care
Crowd Pleaser
Can the Eagles Regain Their Winning Way?
A Bight Future Ahead for Glassboro Football
The Big Impact of Small Businesses
Eagles Need to Reset
Feeling Festive
Another dominating season for Delsea football
Mainland's Historic Football Season
A Rooting Interest
Eagles Continue to Fly High
Raising the Bar
Thanksgiving Football Continues
Hotstovers to honor All-SJ Baseball and new HOF inductees
South Jersey Football Games of the Week
More...