Giroux should be remembered fondly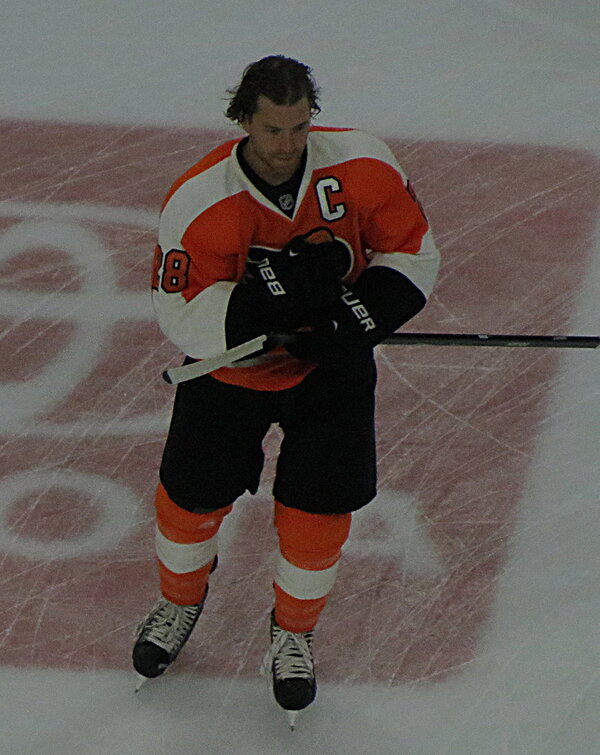 The inevitable occurred when the Flyers traded long-time cornerstone and captain Claude Giroux to the Florida Panthers last week. This gives Giroux a legitimate chance to win a Stanley Cup title, something that he wouldn't have been close to achieving in the next few seasons with the Flyers.
Giroux had a no-trade clause so he got to approve any deal.
The Flyers acquired forward Owen Tippett, a first-round pick in 2024, and a third-round selection in 2023. In addition to Giroux, Florida acquired Connor Bunnaman, a former first-round pick German Rubtsov and the Flyer's fifth-round pick in 2024.
Whether this turns out to benefit the Flyers remains to be seen. Tippett, a former first-round pick, who was selected 10th overall in 2017, just turned 23 in February. He had six goals and eight assists in 42 games for Florida this year.
Maybe a chance of scenery could rejuvenate him.
Article continues below
---
advertisement


---

It definitely should for Giroux.

One of the most interesting questions will be how will Giroux be remembered among the Flyers faithful. Simply put, he will be looked on as one of the franchise's all-time greats, even though he and the team didn't enjoy sustained playoff success.

Giroux's final game for the Flyers came in last week's 5-4 win over the Nashville Predators. It was his 1,000th game, making Giroux just the second player to appear in 1,000 games with the Flyers, joining franchise legend Bob Clarke.

Giroux, 34, spent parts of 15 seasons with the Flyers.
Much of his playoff success came early in his career.

During the 2009-2010 season when the Flyers lost to Chicago in the Stanley Cup final, Giroux had 10 goals and 11 assists in 23 playoff games.
In 2011-12 when the Flyers lost in the conference semifinals, Giroux had eight goals and nine assists in 10 games.

During 2013-14 he had six points (2 goals, four assists) in seven games.
Since then, he appeared in the playoffs three different seasons, with two first-round exits and another in the second round. In 28 games, he had two goals and 10 assists.

Still, if one looks at his overall playoff stats, in 85 games, he has 25 goals and 48 assists for 73 points (0.86 points per game).
That is not far off from his regular-season average. He had 900 points in the 1,000 regular-season games (0.90).

With the Flyers, he had 291 goals and 609 assists in the regular season.
Giroux was a seven-time all-star. He was captain from Jan. 15, 2013, until his final game, March 17.

Giroux was also known as somebody dependable. Six times he played 82 games and another he appeared in 81. He also appeared in all 48 games during the shortened 2012-13 season and all 69 in the COVID-shortened 2019-20 season.

He also had a 55.8 faceoff percentage.
Giroux is certainly in the conversation when discussing the Hall of Fame and he could have several more productive seasons to further his argument.

What shouldn't be argued is that he was a great Flyer and one who will be missed.

Author:

Marc Narducci
Archives
---
Who's Who in Health Care
Tight Race in Boys Soccer Colonial-Liberty Division
Should Eagles fans worry over recent wins?
South Jersey Football Games of the Week
Former Shawnee star Doolittle Calls It A Career
Camden County College welcomes Baseball Hall of Fame
South Jersey Football Games of the Week
Out & About
QB Ronnie Borden is Back in the Game
Should fans be worried for the Phillies bullpen?
South Jersey Football Games of the Week
A look at South Jersey's Top H.S. Girls' Soccer Teams
Out & About
Eagles will be fine after close call in opener
High School Football Games of the Week
More...