Who's Who in Health Care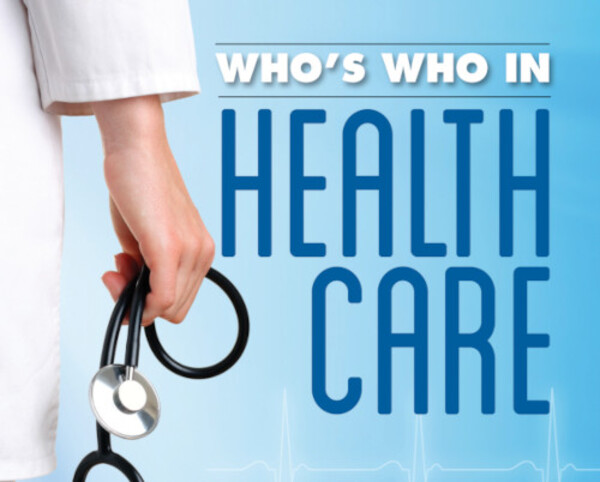 South Jersey remains at the top of its game with regard to health care thanks to the talented professionals who care directly for patients as well as the hard-working folks who keep the medical industry booming behind the scenes.
With so many changes happening in the industry simultaneously, South Jersey has managed to remain on the cutting edge thanks to breakthrough research, technological advancements and highly personalized care from area providers who focus on wellness for the mind and body.
We are honored to continue to showcase those who dedicate their lives to helping our community through medicine and present to you our annual Who's Who in Health Care.
Ricardo Perez, DO, JD, FACOI
Vice President, Jefferson Medical Group
Dr. Perez is responsible for the strategy, management and operations for Jefferson Medical Group in New Jersey. As a board-certified internist, with a focus on hospital medicine, he first joined Jefferson Health in 2012 as medical director for its newly formed hospitalist program, which is now in place at its three New Jersey hospitals. Dr. Perez also previously served as chief of medicine for Jefferson Health New Jersey, where he oversaw more than 350 physicians and as chief clinical officer for accountable care, where he helped prepare the organization for future health care delivery and payment models.
Dr. Perez has been honored as a Fellow in the American College of Osteopathic Internists and recognized by the NAACP of Gloucester County with a "Game Changer" award. He finds his work in the industry to be truly rewarding, saying, "First and foremost, the prospect of being able to make people's lives a little better has always been the impetus to continue the incredible work we do in health care."
Navinder Jassil, MD

Article continues below

---
advertisement


---

Director of the Endocrinology and Diabetes Center, Deborah Heart and Lung Center
Board-certified in endocrinology, diabetes and metabolism, obesity medicine and internal medicine, Dr. Jassil completed a residency in internal medicine at Cooper University Hospital in before going on to complete a fellowship in endocrinology, diabetes and metabolism at Rutgers' Robert Wood Johnson University Hospital in New Brunswick. Her interests include diabetes, preventative medicine, osteoporosis, obesity and thyroid disease.
She acknowledges that she's learned a great deal about caring for others throughout the different stages in her career, providing her with a greater sense of perspective. "The one thing I have learned over the course of my career is to really listen to my patients. This valuable tool has helped me learn about their needs, which in turn helps me treat them appropriately. Doctors are pressed for time and want to discuss medical issues, give advice or talk about a treatment plan and I have found that sitting back and listening for a moment can be a powerful tool to get our patients to their health care goals."
Leslie Allen
Vice President of Operations, New Jersey Axia Women's Health
Allen has been an instrumental leader in supporting the daily operations and growth of Axia's New Jersey OB/GYN care centers. Through her work liaising with all departments, Allen helps ensure women receive access to more caring, progressive health care and ultimately happier, healthier lives. Recently, she led the launch of AccessNow—South Jersey's first walk-in care clinic dedicated completely to women. The clinic offers same-day, walk-in evening and weekend OB/GYN care to all women regardless of financial backgrounds or insurance coverage. Allen was a key player in making sure the site includes a full suite of OB/GYN services from obstetrics and gynecology to midwifery and fertility, and more.
Allen's previous experience at other institutions has served her well, including stints as clinical division administrator with Penn Medicine and as administrative director, women's health with the Crozer-Keystone Health System.
Mary Ellen Levine, DNP MSN RN
Hospice Nurse/Nursing Faculty, President of New Jersey State Nurses Association
With more than 30 years of experience, Levine has dedicated her career to helping others and proudly advocating for her patients, community and fellow nurses. She is passionate about medical/surgical nursing and hospice/end of life care, and has additional experience in cardiac and respiratory acute care, pediatrics, home care and school nursing.
Levine is currently a member of the American Nurses Association and proudly serves as the 48th President of New Jersey State Nurses Association (NJSNA). What's more, she is also a part-time nursing faculty member at William Paterson University. Her three decades in nursing have reinforced the reasons she went into the health care field. "One lesson that holds true today as it did when I began my career over 30 years ago, change is constant. There will be research to address health care needs as they arise. There will be research to address maintaining health. Innovation and ingenuity comes from the understanding that people are not all the same and their situations are not all the same."
Hafeza Shaikh, DO, FACC, MBA
Cardiologist, Virtua Health
As a practicing cardiologist with Virtua Health, Dr. Shaikh puts her heart into everything she does. She is among the physicians who practice at Virtua's cardiology office in Camden, providing vital screenings and services to an underserved community. She also volunteers at the Cherry Hill Free Clinic and is co-founder of CommUNITY SJP, a nonprofit that seeks to promote civic engagement and cross-cultural understanding through community service and social events. She is also an assistant program director for the cardiology fellowship at Rowan University which announced an academic affiliation with Virtua Health back in January.
"Being ill is a very vulnerable time in one's life. Therefore, it is a great privilege to provide comfort, education and medical options to patients. Leading them toward healing and improved health isn't just beneficial to them, it's fulfilling for me as well. It is an honor to be a part of that journey and establish a relationship that extends beyond any particular illness or condition. It makes all the long days of training and the long nights of being on-call well worth it."
Jeffrey J. Tomaszewski, MD
Director of the Genitourinary Oncology Program, MD Anderson Cancer Center at Cooper
In addition to serving as a urologist, a urologic oncologist and a urologic surgeon, Dr. Tomaszewski also serves as associate program director for Cooper's Urology Residency Program and is associate professor of surgery at Cooper Medical School of Rowan University. Having received his medical degree at Jefferson Medical College in Philadelphia and completing his internship and residency in urology at the University of Pittsburgh Medical Center, Dr. Tomaszewski then completed his fellowship in urologic oncology at Fox Chase Cancer Center in Philadelphia.
During his time in the medical field, Dr. Tomaszewski has learned that humility is the best guide. "The daily confrontation with cancers' harsh upheaval of the human condition is humbling and terrifying. One bad day is all that separates anyone from sickness. Honest and empathetic appreciation of our fragility allows the beauty of resilience and love to emerge. Despite everything broken in health care, there remains something amazing at the center of caring, the appreciation of which requires humble submission to our patients and the biology of their disease."
Susan Lasker Hertz, RN, MSN
Hospice Director, Samaritan
Lasker Hertz joined Samaritan in late 2021, bringing more than four decades of health care experience to the job. Her current responsibilities include oversight of all hospice services for more than 460 patients and families each day at their homes and two inpatient hospice centers.
As a respected educator and author, Lasker Hertz's work can be found in numerous publications and presentations. She is a member of Sigma Theta Tau Nursing National Honor Society, has a bachelor's of science degree in nursing from Georgetown University and earned a master's of science in nursing from the University of Pennsylvania. "In my career, I have worked through rapid advances in treatment modalities that require nurses in particular to have different skills and training," she says. "I have managed patient care through the AIDs epidemic and now the COVID pandemic that require new innovations in how care is delivered to patients and families, as well as learning new ways to educate and support our clinical staff. [It's] exciting and challenging stuff."
Edward Hamaty Jr., D.O., FACCP, FACOI
Chair, Department of Critical Care Medicine and Medical Director, Neurocritical Care, AtlantiCare Regional Medical Center
Dr. Hamaty, who leads critical care services at the Mainland (Pomona) and Atlantic City campuses, joined AtlantiCare nearly 10 years ago. An openly gay physician, he's been the LGBTQIA+ representative for health system's Diversity, Equity, and Inclusion Committee and executive sponsor of AtlantiCare's PRIDE Employee Resource Group, leading the charge in helping his "incredibly talented and experienced" team better understand and compassionately treat the LGBTQIA+ community's unique healthcare needs.
While it's important to him that every patient receives high-quality, individualized care—he encourages med students and longtime professionals alike to "treat the patient, not the numbers"—Dr. Hamaty continues to play key roles in developing AtlantiCare's book on LGBTQIA+ care, addressing and establishing the health care inequities all protected groups face, and securing AtlanticCare's designation from the Human Rights Campaign as a leader in LGBTQ Healthcare Equality in its Healthcare Equality Index for nine years in a row. For Dr. Hamaty, the teamwork that that helps AtlanticCare "change patients' and families' lives for the better" is ultimately the best part of his job.
Nicholas Petruzzi MD, FSVM
Director, The Vascular Institute at AMI
A native of South Jersey, Dr. Petruzzi began his career path at Saint Joseph's University where earned a Bachelor of Science degree in cellular biology while graduating with honors. He completed his medical school training at Jefferson Medical College of Thomas Jefferson University, graduating in the top of his class while also being recognized for his academic achievements, including being nominated for membership in the Alpha Omega Alpha (AOA) medical honor society. He went on to advanced fellowship training in interventional radiology at the Hospital of the University of Pennsylvania.
Dr. Petruzzi was the first in this region to pioneer the minimally invasive treatment of liver tumors and was the first physician in both Atlantic and Cape May counties to perform Y-90 radioembolization. He also focuses on the treatment of peripheral vascular disease and has extensive experience in performing complex peripheral interventions for occlusive arterial disease to aid with healing of chronic wounds. He has published manuscripts and delivered lectures on today's cutting-edge techniques for treating both arterial and venous disease.
Nikki Ariaratnam M.D., D.A.B.R.
Women's Imager, South Jersey Radiology
Dr. Ariaratnam is driven by the high standards set forth by South Jersey Radiology where she practices as a board-certified radiologist specializing in body and breast imaging. Having dedicated her career to adhering to a strong work ethic and integrity, she utilizes the highest quality outpatient imaging services and state-of-the-art technology to guide her patients. Having received her undergraduate and medical school degrees from Brown University, Dr. Ariaratnam went on to complete her residency in diagnostic radiology and her fellowship in cardiac/body/breast imaging at Cornell-New York Presbyterian Hospital in New York City. She is the recipient of multiple awards including an Excellence in Radiology Award from Brown Medical School and National Merit Scholar and is a member of the Radiological Society of North America, American College of Radiology and the Society of Breast Imaging to name a few.
Trina M. Lisko, DO, FAAPMR
Physical Medicine and Rehabilitation Specialist, Premier Orthopedics
Having dedicated her career to treating complex back, hip and shoulder pain as well as peripheral joint, muscle, tendon and ligament injuries, Dr. Lisko has made it a goal to examine a patient's whole body for the best possible outcomes. Working with her patients to set functional goals that encourage activity and overall function, she incorporates a team approach to utilizing modalities and interventions to help heal and prevent further injury. "Health care anymore can be a very tricky path to navigate. There is so much information out there that is both helpful and not so helpful. Many people need to be pointed in the right direction and be provided help to sift through this information. There can be many elements to take into consideration, especially if the situation is complex," says Dr. Lisko. "I find it rewarding when I can help someone take something that seems overwhelming and complex and help break it down in a way that allows them to make sense out of it and become an active participant in their treatment."
Noah Lindenberg, MD
Chief Medical Officer, Lindenberg Cancer & Hematology Center
Dr. Lindenberg, triple board-certified in oncology, hematology and medicine, has spent the last two decades practicing as an oncologist with the goal of bringing state-of-the-art cancer treatments to South Jersey. Five years ago, he had the opportunity to open the Lindenberg Cancer & Hematology Center in Marlton, where as chief medical officer he provides individualized care which allows them to fully support patients both physically and emotionally in their battle against the disease. And thanks to recent breakthroughs and the ongoing research being done today in oncology, Dr. Lindenberg and his practice remain at the forefront by offering precision medicine, targeted therapies and other advanced treatments such as immunotherapy and stem cell transplants. With the two main goals of oncology care to improve one's quality life and survival, Dr. Lindenberg says there have been many success stories where these tailored treatments are allowing patients to live significantly longer and better lives.
Author:
Rachel Simpson
Archives
---
Who's Who in Health Care
Tight Race in Boys Soccer Colonial-Liberty Division
Should Eagles fans worry over recent wins?
South Jersey Football Games of the Week
Former Shawnee star Doolittle Calls It A Career
Camden County College welcomes Baseball Hall of Fame
South Jersey Football Games of the Week
Out & About
QB Ronnie Borden is Back in the Game
Should fans be worried for the Phillies bullpen?
South Jersey Football Games of the Week
A look at South Jersey's Top H.S. Girls' Soccer Teams
Out & About
Eagles will be fine after close call in opener
High School Football Games of the Week
More...