A major milestone for Eastern coach Jamie McGroarty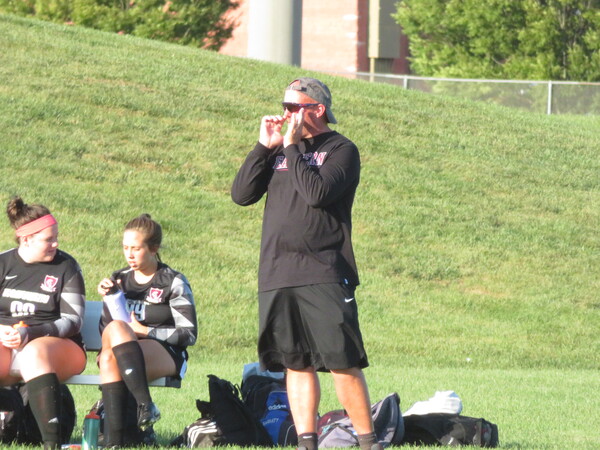 Jamie McGroarty is like most coaches – just looking for the next win and not focusing on the past or too far into the future, but even he had to admit that a recent milestone in his storied career had great meaning.
When Eastern's girl's soccer team defeated Haddonfield, 4-1, it gave McGroarty his 500th career win, bringing his career record to 500-114-49.
"This one means more because if you look at the history of the game in South Jersey, just two other coaches reached 500 and I was the first girl's coach," McGroarty said.
Two retired boys coaches, Ryan Gibney of Shawnee and Joe Falana of Haddonfield, each had more than 600 wins. Nobody else had reached the 500 level until McGroarty.
This is his 31st year coaching girls' soccer. Ironically, McGroarty thought he was going to begin his head coaching career as a boy's soccer coach.
He was a standout player at both Cherry Hill West and Rowan University.

Article continues below

---
advertisement


---

Out of college, he was an assistant boys' coach under his high school coach Dr. Ira Kosloff for two seasons.
When the head coaching job opened at Cherry Hill West, McGroarty was the choice, but a teacher in the district wanted the job and at that time, that person was given priority.
McGroarty ended up at Delsea, where he served one season as an assistant coach before taking over as head coach. In his second year at Delsea, 1993, he guided the Crusaders to the Group 3 state championship.
McGroarty spent 11 seasons at Delsea and is in his 20th at Eastern. He has guided Eastern to three state titles, in 2005, 2006 and 2018.
Besides the four state titles at both schools, McGroarty won seven South Jersey titles and 17 conference championships.
He said the 1993 state title, the first by a girl's team in Delsea history, was special, but the one that stands out the most for McGroarty was 2018.
That's because in Eastern's 1-0 state Group 4 championship win over Bridgewater Raritan, the game-winning goal was scored by his daughter Kelli McGroarty, who is currently playing at La Salle. In addition to the win, the goal was her 37th of the season, setting the Eastern single-season record.
"That 2018 win really stands out with my daughter scoring the winning goal, it doesn't get better than that," Jamie McGroarty said. "And she set the school record. It was really memorable."
McGroarty said the wins were because he got to coach so many outstanding players and has been blessed with great assistant coaches.
He said the most memorable part of the job is the relationships he has maintained with his players over the years.
"It's so cool, seeing them grow from 14-year-old girls to see them over the years become moms and wives and it's great to see their progression from high school," he said.
McGroarty, 55, will be retiring as a teacher at Eastern at the end of December. At this point, he hasn't decided on his future, it could very well include coaching at Eastern, but he said he hasn't decided yet.
He is intent on making the most of each game, each practice, and the same type of philosophy that has worked so well for his 31 seasons, making him one of the all-time great coaches (of any sport) in South Jersey history.
Author:
Marc Narducci
Archives
---
Who's Who in Health Care
Out & About
QB Ronnie Borden is Back in the Game
Should fans be worried for the Phillies bullpen?
South Jersey Football Games of the Week
A look at South Jersey's Top H.S. Girls' Soccer Teams
Out & About
Eagles will be fine after close call in opener
High School Football Games of the Week
Is it Super Bowl or bust for the Eagles?
What's New in South Jersey?
From New Jersey to Nashville
Frustrating times for Millville's Mike Trout
High School Football Games of the Week
Hammonton's Kenny Smith off to a quick start
More...