Some impressive teams that reached sectional football finals in South Jersey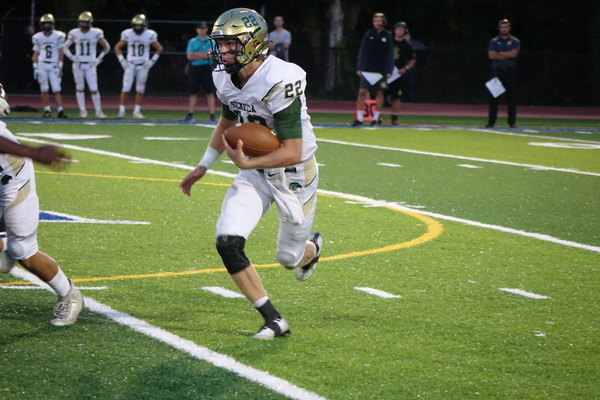 It's awfully hard to win a sectional title in football (or any sport for that matter) and that was shown once again this past weekend.
Several teams from the seven-county South Jersey area that had highly successful seasons, saw their playoff hopes end in either the South Jersey or Central Jersey championship games.
A prime example was Seneca, which was making its second sectional final appearance in school history. (Seneca's program debuted in 2004).
The Golden Eagles matched up against favored Camden in the Central Jersey Group 3 final.
Camden, which has several Division I players, defeated the Golden Eagles, 21-0.
That left Seneca with a 10-1 mark before playing its final game with Lenape School District foe Cherokee.
The spirit and heart of the Seneca team were displayed by senior quarterback Brayden Davis, who was playing at well less than 100 percent with a shoulder injury.
Davis was a true dual threat. He passed for 1,214 yards and 14 touchdowns and rushed for 907 yards (6.0 avg.) and 14 touchdowns.
It was a truly outstanding season for Davis as the leader of this Seneca team. A win over Cherokee would tie the single-season school record for wins, set in 2006 when the Golden Eagles went 11-1 in making their first sectional title appearance.
Seneca also captured the WJFL National Division. Lenape is another sectional finalist that enjoyed a strong season, and is one of the best teams in South Jersey not to win a title.
The Indians finished 6-5 after falling to Edison, 28-14 in the Central Jersey Group 5 final. Lenape had one of the toughest schedules in South Jersey.
Lenape was second to Millville in the WJFL American Division with a 3-2 mark. Millville was the champion with a 4-1 division record, the lone loss a 21-17 defeat to Lenape.
Speaking of Millville, the talented Thunderbolts ended the season of Hammonton, beating the Blue Devils, 18-16 in the South Jersey Group 4 final.
Hammonton, which won the WJFL Memorial Division title, finished its season 9-3. All three losses were to sectional champions – Millville, Delsea and Mainland.
Led by sophomore running back Kenny Smith, who rushed for 1,656 yards and 21 touchdowns, the future is bright for Hammonton.
Like Lenape, Kingsway (7-4) ended the season without a title but was a sectional finalist who enjoyed a strong season with a demanding schedule.
Kingsway lost to unbeaten Toms River North, 48-14 in the South Jersey Group 5 championship.
While the score was lopsided, Toms River North (12-0) is among the best teams in New Jersey.
The Dragons finished behind Holy Spirit by a game in the WJFL Continental Division. The difference was Holy Spirit's 31-27 win over Kingsway.
Kingsway beat Toms River North, 20-14 in last year's sectional final, but this was a much different North squad, which had matured greatly with the benefit of a strong junior class, led by quarterback Micah Ford.
Kingsway simply lost to a better team, but the Dragons still were among the top teams in South Jersey and like Lenape, played a killer schedule.
There were other sectional finalists that had great seasons, these are just a few examples. Teams had to win two playoff games to earn a berth in the final and it shows how many talented programs there are in South Jersey.
Article continues below
---
advertisement


---
Author:
Marc Narducci
Archives
---
Who's Who in Health Care
Out & About
QB Ronnie Borden is Back in the Game
Should fans be worried for the Phillies bullpen?
South Jersey Football Games of the Week
A look at South Jersey's Top H.S. Girls' Soccer Teams
Out & About
Eagles will be fine after close call in opener
High School Football Games of the Week
Is it Super Bowl or bust for the Eagles?
What's New in South Jersey?
From New Jersey to Nashville
Frustrating times for Millville's Mike Trout
High School Football Games of the Week
Hammonton's Kenny Smith off to a quick start
More...