Delran's Roskos a true difference maker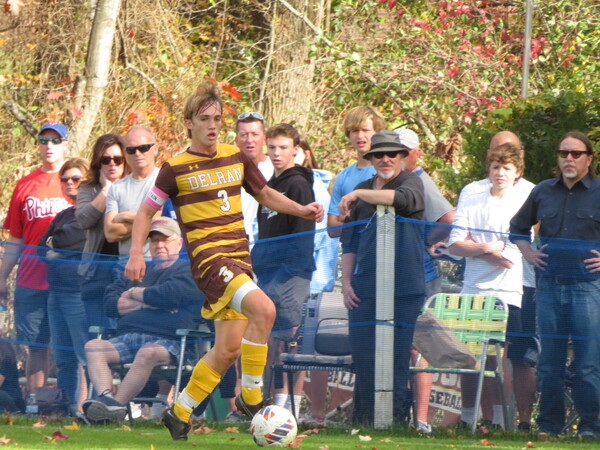 Delran junior soccer standout Drew Roskos has earned a reputation as one of the top big-game performers in South Jersey, in any sport.
For the second year in a row, Roskos was a major factor in helping Delran win a Group 2 state title. This year, Roskos scored at least one goal in each of Delran's six playoff games this season, an impressive feat, especially since teams marked him so tightly.
The streak began when Roskos scored a goal in Delran's opening 4-1 South Jersey Group 2 win over Oakcrest.
He then added two goals and one assist in a 4-2 second-round win over Haddonfield.
Roskos delivered a goal and an assist as Delran which was just the No. 6 seed in South Jersey, beat rival Cinnaminson, 2-0 in the sectional semifinal.
He scored a goal in Delran's 2-0 win over Sterling in the South Jersey Group 2 final.
Roskos then had both goals in a hard-fought 2-1 state semifinal win over Holmdel.
He then scored the lone goal in Delran's 1-0 state championship win over Ramsey.
In six playoff games, he had eight goals and two assists. For the season, Roskos contributed 25 goals and five assists.
As a sophomore, he scored 33 goals and added two assists. Incredibly, he also scored at least one goal in each of Delran's playoff wins last year. Roskos had 12 goals and two assists and had the game-winner in a 1-0 win over the same Ramsey team.
After such a big sophomore season, Roskos found even less free space on the soccer field as teams designed their defensive game plans to stop him.
He still found a way to not only score, but make a major impact when he wasn't putting the ball in the back of the net.
Roskos plays with great tenacity and rarely loses a 50-50 ball. In addition, Roskos has pin-point control and can unleash his shot quickly. That has come from years of being marked tightly and knowing he doesn't have much time with the ball until the defenders converge.
He also displays a great ability to break down defenders one-on-one. The other thing is that he occupies so much attention on defense, that it opens up space for his teammates.
And an underrated part of his game is that Roskos is a tenacious defender, who often comes back to help out even when he is playing as the target man up top.
Also an accomplished wrestler, Roskos scored in 17 of Delran's games this season, as the Bears ended with a 14-3-5 record.
What he has accomplished in the last two years, being the leading scorer on two state championship teams while getting a goal in 12 consecutive playoff games is one of the more impressive feats in recent South Jersey history.
Article continues below
---
advertisement


---
Author:
Marc Narducci
Archives
---
Who's Who in Health Care
Former Shawnee star Doolittle Calls It A Career
Camden County College welcomes Baseball Hall of Fame
South Jersey Football Games of the Week
Out & About
QB Ronnie Borden is Back in the Game
Should fans be worried for the Phillies bullpen?
South Jersey Football Games of the Week
A look at South Jersey's Top H.S. Girls' Soccer Teams
Out & About
Eagles will be fine after close call in opener
High School Football Games of the Week
Is it Super Bowl or bust for the Eagles?
What's New in South Jersey?
From New Jersey to Nashville
More...