A look back at the top two SJ Girls Basketball teams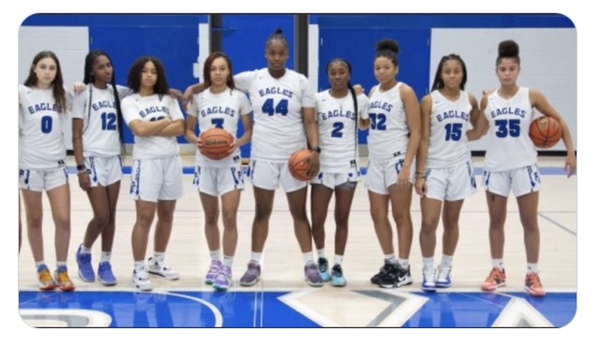 There were no girls' basketball teams from the seven-county South Jersey area that won an NJSIAA state championship, but there were plenty of outstanding performances, especially among the consensus top two teams. Here is a look at them.
Paul VI
The Eagles advanced to the South Jersey Non-Public A championship before losing 63-61 in a classic to St. John Vianney. It was the Lancers' 91st straight win over a New Jersey opponent. The game was played at sold-out Seneca, but fans (including this reporter) were also able to watch the live stream broadcast. This was easily one of the top games, not only this year but in the past several seasons in either girls' or boys' basketball in South Jersey.
This was a rematch of last year's sectional final St. John Vianney won 69-50.
In this year's game, Paul VI held a 12-point halftime lead, but St. John Vianney stormed back, led by All-American Zoe Parks who despite a foot injury, limped her way to 33 points, including the game-winning turn-around jumper at the buzzer.
That ended Paul VI's record at 21-3. The Eagles didn't lose to a team from the seven-county South Jersey area. That included an earlier 60-35 win over Cherokee.
Paul VI was led by McDonald's All-American Hannah Hidalgo, the 5-7 Notre Dame commit, who averaged 28.8 points per game. Two junior guards, Shariah Baynes (9.6 ppg.) and Eva Andrews (8.5 ppg.) were among the other key performers.
Hidalgo had one of the best careers in South Jersey history, finishing with 2,135 points. Paul VI also won the Olympic Conference National Division. The Eagles were clearly the best team in South Jersey this year.
Cherokee
While Paul VI was clearly the No. 1 team, Cherokee was hands-down No. 2 in South Jersey. The Chiefs won the South Jersey Group 4 title and later saw their season end in a tight Group 4 state final loss.
Last year Cherokee lost 43-37 in the state Group 4 championship. This year's season ended with a 40-39 loss to Bayonne in the Group 4 state title game.
Senior guard Gabby Recinto led the Chiefs in scoring, averaging 14.9 points. She was great all season and that continued through the playoffs. Recinto scored 15 points in Cherokee's 47-37 win over Atlantic City in the SJ Group 4 championship. She then totaled 22 points in a 54-39 Group 4 state semifinal win over Jackson Memorial and then scored 22 points, keeping Cherokee in the game during the state championship loss to Bayonne.
Cherokee (28-3) won the Olympic Conference American Division and the South Jersey Invitational Basketball Tournament. It was another great season for coach Ron Powell and the Chiefs, who have been among South Jersey's top programs for several years.
One final note
The other South Jersey champions from the seven-county South Jersey area were Woodstown in Group 1, Middle Township (Group 2), and Ocean City (Group 3). All three teams saw their season end in the state semifinals.
Article continues below
---
advertisement


---
Author:
Marc Narducci
Archives
---
Camden County College welcomes Baseball Hall of Fame
South Jersey Football Games of the Week
Out & About
QB Ronnie Borden is Back in the Game
Should fans be worried for the Phillies bullpen?
South Jersey Football Games of the Week
A look at South Jersey's Top H.S. Girls' Soccer Teams
Eagles will be fine after close call in opener
High School Football Games of the Week
Is it Super Bowl or bust for the Eagles?
Frustrating times for Millville's Mike Trout
High School Football Games of the Week
Hammonton's Kenny Smith off to a quick start
A Look at Bryce Harper's Return to the Field
High School Football Games of the Week
More Articles