Tim Breaker coming 'full circle' as head football coach at Glassboro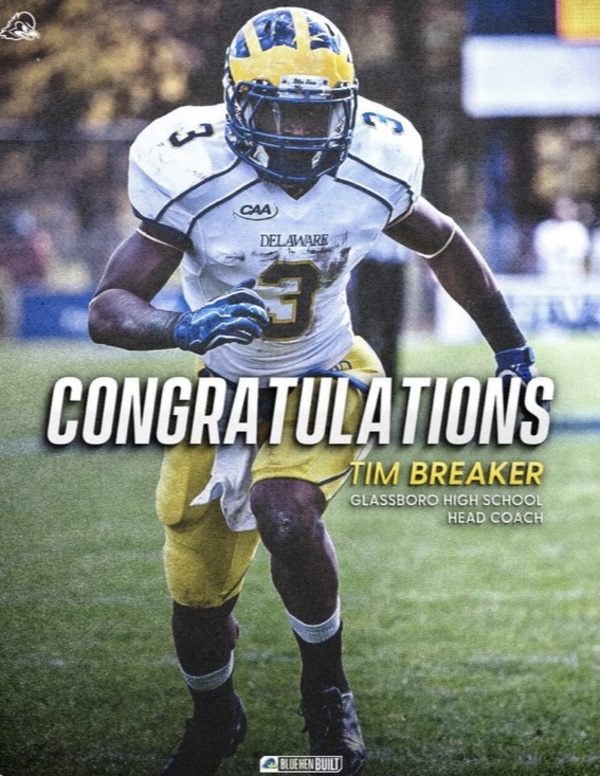 Tim Breaker helped create some of the great moments in Glassboro High football history as a player. He is now hoping to do the same as the head coach. Breaker was recently named the head football coach at his alma mater.
As a player, he was a major part of consecutive 12-0 teams at Glassboro during his junior and senior seasons in 2007 and 2008. He was a receiver and defensive back in his junior season and a quarterback and defensive back as a senior.
"For me, it feels like I have come around full circle," said Breaker, who was an assistant coach to Tim Hagerty on last season's 7-3 Glassboro team.
After graduating from Glassboro, Breaker earned a football scholarship to Delaware, where he played in the secondary and was a two-year starter as a safety.
"Delaware shaped me so much as a man," Breaker said. "The coaches were great, and we had great guys and the campus is so special and I have grown so much."
After college, Breaker continued to play football professionally in Europe, for two years in Germany and one year in France, where he also played safety.
When he would come home in the offseason from playing football in Europe, Breaker would work helping coach midget football in Glassboro.

Article continues below

---
advertisement


---

"I really loved coaching those youngsters," Breaker said.
Over the years, Glassboro has consistently produced top-level football talent. Remember Gordie Lockbaum and Sean Redman in the '80s?
Lockbaum would eventually finish third in the Heisman Trophy voting at Holy Cross, while Redman was a standout at Penn State.
There are current NFL players such as tight end Juwan Johnson of the New Orleans Saints and running back Corey Clement, who played last season for Arizona and was one of the stars of the Eagles' Super Bowl LII win over the New England Patriots.
Since the advent of the NJSIAA playoffs in 1974, Glassboro has earned 11 sectional titles and made 19 championship game appearances. The Bulldogs have qualified for the playoffs 34 times.
For a Group 1 school, the assembly line of talent has truly been impressive.
"When you think it, this is incredible that such a small town has had so many great football players," Breaker said.
Breaker served as an assistant coach at Camden Catholic for one season and then last year he was the associate head coach and defensive backs coach at Glassboro.
He is so excited about becoming a first-time head coach and just as thrilled that it is at his alma mater.
"Coming back to coach at my high school makes it more special," he said. "Some of these kids I have coached since they were babies. To see where the program is now, and that Tim brought us through the tough years of COVID is special and it is even more special knowing these kids and getting to coach them."
Author:
Marc Narducci
Archives
---
Who's Who in Health Care
Out & About
QB Ronnie Borden is Back in the Game
Should fans be worried for the Phillies bullpen?
South Jersey Football Games of the Week
A look at South Jersey's Top H.S. Girls' Soccer Teams
Out & About
Eagles will be fine after close call in opener
High School Football Games of the Week
Is it Super Bowl or bust for the Eagles?
What's New in South Jersey?
From New Jersey to Nashville
Frustrating times for Millville's Mike Trout
High School Football Games of the Week
Hammonton's Kenny Smith off to a quick start
More...