Nick Nurse looking for a repeat first-year performance with the 76ers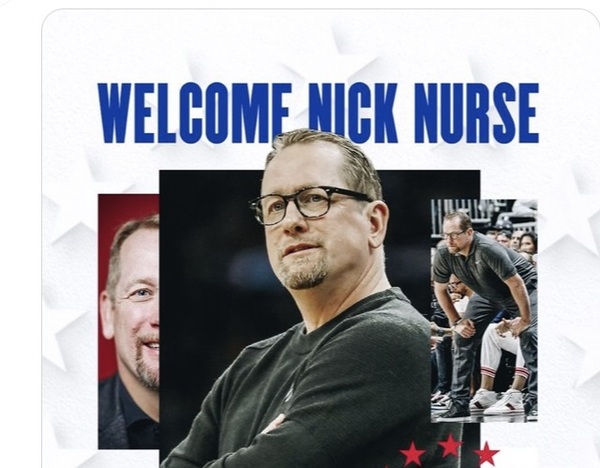 The 76ers can only hope that Nick Nurse's first year as head coach with them will match what he did in Toronto with the Raptors.
Nurse's hiring to replace Doc Rivers as the Sixers' coach has been universally praised as he is known to be a great tactician.
After serving five seasons as a Raptors assistant, Nurse was named head coach for the 2018-2019 season and guided the Raptors to the NBA title his first year. That of course includes winning a Game 7 Eastern Conference semifinal game over the Sixers, when Kawhi Leonard's four-bouncing shot went in at the buzzer for a 92-90 victory in Game 7.
It must be noted that no team challenged the Raptors as much in that season's playoffs as the Sixers. Toronto would go on to beat Milwaukee in six games in the Eastern Conference finals and Golden State in six in the NBA finals.
Leonard departed for free agency after one year in Toronto and the Raptors wouldn't come close to matching what they achieved in Nurse's first season as head coach.
The next season, Toronto swept Brooklyn in the first round of the playoffs before losing in seven games to Boston in the Eastern Conference semifinals. That was a crazy series in which Toronto lost all four home games and won all three in Boston.
Toronto slumped to 27-45 in Nurse's third season and rebounded in his fourth to go 48-34, losing in six games to the Sixers in an Eastern Conference opening round series.
This past season, Toronto went 41-41 and lost at home, 109-105 to the Chicago Bulls in the play-in game.
It will be interesting if Nurse alters his strategy of playing his starters big minutes. In that play-in game to the Bulls, four players played 40 or more minutes.
This past season, Toronto had two players finish among the top five in minutes per game, according to Basketball-reference.com. Pascal Siakam was second (37.4) and Fred VanVleet was fifth (36.7). In addition, O.G. Anunoby was 16
th
(35.6).
Nurse was fired after this season and he was in a tough situation in Toronto, which still hasn't made up its mind of its future direction, whether to rebuild or not.
That won't be a problem in Philadelphia, where the Sixers are going all-in to take advantage of the window of MVP Joel Embiid.
In March, Embiid turned 29 and should be in his prime, but his long injury history makes one wonder how many good years he will have left.
Once again this year, Embiid hurt his knee that forced him to miss two playoff games.
Even when he returned, he wasn't his dominant self. He averaged 25.5 points and 9.0 rebounds, which on the surface are impressive stats, but Embiid shot just .421 from the field and .200 from three-point range. He also averaged 2.0 assists and 3.3 turnovers.
For the Sixers, the key will be cutting Joel Embiid's regular season minutes down. This season while winning the MVP, he averaged a career-high 34.6 minutes, while playing in 66 games, the second most in his career.
In Toronto, Nurse always had a good plan against Embiid, frequently double-teaming him and forcing him to make errant passes.
Nurse understands the task at hand – get the Sixers past the second round of the playoffs. The Sixers have appeared in the playoffs the last six years, losing in the second round five times and the first round another.
The Sixers and Nurse don't know if James Harden will be returning, but if he does, a key will be whether Harden can find consistency in the postseason.
He had two 40-point games against Boston, but disappeared in the Game 6 and 7 losses.
Nurse has a big task at hand, but most feel that he will be a tactical upgrade to Rivers. In Rivers' defense, Embiid played his best basketball under the former Sixers coach.
That will be Nurse's biggest challenge – to see if he can take Embiid's game and the Sixers team to another level.
Photo Courtesy: 76ers twitter
Article continues below
---
advertisement


---
Author:
Marc Narducci
Archives
---
Who's Who in Health Care
Former Shawnee star Doolittle Calls It A Career
Camden County College welcomes Baseball Hall of Fame
South Jersey Football Games of the Week
Out & About
QB Ronnie Borden is Back in the Game
Should fans be worried for the Phillies bullpen?
South Jersey Football Games of the Week
A look at South Jersey's Top H.S. Girls' Soccer Teams
Out & About
Eagles will be fine after close call in opener
High School Football Games of the Week
Is it Super Bowl or bust for the Eagles?
What's New in South Jersey?
From New Jersey to Nashville
More...