Tri-Cape takes Carpenter Cup title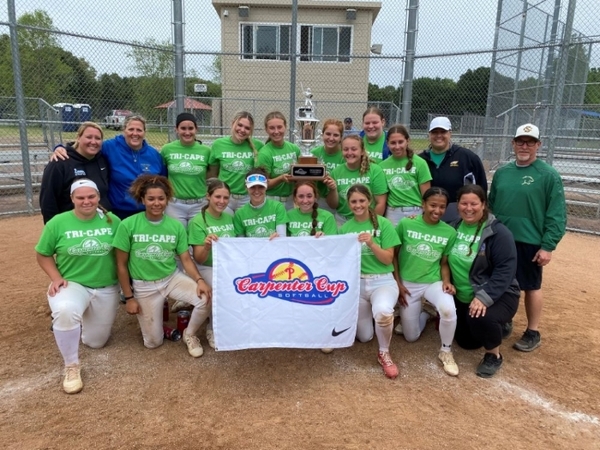 The Tri-Cape kept defeating some of New Jersey's finest teams en route to winning the 18th annual Carpenter Cup championship June 21.

With players from the Tri-County and Cape Atlantic League, the Tri-Cape won its second-ever Carpenter Cup title, with the other coming in 2014.

The Carpenter Cup, which is sponsored by the Phillies, consisted of 16 teams from Pennsylvania, Delaware and New Jersey. Even though seniors were prohibited from competing, the tournament still consisted of some outstanding young talent.

There were four brackets of four teams each, and the top two teams in each bracket advanced to the quarterfinals.

The games in the opening round had a one-hour-and-45-minute limit, which is why the Tri-Cape was involved in a tie. In all games, pitchers were allowed to throw a maximum of four innings.

The Tri-Cape scores in the opening round are as follows:
* Tri-Cape 5, Delaware North 3
* Tri-Cape 8, Berks County 8
* Tri-Cape 13, Chester County 5

In the win over Delaware North, St. Joseph Hammonton junior Ava Fisher, who enjoyed a dominant tournament, hit a key two-run home run. Woodstown junior shortstop Tulana Mingin went 2 for 4 with two runs scored. The winning pitcher was Egg Harbor Township junior Madison Dollard, who allowed one run and struck out five in four innings.
In the tie against Berks County, Mingin was again 2 for 4 with two runs scored. Millville sophomore rightfielder Kendall Mazur was 2 for 2 with a triple and an RBI. Kingsway junior catcher Ava Paoletti was 1 for 3 with a triple, a run scored and an RBI.
Article continues below
---
advertisement


---
In the 13-5 win over Chester County, Our Lady of Mercy Academy junior Emma Douglas was the winning pitcher, allowing two runs and striking out three in four innings.
Mingin, a true table-setter as the leadoff hitter, went 3 for 4 with a run and an RBI. Four players had two RBI: Mazur, Buena sophomore shortstop Laylah Collins, Kingsway junior catcher Ellie Ward and GCIT junior first baseman Courtney Chew.
That advanced Tri-Cape to the quarterfinals, where it would beat three New Jersey teams to win the title.
The final day scores were:
*Quarterfinal: Tri-Cape 7, Olympic-Colonial 0
* Semifinal: Tri-Cape 5, Mercer County 3
* Final: Tri-Cape 2, Jersey Shore 1
The star of the final day—and, really, the tournament—was St. Joseph's Fisher. She pitched in all three games the final day, totaling 11 2/3 innings and didn't allow a run, surrendering just four hits while striking out 23 and walking three.
The winning hit was a walk-off RBI single by OLMA's Douglas in the bottom of the seventh inning.
"I wasn't stressed out because there was only one out but honestly, I just knew I had to do my job," Douglas said afterwards. "Move the runners, do something."
She certainly did something and likely will always remember her game-winning and championship-winning hit for a championship team with so many contributors.
Photo by Marc Narducci
Author:
Marc Narducci
Archives
---
Who's Who in Health Care
Crowd Pleaser
Can the Eagles Regain Their Winning Way?
A Bight Future Ahead for Glassboro Football
The Big Impact of Small Businesses
Eagles Need to Reset
Feeling Festive
Another dominating season for Delsea football
Mainland's Historic Football Season
A Rooting Interest
Eagles Continue to Fly High
Raising the Bar
Thanksgiving Football Continues
Hotstovers to honor All-SJ Baseball and new HOF inductees
South Jersey Football Games of the Week
More...