Power 50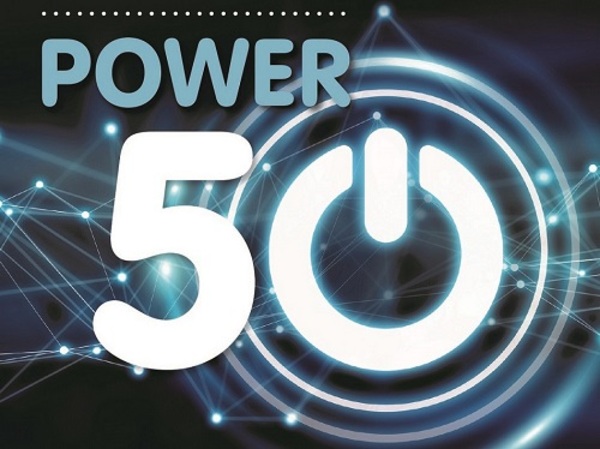 Behind every good leader is a team they're accountable to, a career full of good advice, and actionable lessons in how to reframe setbacks as learning lessons, all for the betterment of their neighbors and the community they call their personal and professional home.
This year's roster of Power 50 honorees represent the leaders, decision-makers, and movers and shakers in local government, healthcare, nonprofits, banking, law, transportation, real estate, education and more—all of whom prove that, as many have said in their own words, it's teamwork that makes the dreamwork.
Marlene Z. Asselta, President, Southern New Jersey Development Council (SNJDC)
What's the best leadership advice you've received?
The best advice I got was to "make friends." It was through those initial and eventual long-lasting relationships that the SNJDC grew into what has been described as an effective voice for South Jersey, one that provides hands-on economic development assistance and is influential with state political leaders. Founded in 1951, the SNJDC still has many original members whose goal was and is to grow a better, more prosperous region.
Cathy Bennett, President and CEO, New Jersey Hospital Association (NJHA)
Article continues below
---
advertisement


---
Related Articles
---

When did you know you found the right professional path?
Like many professionals, my career has been one of evolution. While there was no single "AHA!" moment, each position helped me grow as a leader and moved me toward opportunities that best utilized my skills and experiences. In my current role, I can apply all that I have learned to help forge a path into the future for one our state's most dynamic industries.

Lloyd Birnbaum, Partner, Lauletta Birnbaum
What's the best leadership advice you've received?
Surround yourself with people smarter than you. Your goal should be to become the dumbest person in your organization, which requires confidence. It's better to be surrounded by a bunch of geniuses who might stab you in the back than a bunch of loyal fools who tell you what you want to hear. The geniuses will at least keep you on your toes. Build an inner circle. It's easy to confuse leeching with loyalty—know the difference.

Thomas Bracken, President & CEO, New Jersey Chamber of Commerce
What career would you have pursued if not this one?
I had a 42-year banking career I loved. Banking prepared me well for this job because of the connections I made around the state: My job here at the chamber is all about networking and connections. It has been helpful to use my banking connections to execute on our mission at the N.J. Chamber, which is to make New Jersey a great place to work and live.

Joseph G. Cacchione, MD, CEO, Jefferson
Dr. Cacchione is CEO of Jefferson, a $10B enterprise that includes Thomas Jefferson University, Jefferson Health and Jefferson Health Plans. He joined Jefferson in 2022 from Ascension, one of the largest nonprofit healthcare systems in the U.S. Throughout his 30-plus-year career, Dr. Cacchione served on several national and community-based administrative health committees. He is passionate about improving health equity and ensuring all individuals have access to quality healthcare.

Joseph Chirichella, President and CEO, Deborah Heart & Lung Center
What's the best leadership advice you've received?
Don't take critical feedback personally. You need a thick skin in a leadership role.
What soft skills should leaders develop?
Interpersonal skills. You can't lead with a computer or an app.

Mark A. Clouse, President and Chief Executive Officer, Campbell's Soup
What's your proudest professional moment?
My time in the United States Army as an officer and a pilot is one of the greatest privileges in my life. Serving the country and learning leadership so early in my journey truly set the stage for my career. Another incredible experience was the honor of being Campbell's CEO when we celebrated our 150th anniversary in 2019.

Peter C. Connolly, CEO, New Jersey Manufacturing Extension Program (NJMEP)
Connolly brings more than 40 years of experience in operations, business development and general management in the aerospace and defense industry to his new role as CEO of NJMEP. He has served as the chairman of NJMEP's board of directors for over 12 years and has accepted the position of leading the top-performing manufacturing extension program in the country. Connolly is a staunch supporter of domestic manufacturing and is determined to contribute to the success of the industry.

Jimmy Contreras, Vice President, U.S. Regional Communications, JPMorgan Chase
Contreras leads JPMorgan's regional communications in Delaware, Pennsylvania and South Jersey. He is a creative strategist and storyteller, with comprehensive experience in shaping and protecting a corporate image promoting business, values and mission. He is highly skilled in lifestyle branding, having launched fashion, hospitality, destination brands and cultural institutions through thoughtful communications, marketing and social media campaigns. Contreras believes that building genuine relationships is the key to a successful communications career.

Rob Curley, Regional President for the Pennsylvania/New Jersey Metro Area, TD Bank
What career would you have pursued if not this one?
I was fascinated by architecture and real estate, and planned on becoming a real estate developer. I interned for Linpro, which developed Marlton's Route 73 corridor, first picking up trash in parking lots then working in commercial leasing. As graduation got close, the real estate market took a downturn and I was introduced to Commerce Bank. I didn't plan on a banking career but was in the right place at the right time!

Stephen F. Dougherty, Executive Director, South Jersey Transportation Authority (SJTA)
When did you know you found the right professional path?
I've always had a passion for public service. My career path became evident when I served as a project coordinator for Congressman Rob Andrews and continued when I joined the SJTA in 2010, realizing the impact I could have in enhancing the overall quality of life for the people of South Jersey.

Christopher R. Gibson, President, Archer & Greiner, P.C
What career would you have pursued if not this one?
I was one of those weird people who knew as a high school freshman that I wanted to be a lawyer. I didn't have the math and science aptitude to be an engineer like my dad. But I was also comfortable with people, and never hesitant to speak in public or to defend my opinions.

Bill Golderer, President & CEO, United Way of Greater Philadelphia & Southern New Jersey
What soft skills should leaders develop?
Embrace collaboration to create change. To be successful, you can't exclude or cut out people from the table just because you do not agree with them. Real collaboration takes listening and sharing the power and influence. Too often, leaders get wrapped up in who gets the credit. We're long on attribution and short on contribution.

John T. Hanson, CEO, Delaware River Port Authority (DRPA); President, PATCO
When did you know you found the right professional path?
When I got to DRPA and PATCO, I knew I was in the right place. The people who work here are dedicated to the stewardship of our four bridges, holding them in trust for the community, and ensuring we turn them over to future generations in even better condition than when we got them.

Phillip W. Heath, MS, President and Chief Executive Officer, Samaritan Healthcare & Hospice
Heath brings 30 years of executive leadership experience to Samaritan, the region's leading not-for-profit provider of an expanding range of life-enhancing services, including palliative care, primary care, and social connections services for over 11,000 patients and their families annually. Heath holds a B.A. from Morehouse College, an M.S. in health services administration from the University of Detroit Mercy, and led Samaritan's board for four years prior to becoming CEO.

Bryan Hornung, CEO, Xact IT Group
Hornung leads the award-winning certified firm, which has earned the coveted CompTIA Security+ Trustmark certification. The likes of CNN, Fox, Fortune, Forbes and others have featured Hornung and his cybersecurity expertise. He has built a strong reputation for developing software for the U.S. Navy. Hornung uses his experience to help others make rock-solid cybersecurity programs that keep hackers away, move the business forward and keep them out of reputation-shattering headlines.

Dianna Houenou, Chair, New Jersey Cannabis Regulatory Commission (NJ-CRC)
What's your biggest community responsibility?
My commitment to the South Jersey community is the same one I have to every community in New Jersey: a commitment evidenced by my work with the ACLU, the Governor's Office and now with the NJ-CRC. That commitment is to equity and to justice with every role I take, making this emerging industry open and accessible to anyone.

Ali A. Houshmand, Ph.D, President, Rowan University
What career would you have pursued if not this one?
I would have become a chef. I love experimenting in the kitchen: I developed my own line of hot sauce, proceeds from the sale of which go to scholarships for students with emergency needs.
What's the best leadership advice you've received?
Hire the best, even if they're smarter than you, and let them make decisions—but hold them responsible for those decisions' outcomes. I have found that's how you celebrate successes more than correcting problems.

Thomas Kemly, President and CEO, Columbia Bank
What's the best leadership advice you've received?
It's important for leaders to "make it personal." I've always believed a leader should set the example for the team through values, actions and results. A leader should be willing to do the work, not just set direction. The value and contributions of the "team" are much more important than any one leader's role.

Greg Lalevee, IUOE General Vice President and Business Manager, Local 825
What career would you have pursued if not this one?
Computer science. That's what I was studying in college when I started working summers as an operating engineer. I enjoyed that more but if not for that, I would be in the realm of computer sciences.
What's the best leadership advice you've received?
To strive for continual improvement. Always look internally and externally at what may be an advantage or weakness. Constantly evaluate and reevaluate.

Rodger Levenson, Chairman, President and CEO, WSFS Bank
What's your proudest professional moment?
Leading WSFS through COVID. WSFS supported 5,000+ customers in obtaining nearly $1 billion in PPP funding, protecting an estimated 100,000 jobs. We provided loan modifications to over 35% of our borrowers as we worked together to navigate an unprecedented period, and also provided the tools and support so our 1,700 associates could serve our customers and communities while making their well-being our top priority.

Dan Lombardo, President & CEO, Volunteers of America Delaware Valley
What soft skills should leaders develop?
Know when to lead and know when to follow. Listen, and encourage others to speak their minds.
What's the best leadership advice you've received?
Don't be afraid to take risks!

Kevin B. Mahoney, CEO, University of Pennsylvania Health System
When did you know you found the right professional path?
In college, an accident at my summer landscaping job landed me under a tractor, then in a hospital on a ventilator and finally on a long road to recovery. But the entire staff—nurses, doctors, physical therapists, food-service attendants—made it clear they had one goal: helping me get better. That experience put me on the path to health care.

Adam Malamut, Managing Attorney/Partner, Malamut & Associates
Founder and managing partner of his prestigious Cherry Hill-based law firm, Malamut is a highly sought-after trial attorney with a stellar reputation representing individuals, businesses, public entities and local government. He is also a fierce advocate for democracy, equality and civil rights. Malamut possesses an unmatched ability to get things done and is well-respected throughout the state.

Amy Mansue, President and CEO, Inspira Health Network
What career would you have pursued if not this one?
I have come to admire and respect the expertise of nurses, who play such a critical role on the care team. I wish I had their breadth of knowledge, experience and ability to connect with patients. I also have a passion for growing flowers. Maybe being a florist will be part of my next chapter: Flowers have power to bring comfort after a tragedy and inspire joy on special occasions.

Anthony J. Mazzarelli, M.D., JD, MBE, Co-President/CEO, Cooper University Health Care
What's the best leadership advice you've received?
Leadership is not about being in charge: Leadership is about taking care of those in your charge. People in an organization don't work for you—you work for them. In the end, leaders don't create followers, they create more leaders.

Mark McCollom, Senior Executive Vice President and Chief Financial Officer, Fulton Bank
McCollom has held his current role at Fulton Financial Corporation since March 2018. Before that, he was senior managing director, chief administrative officer and COO of Griffin Financial Group, LLC. He has more than 30 years of experience in the financial services industry.

Scott Mertz, President, NAI Mertz
When did you know you found the right professional path?
A long time ago. I enjoy working with people, solving problems, competing, winning and multi-tasking. Commercial real estate lets me do what I love while using my talents, spirit, drive and commitment to client service. It's easier to keep a customer by exceeding their expectations than to secure a new one. It's better to receive a referral than to cold call. I'm grateful I found my calling when I was young.

Doug Mokoid, Region President, Atlantic City Electric
What soft skills should leaders develop?
We're all in the people business, whether they're coworkers, customers or stakeholders. Empathy and active listening are key for success as a leader. Get to know your colleagues and show them every day that you care about them. Understand what is going on in their personal and professional lives, and always be there as a sounding board. Put yourself in their shoes and build trust in your relationships.

Mike Munoz, Market President, AmeriHealth
What's your proudest professional moment?
AmeriHealth being recognized as one of the Best Places to Work for 11 consecutive years is a testament of the workplace culture we've built. In 2021, we were ranked No. 3 on the Best Places to Work list, which reflects how our associates are the heart of AmeriHealth. Their unwavering collaborative spirit extends to our members, customers, brokers, providers and community partners.

Phil Murphy, Governor of New Jersey
What career would you have pursued if not this one?
Very likely acting. I gained so much from school plays, community theater and as a member of Hasty Pudding in college. Being on stage, especially when things go wrong, taught me to think on my feet, improvise and be fearless in front of a tough crowd. Those skills help me as a public speaker and also were an advantage when I was starting out in business, as an ambassador and now as governor.

John J. O'Donnell, Chief Executive Officer, The Michaels Organization
The Michaels Organization is a national leader in residential real estate and the country's largest private sector owner of affordable housing. Under O'Donnell's leadership, Michaels has more than tripled in size and has been led into new lines of business and markets, including military, student and workforce housing. O'Donnell joined Michaels in 1988. Throughout the years, he has moved through several positions, including chief operating officer, before being named CEO in 2013.

Kevin M. O'Dowd, JD, Co-President/CEO, Cooper University Health Care
What's your proudest professional moment?
I am fortunate to have served on many high-functioning, dedicated and successful teams; however, I am extremely proud to have served with so many professionals on the Cooper team who helped the health system rise to prominence as a national leader in the healthcare response to COVID-19.

Melissa J. Orsen, Senior Vice President, South Jersey Industries (SJI); President, SJI
When did you know you found the right professional path?
Because my parents worked in public service, I recognized at a young age that I desired to serve others, too. I spent 17 years working in government, providing critical support to New Jersey's residents and communities. I'm proud that I'm still on that same path at SJI, where our focus centers on creating a better today and tomorrow for our employees, customers and communities.

Vito S. Pantilione, President & CEO, Parke Bank
Since the bank's formation in 1998 and the formation of Parke Bancorp Inc. in 2005, Pantilione has served as president, chief executive officer and a director of both. Pantilione's financial industry experience and expertise has been invaluable to the company. He received an honorary doctorate from Philadelphia University in recognition of his many accomplishments in finance and banking.

Mike Patterson, Senior Executive Vice President and COO, Freedom Mortgage Corporation
Patterson oversees 12 support service teams, including M&A, capital markets, finance, investor relations and PR. He began his mortgage industry career at the Indiana-based Irwin Mortgage Corporation, which Freedom Mortgage acquired in 2006; Patterson has been promoted through the ranks since 2008. He bridges the gap between upper and middle management through extensive industry knowledge and experience. In 2021, Patterson received HousingWire's Finance Leaders Award, recognizing top executives driving financial performance.

Dennis W. Pullin, FACHE, Virtua Health
What's the best leadership advice you've received?
A good leader doesn't need to know all the answers—in fact, that is an impossible expectation. Instead, you can succeed by having a questioning attitude, striving to constantly learn and surrounding yourself with people who are passionate about making a difference.

Annette C. Reboli, M.D., Dean, Cooper Medical School of Rowan University
What soft skills should leaders develop?
Resilience, emotional intelligence, flexibility, adaptability and collaboration are vital skills. These essential ingredients will help in navigating the technology-driven exponential change driving all sectors, including medicine and education. Also, having a less hierarchical mindset will help leaders empower their teams to lead and be creative.

Christina M. Renna, President & CEO, Chamber of Commerce Southern New Jersey (CCSNJ)
What's the best leadership advice you've received?
Always lead with empathy and humility.
What soft skills should leaders develop?
Interpersonal communication skills: being able to listen, understand and convey your ideas in a succinct way.

Michael Renna, President and CEO, South Jersey Industries (SJI)
What's your proudest professional moment?
I'm most proud of our company's ability to effectively work together and embrace the energy transition. Across our organization—from our utility subsidiaries to our non-regulated, renewable energy-focused businesses—teams are engaged and energized by our mission to achieve carbon-neutral operations by 2040. Their enthusiasm on this front made us a decarbonization leader in just a few years.

Michael G. Rieker, CMPE, Chief Financial Officer, Rowan-Virtua School of Osteopathic Medicine
Rieker oversees a $170 million annual budget to support education, research and patient care programs. During his 40+ year career, Rieker's financial acuity and leadership has been called upon often: He served as a key transitional team member for the integration of SOM with Rowan University in 2013 and, more recently, the integration of Rowan Medicine as a Virtua Medical Group affiliate.

Andrew Saporito, Executive Director/CEO, South Jersey Port Corporation
How do you define your role's regional impact?
Building, creating and developing the workforce and marine terminal infrastructure to grow local jobs by attracting more cargo and manufacturing to the area, while dramatically reducing our carbon footprint. Our ongoing development of the Paulsboro Marine Terminal, investment in Camden's terminals and redeveloping the Port of Salem became the foundation of the job-rich offshore wind energy industry.

Michele Siekerka, Esq., President and CEO, New Jersey Business & Industry Association (NJBIA)
What's your proudest professional moment?
During Superstorm Sandy, when I was deputy commissioner at the New Jersey Department of Environmental Protection (DEP). It was such a memorable time being in the trenches with my DEP team, problem-solving in real time and getting New Jersey's critical infrastructure back to normal. Working toward the state's overall recovery and resiliency after the storm was also a proud mission.

Gary D. St. Hilaire, President & CEO, Horizon Blue Cross Blue Shield of New Jersey
What's the best leadership advice you've received?
An early mentor challenged me as a leader to set high expectations for excellence from others, so long as I demanded even more from myself. That same individual reminded me that everything we do in life is a team sport: Focus on the team and we can do nearly anything. Putting these elements together and striving to build a culture of excellence made all the difference.

Tim Sullivan, CEO, New Jersey Economic Development Authority (NJEDA)
What soft skills should leaders develop?
Building relationships is key to success, particularly in your professional life. Never turn down an opportunity to network, whether that means attending your local chamber-sponsored events or simply sitting down for coffee with someone. You never know where the conversation will lead. Incredible ideas can come out of casual conversations.

Antonio D. Tillis, Ph.D, Chancellor, Rutgers University–Camden
What's your biggest community responsibility?
Ensuring our institution does everything we can to serve all residents, regardless of race, gender or income. We're particularly keen on serving first-generation college students and helping them navigate higher education's hurdles. Our efforts to educate and guide students change lives. Countless Rutgers–Camden alumni live and work in South Jersey and are contributing to the region.

Christopher Vargo, Market Leader, PNC Bank
What's the best leadership advice you've received?
Knowing we can't solve every problem that comes across our desk, and we certainly can't please everyone. It's important as a leader to prioritize where we spend our time and energy to allow for certain things to be worked out amongst others, rather than to involve ourselves in everything.

Fred C. Wasiak, President and Chief Executive Officer, Food Bank of South Jersey (FBSJ)
Beneath Wasiak's friendly, easygoing exterior is an unwavering determination to make FBSJ better. He teaches those around him the critical leadership qualities of emotional intelligence and mindfulness, as well as the imperative of letting every voice be heard. He has led the transformation of the food bank's culture, creating a more welcoming and inclusive organization, allowing FBJS to be more impactful in the fight against hunger. A natural leader, Wasiak brings out the best in his staff while continually working to be a better person.

Robert White, President & CEO, 1st Colonial Bank
White joined 1st Colonial in February 2020, serving as president and CEO. He has spent 34 years in the banking and commercial finance industry, most recently serving as chief risk officer at Customers Bank, a $19 billion asset bank headquartered in Wyomissing, Pennsylvania. During that nine-and half-year tenure, he was also president of special assets and director of corporate development. White serves on the advisory board of the Fischer-Shain Center for Financial Services, Fox School of Business and Management at Temple University.

Jason M. Wolf, Founder and Managing Principal, Wolf Commercial Real Estate (WCRE)
What soft skills should leaders develop?
Self-awareness, empathy, and understanding and managing their own and team members' emotions. Effective communication is crucial to convey their vision, motivate their teams, and build a culture of transparency and trust. Be open-minded listeners while adapting communication styles to different audiences and situations. Invest in developing team members' skills and talents through coaching and mentorship. Providing guidance, support and constructive feedback can empower a team to reach its full potential.

Click here to subscribe to the free digital editions of South Jersey Biz.
To read the digital edition of South Jersey Biz, click here.

Published (and copyrighted) in South Jersey Biz, Volume 13, Issue 7 (July 2023).

For more info on South Jersey Biz, click here.
To subscribe to South Jersey Biz, click here.
To advertise in South Jersey Biz, click here.

Author:

Amy Kodrich, Madeleine Maccar and Carly Murray
Archives
---
Who's Who in Health Care
The Big Impact of Small Businesses
Money Matters
The Ladies Who Lead
Finding Some Financial Footing
2023 Book of Lists
Ready to Mingle
20 Under 40
Made With Pride
Standing Out in the Crowd
Good Neighbors, Strong Communities
Staying Ahead of the Curve
An Uneven Present
Managing the Ups and Downs
A Sound Strategy
More Articles