QB Ronnie Borden is Back in the Game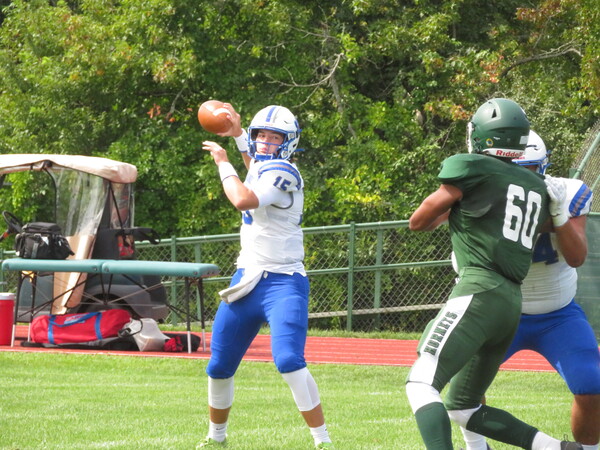 Northern Burlington senior quarterback Ronnie Borden was just getting warmed up when he was forced into the sidelines. In last year's 30-28 opening loss to Shawnee after completing 16 of 30 for 207 yards and a touchdown, he suffered an injury that cost him five full games.
"It was tough to sit on the sidelines, watching the games last year," Borden said after a win earlier this season over Pemberton.
Despite a disappointing start to the season, Borden tried to make the most of a frustrating situation.
"I actually got to be like a coach, helping the other quarterbacks," he said. "I still kept up with things: watching film and trying to stay sharp."
It's paid off as Borden continues to be a key player for the Northern Burlington team hoping to earn a Group 4 playoff berth.
The Greyhounds are 2-2 overall and 1-1 in the WJFL National Division. They could still contend in the National, where their one division loss was 17-7 to Moorestown—a team tied for first place with Paul VI at 2-0.
Northern Burlington will visit Paul VI on Oct. 6.
Last year, even in his abbreviated season, the 6-foot-3, 210-pound Borden threw for 867 yards and three touchdowns.* This season, Borden has thrown for 666 yards and seven touchdowns and already has more touchdown passes than his first two years combined.
Borden doesn't even have to throw the ball very often for the Greyhounds to be effective. Northern Burlington has several versatile offensive players—although none more than senior Tony Konacki, who is listed as a receiver but is frequently used to carry the ball.
In addition, senior Tommy Walters (6-2, 225) is a formidable target at tight end and junior Andrew Reynolds has game-breaking ability at running back.
"It is amazing to be able to spread the ball because we have so many talented running backs, receivers and tight ends. There are a ton of players who can make big plays," Borden said.
Yet, a strong-armed season will be key if the Greyhounds do contend in the National and earn a postseason berth.
"[Borden] can play. He can spin it and he is a good leader," Northern Burlington coach, Jules Dole said. "He is a big kid and when you get a kid like that who can throw the ball, wants it and has good arm strength it allows more kids to take part."
Borden isn't making any future predictions, but expects the Greyhounds to be in the postseason this year.
"Our line has been looking really good and we have so many receivers all around. I think we are ready to make a run this year in the playoffs," Borden said.
Borden has been flying under the radar lately but has proven to be a good leader for Northern Burlington, a team with a lot more play left this season.
*Stats courtesy of NJ.com
Article continues below
---
advertisement


---
Author:
Marc Narducci
Archives
---
Who's Who in Health Care
Crowd Pleaser
A Bight Future Ahead for Glassboro Football
The Big Impact of Small Businesses
Eagles Need to Reset
Feeling Festive
Another dominating season for Delsea football
Mainland's Historic Football Season
A Rooting Interest
Eagles Continue to Fly High
Raising the Bar
Thanksgiving Football Continues
Hotstovers to honor All-SJ Baseball and new HOF inductees
South Jersey Football Games of the Week
The Phillies make the right move with Aaron Nola
More...